The rolling dessert colossus that is Gelato Messina has finally landed in Brisbane. Prior to this, Queenslanders had to make the trip all the way out to Coolangatta for the popular gelati, or wait until their next interstate trip. Now, it is much more conveniently located amidst the residential towers of South Brisbane, a short walk from either Southbank or West End.
We wandered down this first weekend of its opening, and joined the end of what will likely be a pretty perpetual line for a while, at least until the novelty wears off. The store fitout is industrial-meets-retro, with soaring ceilings in raw concrete, mirrored by polished concrete floors, and wood-paneled walls. On one wall is a series of shelves with models of their elaborate gelato cakes in glass fronted cases and an assortment of brick-a-brack on other levels. Above them sits backlighted lettering that spells out "Messina", in case you were wondering where you were. Against another wall is a lighted grid that replicates the interlocked square design on their boxes. Along this wall and the front of the store is seating, more than at the Windsor or Paramatta outlets. Music with thudding base beats played over the speakers, but the words were not discernible. It had a hip hop vibe, but was just too loud for the quite cavernous, echoey space.
The queuing system here, as we found at some of the other stores, needs work. After spending ages in a quite orderly line, as you approach the head of the line, it turns into a clump in front of the gelato freezers. What that means is that you can only see a few of the flavours at a time (trying to catch glimpses between other peoples' legs and torsos), and you don't necessarily get served in order of arrival. It would help if they have a list of their available flavours displayed either along one of the walls, or over the service area, so customers have a chance to think about what they might like to have while they wait in line. Trying to choose from over forty flavours in a couple of minutes when you can't actually see them all and have the pressure of a line out the door behind you waiting for their turn as well isn't helpful.
The staff were quite patient in the face of the hungry but indecisive hordes, letting patrons have little tasting samples when asked, while trying to sift out those ready to order.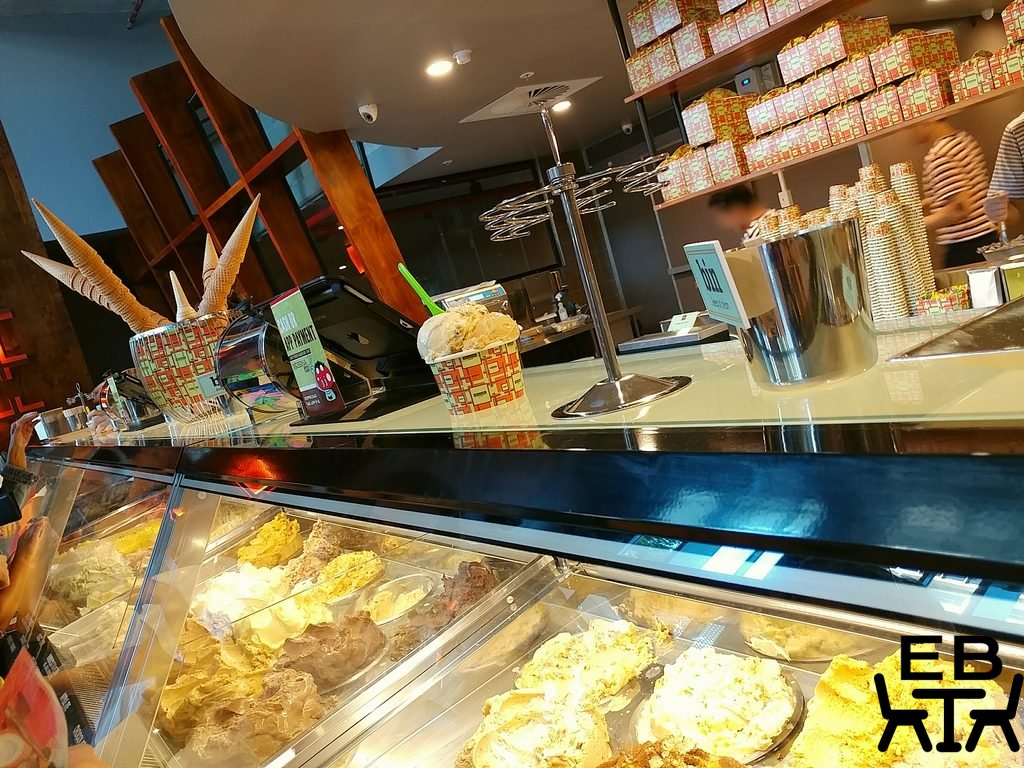 Our eventual decisions were a couple of their regular flavours, the Pandan and Coconut, and the Pistachio crunch, and a couple of their rotating specials, the Chocolate Cherry Cheesecake, and the Queenslanderr.
The Pandan and Coconut gelato had a distinctly coconut milk flavour. It could, however, have had more pandan flavour, as that was only faintly present. It was certainly smooth, but had an almost powdery aftertaste. It wasn't too sweet, so wasn't cloying.
The Pistachio Crunch gelato had a quite neutral base, possibly white chocolate, rather than being pistachio with pistachio. The crunch element had visible pistachio bits, and there were indeed crunchy, chunky bits, like a pistachio praline. There was a reasonable amount of the crunch, rather than just a token amount. If you were after a true pistachio gelato though, this wasn't quite it.
The Chocolate Cherry Cheesecake was one of the five listed specials, and was listed as being chocolate cream cheese gelato with cherry jam and shortbread. The chocolate ice cream base was smooth, and not too rich. We couldn't really tell that there was cream cheese in it though. The cherry jam seemed to be made from glace cherries, but again managed to not be too sweet. There were shortbread chunks in it, as promised, but they were a little too big for convenient eating, being either mostly wedged in to the surrounding gelato and refusing to come away, or threatening structural instability when removed.
The Queenslanderr was a mix specially created for their Brisbane opening, with ginger gelato, pineapple cake, and Bundaberg rum caramel. The gelato was indeed strongly gingery. The pineapple was only faintly discernible in what was meant to be the pineapple cake bits. We couldn't really tell that it was a Bundaberg rum caramel rather than a regular caramel.
All in all, Gelato Messina Brisbane does deliver smooth gelato and interesting flavour mixes that you don't see elsewhere. Not all the flavours are quite as promised though. The service system needs a bit of work, and they could do with having their gelato flavours more easily visible. Still, they will no doubt remain popular with those looking to treat themselves.
Price point: Single scoop $4.50. Double scoop $6.80. Note that they are currently cash only, or payment via their app.
Value: Depends on how much you value your gelati. It's not cheap.
Scores:
Food: 3/4
Setting: 1/2
Service: 1/2
Total: 5/8
Details:
Address: Shop 1, The Melbourne Residencies, 109 Melbourne Street, South Brisbane
Phone: Awaited
Website: Gelato Messina Brisbane