Finding the best croissants around has become one of our quests since the move to Melbourne. We were well-acquainted with Lune (Lune Lab takes croissant appreciation to another level), but wanted to check out the other options this foodie city offers. We had a good thing with our croissant supplier in Brisbane, Reno Fine Patisserie, but it's quite a long way away now..
This is our summarised list so far. Some will have links to a longer writeup when we get around to it. There's also a map at the bottom of the page for those who want the information sorted differently. Feel free to send us through more recommendations either in the comments, or via email (contacts in the header above).
The factors we consider are:
Delectability – are the croissants airy, flaky, buttery, transcendental morsels of deliciousness, or are they all promise and no punch?
Cost – we get that good butter is expensive, and croissants are labour-intensive, but if prohibitively pricey, they become only worth having as a rare treat.
Accessibility – there comes a point where how easy it is to actually get said croissants has to be factored in. Having to wait an hour in line or get up at the crack of dawn may not be frequently feasible.
The Best:
Bakemono Bakers:
Run by the same team behind Little Rogue, this bakery is just across the laneway. The flavours here have a Japanese lean (we're still trying to get there in time to try the Almond and yuzu croissant). Though airy and light, their pastries are just buttery enough to hit the mark for us.
Address: 273 Little Lonsdale St, Melbourne City
Montforte Viennoisserie:
This tiny viennoiserie has a huge following. Their croissants are more bronzed than most others, and they have interesting flavour combinations (though the taste payout is variable). Be prepared to wait a long time in line though.
Address: 585 Canning St, Carlton North
Northcote Bakeshop:
We bought a number of items from this bakery, as we couldn't decide between the range of glistening goods in the glass counter. The chocolate croissant was airy, light, and crisp, with extra crunch from the chocolate stripes on the outside, though it was a bit less buttery than some other places. The almond croissant was not excessively sweet, and had a cookie-like frangipane on top. The morning bun looked like a cruffin, but was a softer, stretchier bread inside.
Address: 571A High St, Northcote
Ovens Street Bakery:
In a backstreet of Brunswick, the additional perk to this place is that you can order ahead to pick up at the store, so you don't have to wait an hour in line. The croissants are crisp, airy, and just rich enough. The almond croissants have a generous frangipane and flaked almond layer on top, and a just sweet enough filling. The pain au chocolats have a good height, and a crisp, flaky exterior. You haven't had kougin amans until you've had theirs..
Address: 19 Ovens Street, Brunswick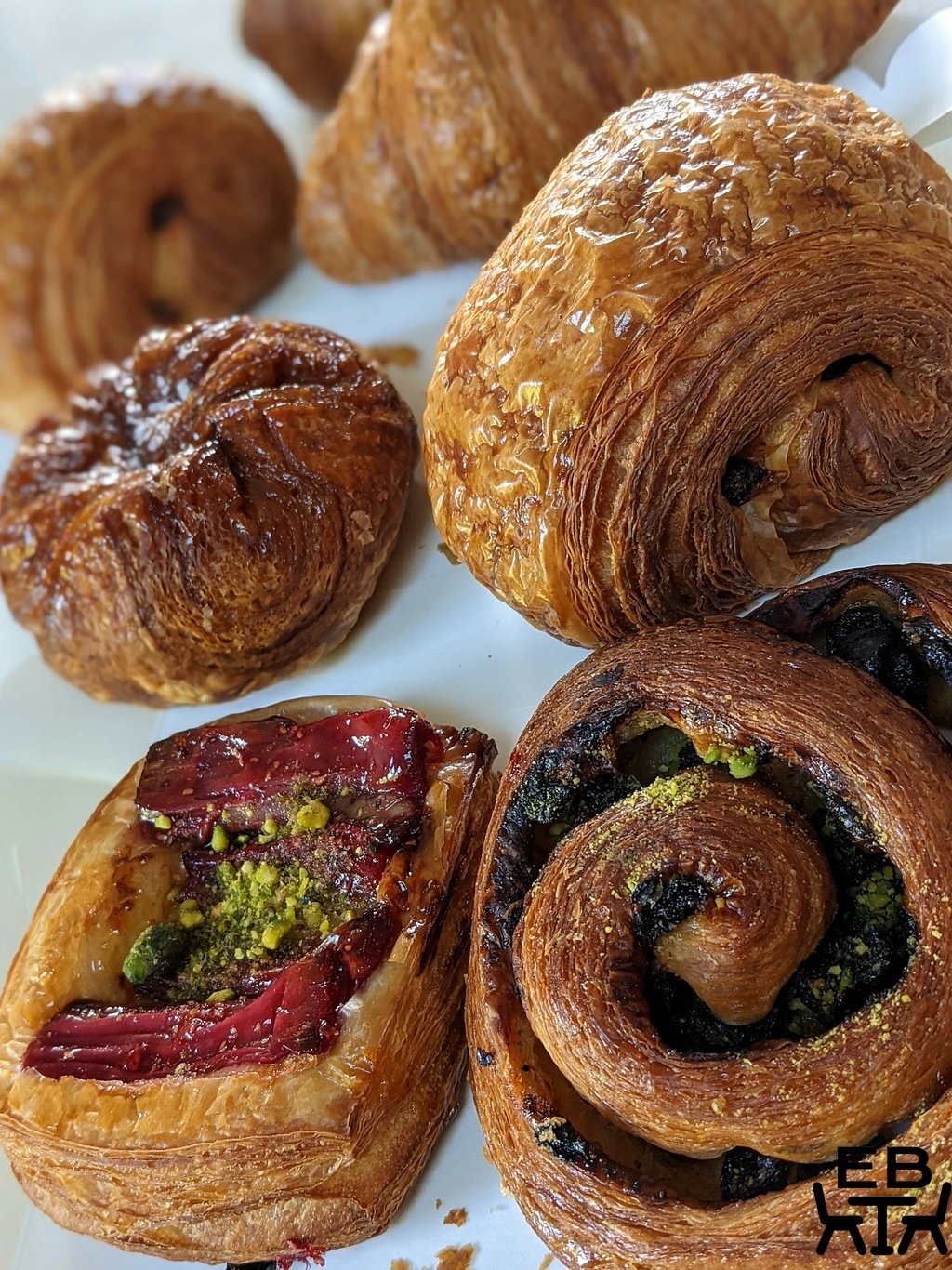 Penny For Pound:
Just off busy Bridge Road, this little store is well worth the detour. They had quite the range of glossy pastries when we stopped in, with a number of both savoury and sweet croissant options. We couldn't help ordering a range of treats. Standouts were the Chocolate hazelnut croissant, with its extra crisp chocolate stripes, and the almond croissant, with its not too sweet filling, and crisp outer layers.
Address: 410 Bridge Road, Richmond
Publique:
This small store is located in Preston Market's Centreway, near other food stalls. The line snakes past a florist, and you may not initially be able to tell what you are queueing for, but you will get there. Because of the setup, you can't actually see the options until it is your turn, which adds to the wait. Still, it was one of the better priced options we found, and the croissants were crisp and buttery.
Address: Shop N25, Preston Market, 30A The Centreway, Preston
(have to find our photos..)
South Melbourne Bakery:
This bakery, in a less hectic section of Clarendon Street, had quite a range of treats on offer. We settled on a chocolate croissant, and an almond croissant. The chocolate croissant was really a pain au chocolat. It had some heft to it. It had good loft and air pockets, and was buttery, with a good stretch and chew to the pastry. There was also a mildly tart glaze on the outside, a different twist from other similar pastries. The almond croissant had a good variety of textures in its components, from crisp to soft. It was not too sweet, and also hid a strip of chocolate.
Address: 356 Clarendon St, South Melbourne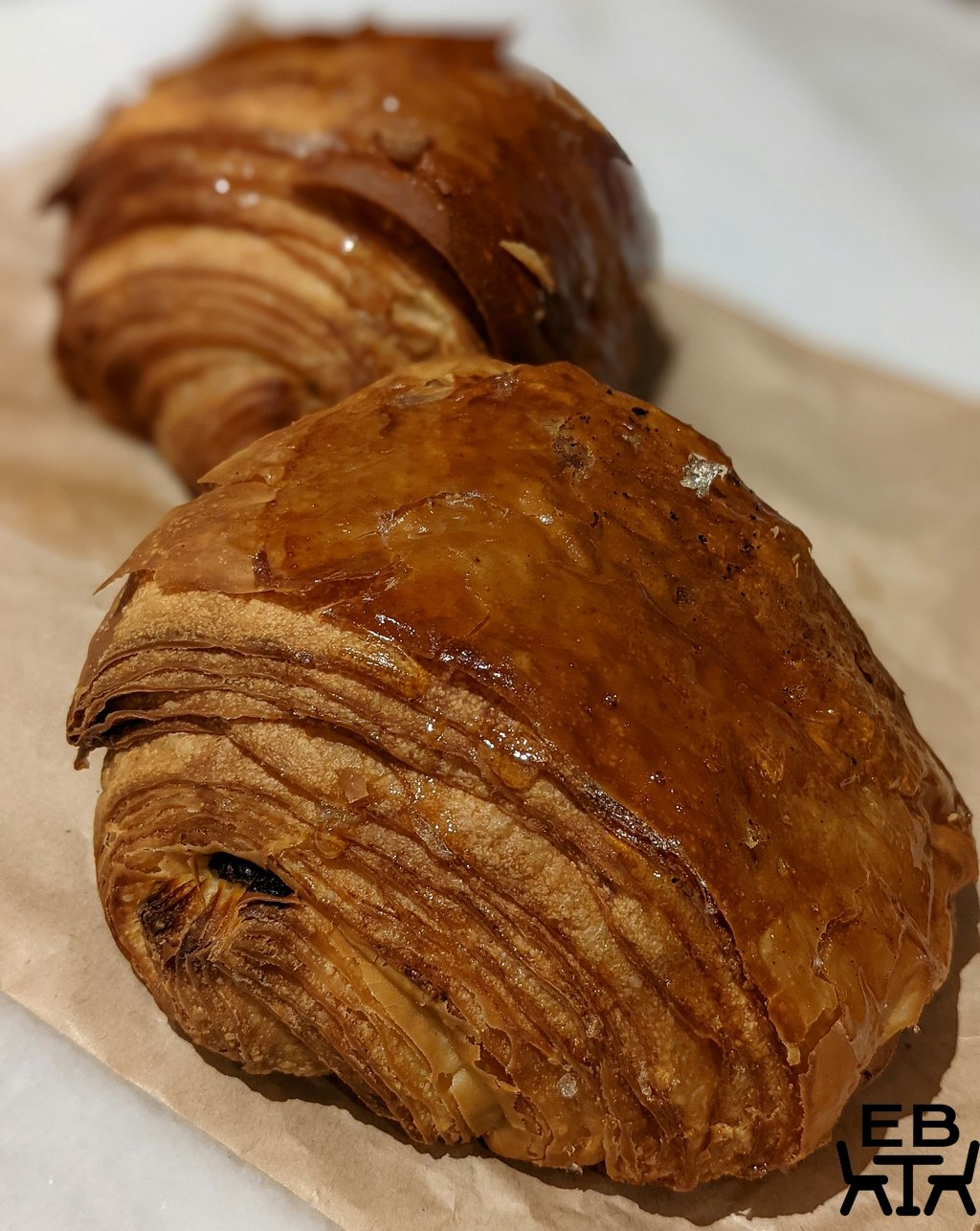 Sucre du Jour:
We were surprised to not encounter a line here. This patisserie serves up some fine entremets as well as the viennoiseries. They also offer some interesting filled croissant flavours, like pandan or pork floss. We had a couple of their filled danishes (vanilla and raspberry, and matcha and strawberry), and found them to be a good combination of crisp pastry and creamy fillings with flavours as advertised.
Address: Shop 10, 436 Burke Road, Camberwell
Woodfrog Bakery:
We realise that Woodfrog Bakery isn't just one store but many now. Though we have avoided chains, we were tempted in by the bronzed sourdough loaves in the window. We ended up being even more taken by their pain au chocolats and chocolate croissants. These were beautifully flaky and airy, and had just the right amount of extra components (chocolate).
Address: A number of stores, we went to the South Melbourne one – 301 Coventry St, South Melbourne
Worth A Test:
All Are Welcome:
We arrived relatively late in the day to this bakery, so ended up with just a plain croissant and a Blood orange, chinotto, and dark chocolate danish. The plain croissant had airiness and was crisp on the outside, but we would have liked it to be more buttery. The danish had interesting components, but once we took the blood orange slice off (you couldn't really bite through it easily), it was really just chocolate flavoured, rather than more complex.
Address: 190 High St, Northcote
Bread Club:
There was quite a queue for this dancefloor-themed bakery. The croissants were ok..but the pies were very good.
Address: 558 Queensberry St, North Melbourne
Gordon Street Bakery:
This is one of the few croissant places on the West side, and you are likely to find a line on the mornings it is open (Thursday to Sunday). It turns over quite quickly though, so it's not too long a wait. They have an even more indulgent than typical chocolate and almond croissant. We found the croissants a bit oily side though, and both the almond, and chocolate and almond croissants a little too sweet for our liking.
Address: 142 Gordon St, Footscray
Ned's Bake:
We bought a pain au chocolat from this South Yarra bakery, as we happened to be in the area. It was quite good, with crisp, savoury pastry and a good chocolate strip. At $7.15 though, it was the most expensive one we had come across (prices aren't listed, you only find out when you pay). The location likely factors into that cost, but given the other options around, we didn't think it was worth testing out the rest of their range.
Address: 134 Toorak Rd, South Yarra
Parisian Baker:
A little shop just off North Essendon Village, with promisingly lofty, shiny croissants in the window. We tried the plain croissant, pain au chocolat, almond croissant, and a fruit danish (pear).
The croissants were indeed light and well-aerated, but weren't quite buttery enough for our taste.
Address: 19 Keilor Rd, Essendon
The Rest:
Agathe:
Sadly, this still remains disappointing. We decided to give the stall at the South Melbourne Market another try, and got a Pandan Croissant and an Earl Grey Croissant. Both lacked the promised flavours, as well as loft and crispness.
Address: 322 Coventry St, South Melbourne
Baker D Chirico:
Many items were already sold out by the time we got there, but we managed to get a couple of pain au chocolats and almond croissants. Disappointingly, the pain au chocolats were more bready than buttery, and were soft rather than crisp. They were very much like the pain au chocolats you get in a multi-pack at the supermarket. The almond croissants had a crunchy topping, but the croissant itself again lacked butteriness.
Address: 178 Faraday St, Carlton
Noisette:
We stumbled upon the stall while wandering through Preston Market. The striped Raspberry croissant in particular caught our eye, as it reminded us of a very good one we had had in Croatia. The goods we bought, however, turned out to be roundly disappointing. The Raspberry croissant, Hazelnut brownie delice, and Raspberry pistachio delice all tasted too artificially sweet. The pastry was chalky rather than buttery.
Address: Preston Market, 18A Cramer St, Preston
And, for a different arrangement so you can find out what's near you right now for your croissant fix, here's a croissant map.
Let us know if there are other places we should check out!