The name "Dexter" probably brings to mind a television show featuring a serial killer living a complicated double life, if you're from a certain era. Otherwise, Dexter is also the name of a meat-centric eatery in Preston. Is there an intentional carnivore association? Uncertain.
We rocked up to the peach pink-lit venue on a Friday evening, unaware of just how popular they were. Other wiser and more organised people had booked ahead, and the only available tables were out on the sidewalk, in the chilly night.
We took what we could get, and were seated at one of the bench-style tables. Staff brought us water and menus. We did have to provide our own light to be able to read what was on the menu, because the faint beams from a street light weren't quite enough.
On the single page sheet were items under the headings of Snacks, Buns, Meat plates, Extras, Kids, and Sweets. We were tempted by quite a few items, but were wary of ordering too much, as meat dishes can be quite heavy.
We started with Hot Meat Doughnuts. There was no explanation in the menu of what they were, but previous reviews approved of them, and they seemed like the kind of food you have to try at least once (have you seen them anywhere else?). They were served piping hot on a metal dish and looked like what you might expect a jelly doughnut to look like. They were slightly flattened spheres, dusted with cinnamon sugar. A fiery-looking sauce accompanied them. Biting into them, the doughnuts were just crisp outside, and had a fluffy texture inside. Beyond the outer layer of sweet dough was a saucy, savoury, meaty filling with some heat in the finish. The sauce, as it turned out, was capsicum rather than chilli-based, so added flavour without fire. It was a clever play on what you would expect of a doughnut, and was a good salty-sweet combination.
The other Snack item we ended up getting was the Hot Smoked Lamb Ribs. The ribs were served in a neat little stack, garnished with coriander and chilli pieces. There was sauce to dip them in at the bottom of the dish. The ribs were well cooked, with tender meat that was caramelised so it was crisp on the outside.
To get enough of a cross-sectional sample, we ordered one of the buns as well. We picked the Original Fried Chicken with Green Chilli Slaw. It was served as you might expect a typical burger to be. The fried chicken and slaw were packed into a glossy milk bun. Staff had checked with us if we were sharing, and helpfully arranged to have the burger cut in half for us. The chicken was juicy, and had a coating of batter that was light, like a tempura batter. The slaw was creamy, with crunch from shredded cabbage and carrots, and helped the other components meld, without being sloppy.
From the meat plates, we chose the Caramel Short Rib, listed as 250g cooked, Grain Merchant beef. The meat plates all come with pickles, bone marrow mash, slaw, and fried bread. The meat was served on the bone, but sectioned so that it was easy to separate. It was tender, and just about fell apart when pulled at with a fork. It had a smoky flavour, with caramel hints from the glaze on the outside. The piped mash was creamy and rich. The pickles were crisp, sweet, and slightly tart (though more on the sweet side). The slaw served with this was not quite the same slaw that came with the burger. It was lighter, and not as creamy. It was gently tangy, rather than having slap-in-the-face sharpness (not that the slaw with the burger was that sharp).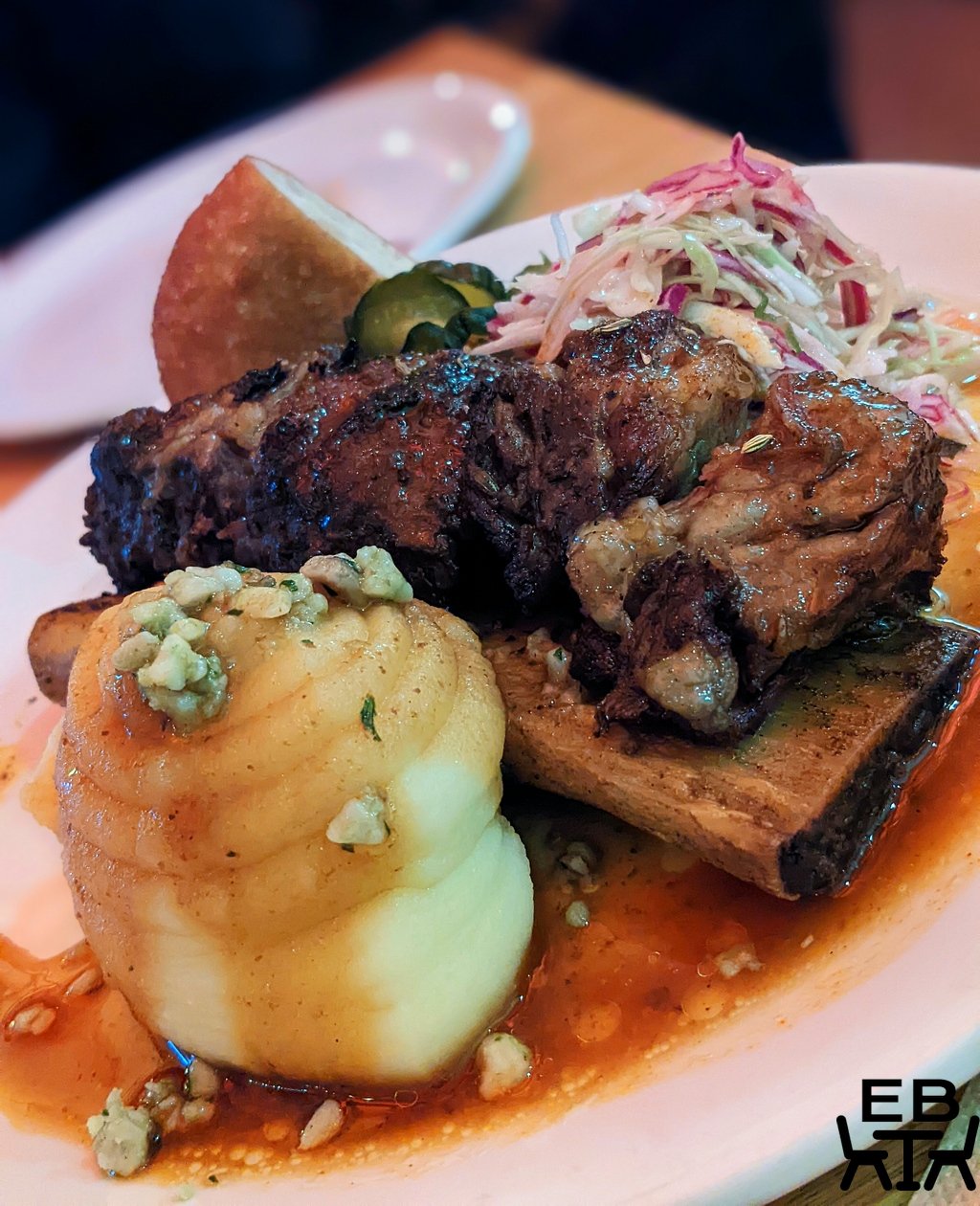 Staff were friendly and attentive. Despite it being busy in the main area, they didn't neglect the outdoor tables. They also asked us if we would like to move inside when one of the indoor tables became available. They paid attention to the small details, for instance arranging to have the burger halved as above.
We could see why Dexter is as popular as it is, and it is certainly a place we would look at revisiting. The chicken was alright, but they can definitely cook their other meats. Definitely get the Meat Doughnuts.
Scores:
Food: 3/4
Setting: 1/2
Service: 1.5/2
Total: 5.5/8
Price point: $6 per meat doughnut. Other snacks $16 to $18. Buns $15-$16. Meat plates $29 to $78 (that's for 500g dry aged rib eye).
Value: Not bad.
Details:
Address: 456 High St, Preston
Phone: 03 9973 3577
Website: Dexter Melbourne