Last updated on November 1, 2022
The Candlenut restaurant in Singapore has received accolades as the first Peranakan restaurant to receive a Michelin star. Peranakan cuisine is less commonly found in the world outside of Singapore, Malaysia, and Indonesia, compared to other more easily found Asian cuisines, so we thought we really should visit while we had the opportunity.
Candlenut is located at Dempsey Hill. If you're not a local or don't drive, it's still not to hard to get there by public transport. Orchard MRT is the closest train station to it, and a number of buses will then take you down the road to the area. There are a number of shops and eateries in the sprawling collection of rejuvenated ex-barracks, and signage can be a bit patchy, but Google maps did get us there.
A couple of other eateries share the same block, but we could just make out the sign reading "Candlenut", partially hidden by the shade of the eaves. We had booked ahead, so were shown to a table not long after walking in.
It is an expansive space with very high ceilings, which were designed to allow for air circulation back in the days before air-conditioning. (More on the history of Dempsey Hill here.) It is air-conditioned these days though (definitely needed when the temperatures hit over 32*C and it's over 95% humidity). Imposing clusters of large woven lampshades were suspended from the ceiling, making you even more aware of how much more height there was above them.
The decor used colours and motifs commonly associated with Peranakan crafts, with turquoise being the main colour, accented with magenta blooms at the tables and in larger floral displays.
Piano jazz played in the background at a non-intrusive volume. There were also modern renditions of classic pop, like Stevie Wonder's Isn't She Lovely. It made for an upbeat but relaxed atmosphere. Because of the high ceilings, it never got noisy, rising at most to a present murmur when the area filled up with diners.
Menus were brought to us, but rather than have to choose between items on the a la carte list, we opted for the "Taste of Candlenut" menu, also known as the "Ahmakase" – a play on "ah ma" being the term for grandmother, rolled in to "omakase". We figured that it was a good option as a showcase for what the chefs thought were their best dishes. At $98++ per person, it also seemed a good price for a Michelin restaurant meal.
After we ordered, a small side sheet with the list of dishes we would be served was placed at the table. We thought this was a nice touch, as it helps diners less familiar with the cuisine know what they are having.
Besides their many-paged wine list, they also offer a few mocktails. We picked the Pandan keping, described as fresh pandan, kasmine rice, assam keping, and soda. The clear and colourless drink was served in a matching glass, with a section of pandan leaf emerging from it. It had a definite pandan aroma, and a present pandan flavour. The drink was lightly sweet and fizzy, and pleasantly refreshing. It was certainly one of the better mocktails we have had.
The entree dishes were brought out in quick succession, so they sat at the table together. Staff described each dish to us as it was presented.
Kueh pie tee shell, Boston lobster, tumeric curry, shaved roasted candlenut. The kueh pie tees were nestled into a bed of candlenut shavings, which looked quite like grated cheese. (We were told to eat just the kueh pie tees.) The pastry shells were crisp and light and held the fillings well. They are usually filled with shredded turnips, beansprouts, egg strips, and sometimes dried shrimp. This, filled with lobster, was definitely a more luxurious take. The lobster pieces were tender, and the turmeric curry provided sauce to meld them, and a distinct kaffir leaf flavour. The candlenut shavings gave it a hint of nutty flavour, reminiscent of macadamia nuts.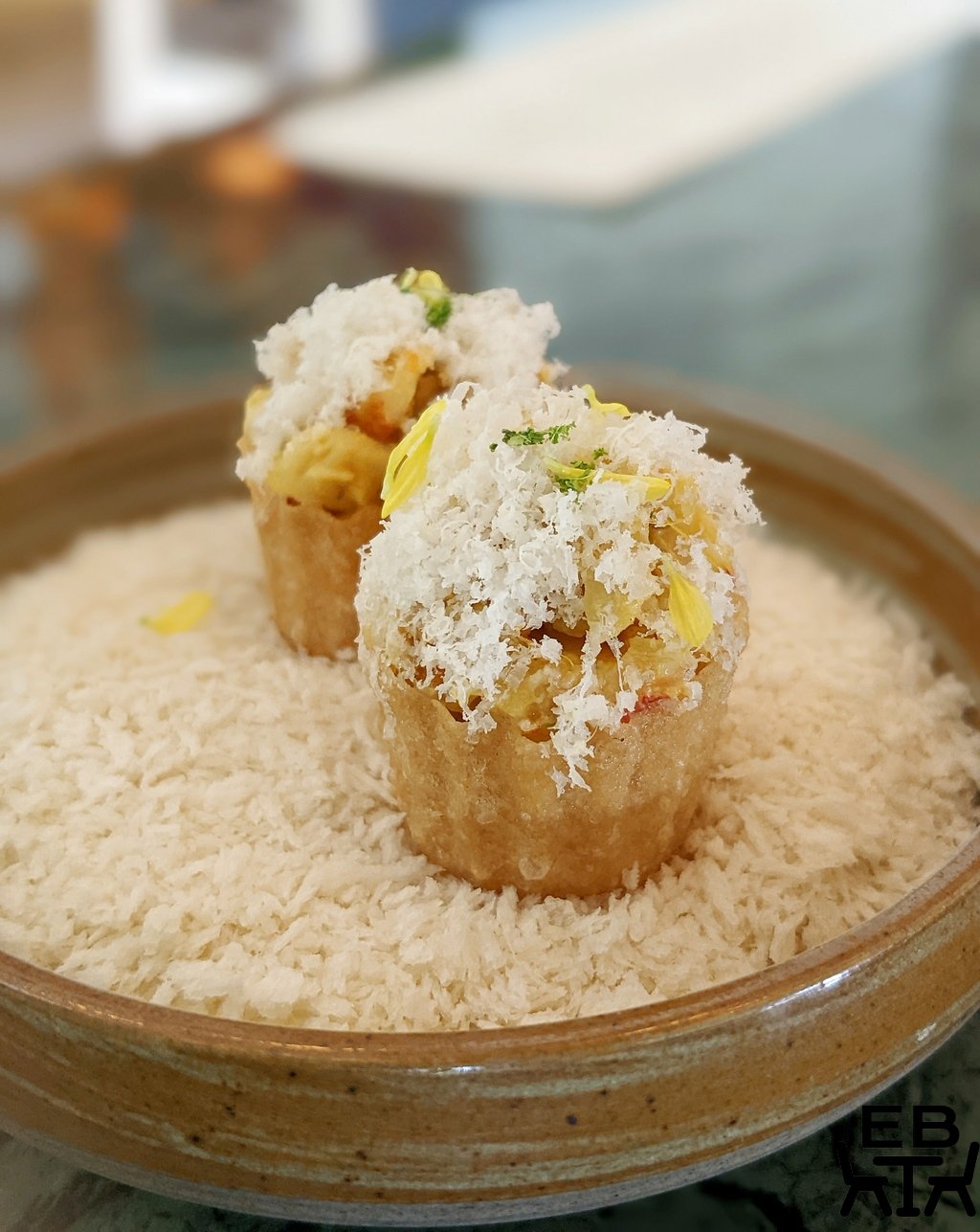 Deep fried mantou, itek sio, cucumber, green chilli, sawtooth coriander. These were like little boats on the plate, the bread base piled high with a mound of topping. The fried mantou at the bottom was lightly crisp, rather than having a hard crunch like a toasted sourdough slice might have. Itek sio is a tamarind-based braised duck dish, and the pulled meat from this on the mantou base was a saucy blend of savoury and sweet.
Charcoal grilled bangus belly, kicap manis glaze. These were served on skewers, looking like any other barbecued meat (even like satay). It was certainly more tender though. The kicap manis glaze was sweet and sticky, almost caramelly, and sightly spicy. It also had a hint of smoke in the flavour.
Bakwan kepiting soup: blue swimmer crab chicken balls, tofu puff, bamboo shoot, rich chicken broth boiled over 4 hours. It was silky, with the opacity of an emulsion. It wasn't a cloudy soup, but had a distributed density to it, so it wasn't just a clear broth. It had a rich, but subtle flavour. The meatballs had strands of crabmeat visible through them, so it wasn't just token. They were nicely seasoned. We were also impressed by the finely diced chives, cut to about a 1mm thickness.
The rest of the dishes in the mains section were brought out together, shared dining style.
Sweet corn and honey pineapple kerabu: Chitose x Cameron Highland sweet corn, honey pineapple, ulam raja, lemongrass, ginger flower, cashew nuts, ikan bilis, homemade kerabu dressing. A kerabu is essentially a vegetable salad with punchy flavours from the herb and condiment dressing mix. As the dish was placed on the table, waitstaff told us that the sweet corn was a special strain from Japan. This strain is supposed to be sweeter than typical ones. The sweet corn ribs were indeed juicy and sweet. There was a tartness from the pineapple (though it was stated to be honey pineapple). The cashew nuts provided crunch to the texture, as well as a deeper flavour note. We were aptly advised to have this dish first, and it was a palate cleanser before the others.
Buah keluak sambal prawn: Ang Kar prawn cooked in an aromatic and intense "poisonous" black nut gravy with fresh coconut milk, Naganasu brinjal tempura. For the unfamiliar, buah keluak is a characteristic component of Peranakan cuisine. The buah keluak seed is poisonous in its original state, and it needs to be prepared properly to adequately remove the cyanide in it. (Less risky than fugu though.) Although the dish wasn't very photogenic, it is probably a menu centrepiece from the classic cuisine ingredient perspective, as well as the concentrated flavour. Buah keluak has an earthy complexity, and there were definitely dark chocolate notes as the most commonly understood association, but also other mellower undertones from fermentation. The prawns had been shelled, which made them much easier to eat, and ensured that the flesh was actually in contact with the sauce and took up flavour. There was a bit of spicy heat from the sambal, just to drive the flavour intensity up another notch. The batter coating on the eggplant remained crisp.
Ikan chuan chuan: Kuhlbarra barramundi cooked in a fermented soybean paste and ginger sauce, Cameron Highland spinach, chives, spring onion, fried ginger, fried shallot. The fish pieces were well cooked, so they remained tender. The accompanying sauce had a good balance, with a light sweetness.
Sotong masak lemak: wild caught Sugata baby squid, sweet potato leaves, organic soybean tempeh, turmeric, coconut, laksa leaf. The baby squids, which came from Japan, had a soft, springy texture. The turmeric curry was comfortingly coconutty and creamy, and had just a little heat to it. The tempeh pieces were soft rather than gummy, and had a present, but not unpleasant, beany flavour.
Telor goreng with peppery pork: Frenz organic free range fried sunny side up egg, braised Borrowdale pork belly with Sarawak white peppercorn and premium soy sauce, crispy pork lard. The pork was cut up into small pieces rather than served as large slabs. There was plenty of sauce to go with the meat, and it was sweet, salty, and peppery. The lard cracklings were like airy crackers, adding crunch to the dish. Hidden underneath the pork was the crispy fried egg, neatly done with a runny yolk. At times there was an offal undertone when eating the dish though, akin to when you have a pork intestine dish that perhaps hasn't been 100% properly cleaned. We weren't sure if that was intentional..
The menu concluded with two dessert dishes (always better than one dessert dish).
Beku barli: barley sorbet, wild tea honey granita, pandan ice jelly. This was delicately presented in double-walled glass bowls, which helped keep the dessert cold. The barley sorbet was neatly quenelled, and it was ornamented with a small piece of gold leaf. The sorbet had a smooth texture, and a light barley flavour. This was cleverly done, as barley has a mild flavour, but they managed to bring it out without just making it artificially sweet (like barley packet drinks tend to do). The honey granita was an interesting contrast in ice texture to the sorbet. It had a present honey flavour, again without just being sweet. The tea was less perceptible. The pandan jelly underneath was soft, not like a firm agar texture. Altogether, it was a well-crafted dessert that brought usually subtle flavours together and managed to highlight each of them.
Black sesame creme, coconut, butter crust. This was a little bite-size morsel. The presentation played on nostalgia, as it had the shape of a gem biscuit. (If you have no idea what a gem biscuit is, this will tell you a bit more.) The black sesame creme was like a soft custard. It had had a light but present black sesame flavour. Forming the base was a crisp, buttery wafer, which made a good textural contrast.
Because one of us can't do black sesame, we were given a replacement item for that last dessert. This was a piece of their kueh salat, decorated with a vividly coloured butterfly blue pea flower petal. The pandan custard component was masterfully soft and smooth (an achievement, given our past attempts at making kueh salat). The steamed glutinous rice also had a good chew.
Overall, we enjoyed our dining experience at Candlenut. It was a relaxed environment, but service was very professional. Staff told us about dishes as they were brought out, our water glasses were kept filled, and they knew when one of us stood up that we were looking for the bathroom, and directed us there. Purists will say the dishes are not entirely traditional, but there is skill in taking the central elements of the cuisine and then accentuating them with new elements. Worth visiting, and we would recommend booking ahead (it's easy to book online).
Scores:
Food: 3/4
Setting: 1.5/2
Service: 2/2
Total: 6.5/8
Price point: $98++ per person, so about $115 SGD.
Value: Good, for what you get.
Details:
Address: 17a Dempsey Rd, Singapore 249676
Phone: +65 1800 304 2288
Website: Candlenut Singapore