We are always on the hunt for good pastries, and pictures of croissants from Reno Fine Patisserie caught our eye in social media feeds. To add to the appeal, pastries are rather portable, so suit takeaways in this age of social distancing.
We made our way down to Warrigal Square one weekend, when we managed to be coordinated enough to get there before the goodies were likely to have already sold out (we made the mistake of being too late to Agnes a few times). Reno Fine Patisserie is located near Woolworths, and is mainly set up as a takeaway shopfront. There was just one cafe table in front of it, but it is likely that even outside of the COVID situation, they do not have much seating.
The pastries immediately captured attention as one approached the storefront, sitting front and centre in glass cabinets on the counter. One held rows of golden pastries, and the other held an array of colourful cakes lighted from below to highlight their jewel-like hues.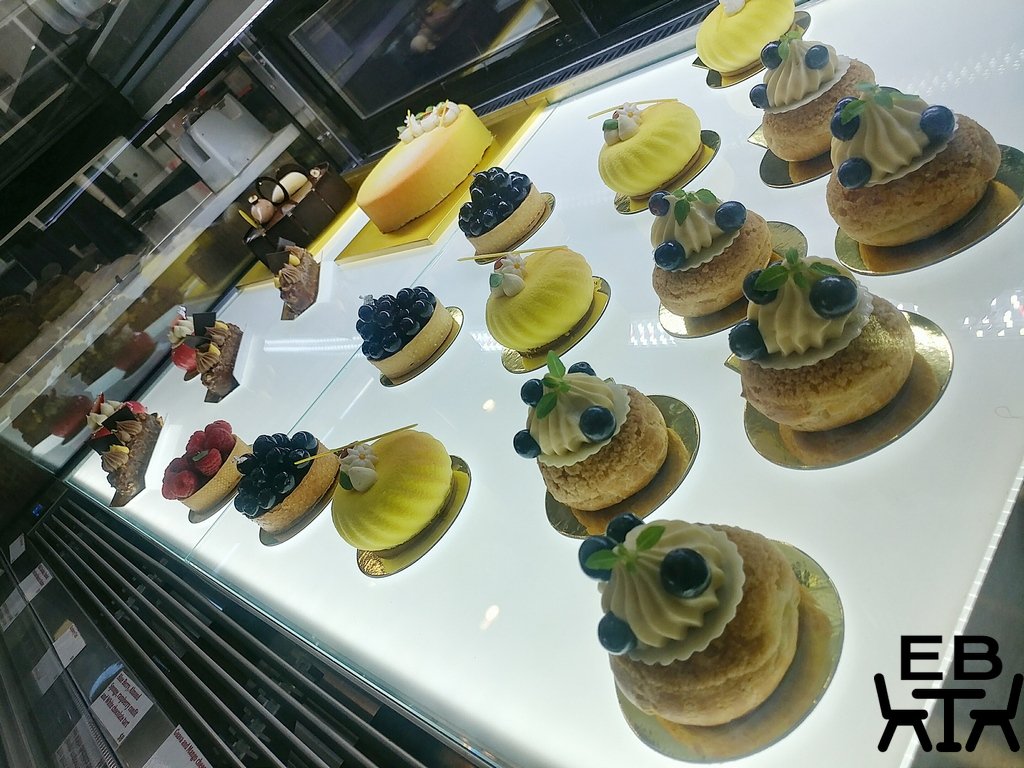 We were tempted by the numerous options, but past experience has taught us that while it is all well and good to buy one of everything, if you can't then eat manage to everything while it is at its freshest and most delicious, you have still missed out (especially true for pastries, which should be eaten on the same day they are made). Because we still had other errands to run that day, we decided against getting the cakes on this visit, as we feared they would not survive being transported around. We got their plain croissant (what we have decided to use as a baseline test), a black truffle cruffin, a seasonal fruit danish, and a fresh out of the oven matcha croissant.
These were packed for us in a roomy white box, and they survived the travels through the day quite well.
The plain croissant had good loft to it, balancing lightness with richness. It was crisp on the outside, with thin, flaky outer layers. It had a good chew and pull on the inside.
We don't usually go for cruffins, but the black truffle component swayed us. This had a good weight to it, denser than the plain croissant. It had a more brioche than croissant texture on eating, but had good strength of truffle aroma. The pastry was also a little more savoury than in the plain croissant.
The matcha croissant hadn't been in the cabinet when we were eyeing our options, but one was brought out of the kitchen when we were placing our orders, and of course we decided we had to get that too. It had a good rise, like the plain croissant, and was topped with a green crumb that let you know it was a matcha item (matcha lovers gravitate to green desserts in the hope that it will be matcha). This too was a buttery croissant, with good, strong matcha flavour from the matcha cream filling inside. It was not  It was crisp on the outside, contrasted by the softer texture of the inside, then the smooth cream filling.
Reno Fine Patisserie is a bit of a hidden gem, but certainly worth seeking out. It is well-priced for what you get (a non-city location helps), and if you get there on a weekend, you can snag yourself one of those matcha croissants too (they are only available on the weekends, otherwise you will just have to content yourself with their other pastries).
Scores:
Food: 3.5/4
Setting: 1/2
Service: 1.5/2
Total: 6/8
Price point: Pastries $4.50 to $7. Entremets around $8.
Value: Good.
Details:
Address: Shop 4, Warrigal Square, 261 Warrigal Road, Runcorn
Phone: TBA
Website: Reno Fine Patisserie