Last updated on March 10, 2016
Zeus Street Greek is a new eatery in Southbank that has had its official opening just this weekend. As the name indicates, it serves Greek food. Souvla (which describes the style of roasting) pitas, dips and breads, salads..
The interesting thing for me about this place has been the marketing. It has been quite savy with its use of social media. Days before its opening, it had popular food Instagrammers putting up pictures of themselves making pita wraps in the kitchen. Instagram and other online lifestyle e-zines were also used to spread the word of their opening day on Saturday, and they lured the crowds in with free souvla over the lunchtime hours. We contemplated going along, but the anticipation of long lines and potentially rushed food was a deterrent. So we turned up the next day instead.
It was still fairly busy, opening buzz of a new place still about it. There was a bit of a line at the door, but the host efficiently explained things and saw people through. There are entrances both at Grey Street and Little Stanley Street, and there is both indoor and outdoor seating. It has been cleverly designed to maximise flow and light in the space, with white-tiled walls reflecting the light without being stark. There is a long order and service counter, and along that is a charcoal pit behind glass on which you can watch some of the meat being rotisserie roasted (with a staff member being assigned to keep the spits turning, and unfortunately getting the occasional burns to their fingers as evidenced by the bandages on one poor person's hands..).
An interesting thing to notice was the signs hanging up, with lines like "Welcome to our home", and "We're not just your new neighbours, we're your new family". A deliberate association of emotion with the food and the place. That may just be me being cynical, but it is a clever way to subtly get people attached and invested.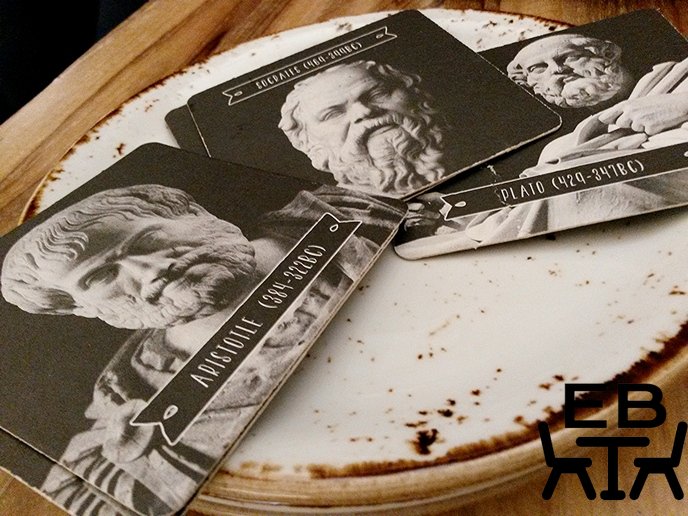 The other interesting thing is how much branding there is around the place. From the laser-cut Zeus lightning bolt logo on the custom-made wooden serving platters/scoops for the souvla and the larger wooden serving boards, to the same logo on the aprons, shirts, and caps of the staff.. A fair bit of money has been invested in this venture. I was contemplating just how much..until I found out that it is a chain with a number of other outlets in New South Wales. Sinking that much into branding for a single establishment seemed like a very brave move.
On the food.. We opted for pitas from the souvla, going with the Zeus (lamb), and the Papau Niko (pork). The soft shell crab looked like a tempting option, but when in Rome (or Greece)..better to stick with the traditional food to get the best idea of what they can do. Surely if they had their signature lamb and signature pork in them, they would be a good marker. The wraps are certainly well-presented, and put together so that you can actually eat it without having to juggle ingredients that threaten to fall out. Of the two, the Zeus pita tasted better, with the lamb having a good smoky flavour. In both wraps, the meat was well-cooked and tender. The pitas they were wrapped with, in particular, are possibly among the fluffiest I have had.
In terms of food value, having lived in Melbourne and being exposed to a fair amount of Greek food, and having eaten rather transcendent banh mi at Mrs Lu's just a few days prior (post on that yet to come) that cost less, I would rate it just alright. One has to take into account the area they are operating in so the rental cost they have to cover, and the smart casual ambiance of the place that pitches it just above the Burrito Bar, Guzman Y Gomez, and Grill'd across the road for similar cost though, so part of what you are paying goes toward the entire food experience rather than just being concentrated on the food. It will be interesting to see how it fares in the months to come.
Price point: $9.50 to $12.50 for pita souvlas. Salads $11.50-$13.50.
Value: Alright.
Details:
Address: Shop S13/14 Little Stanley St, SouthBank
Phone: (07) 3846 0200
Website: Zeus Street Greek