Last updated on March 10, 2016
We stumbled across the first Sushi Edo that opened literally years ago now, in Newmarket. We were surprised by the quality of the sushi for a suburban shop, and at such reasonable prices. It is more than just your average sushi train. We followed them as they expanded into other outlets, in Nundah, and now in the CBD. I think they are doing well for the simple reason that they serve consistently good food, at a consistently good standard, and at a consistently good price. Each plate of sushi was $3.50 at the first store, and it remains $3.50. Portions haven't shrunk, and the fish remains fresh.
I would recommend their aburi nigiri, in particular. They get just the right amount of fire on it, so that you get the smokey flavour without cooking the fish all the way through and losing the raw texture. Get the aburi scallop nigiri or the treasure box (which has aburi scallop and salmon) to appreciate the sweetness that fresh scallop has.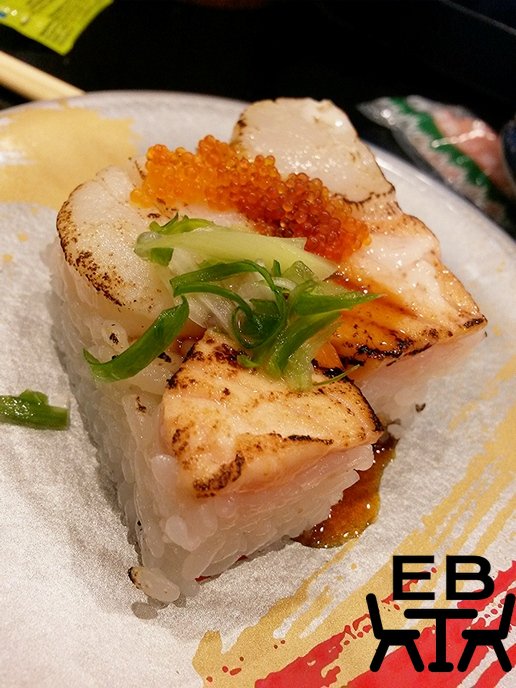 Their hand rolls are also good value. You get one on a plate for $3.50, and they have just the right ratio of fish to rice and sauce, and arrange it so that you have ingredients right to the end of the roll, rather than just packing it in the front for looks. The nori used to wrap it is also crisp, so you get a crunch in each bite as well. As long as you eat your hand rolls soon after they are delivered to you, or the moisture from the warm rice will soften it. (Note to all those who get caught up photographing their food..)
Other $3.50 dish options include crab claws, spring rolls, and rice paper rolls. They do also do sashimi plates and udon for..more than $3.50, and have just ventured into ramen this winter.
The stores are much busier now than they used to be. Seats remain connected to the sushi train, with either seats at the counter, or booths adjoining the conveyor belt, so that you have access to the dishes going by. The iPad ordering system means that you can either wait for interesting plates to come to you, or order items you want off the menu without having to wave for attention. It is both convenient and efficient.
They have their prep area in the middle, so that you can see the magic happen before the food gets to you. It's as much of an open kitchen as you can get. Staff are always friendly and helpful as well.
Price point: $3.50 per plate of sushi or handroll. Other prices for sashimi and ramen.
Value: Very good. There's a reason I frequently return..
Details:
Newmarket:
Address: 400 Newmarket Rd, Newmarket (part of the shopping complex there)
Phone: 07 3856 5058
Nundah:
Address: 2/1231 Sandgate Rd, Nundah (along the stretch of shops in the village)
Phone: 07 3260 5959