Jam 4012 has been in Nundah for years (4012 for the postcode). It has become more widely known for its breakfasts/brunches, and as of February this year has changed to a breakfast only location. We were last here over a year ago, and it has certainly picked up buzz since then. On the visit for a weekend brunch (or late breakfast) there was certainly a lively hum, with only a couple of tables empty at any one time.
Large folding windows let lots of daylight in, and the counter is wide enough that people can sit at the window and have their food and drinks, without worrying that their plates are going to fall off the edge. The seating is otherwise mostly wooden chairs and tables. There are a few paintings from local artists on the dark blue wall. The far wall of the cafe is a wallpapered with a giant word search, and you can spend the time between ordering and meals arriving looking for words, or finding imaginary ones (it's meant to be world city names, but you can make your own search up, I'm sure).
Despite the bustle, waitstaff made eye contact soon after we approached the entrance, and we were shown to seats. A bottle of water and glasses full of ice were soon brought to the table, along with menus to peruse.
There were many tempting choices on the menu, ranging from savoury to sweet, with things in between.
We began with drinks. The mango and coconut frappe came out as a thick drink rather than the more typical ice blended variety. That was likely to have been from the coconut component. There could have been a stronger mango flavour to it, as that was unfortunately barely present.
Coffee was thought to be pretty good.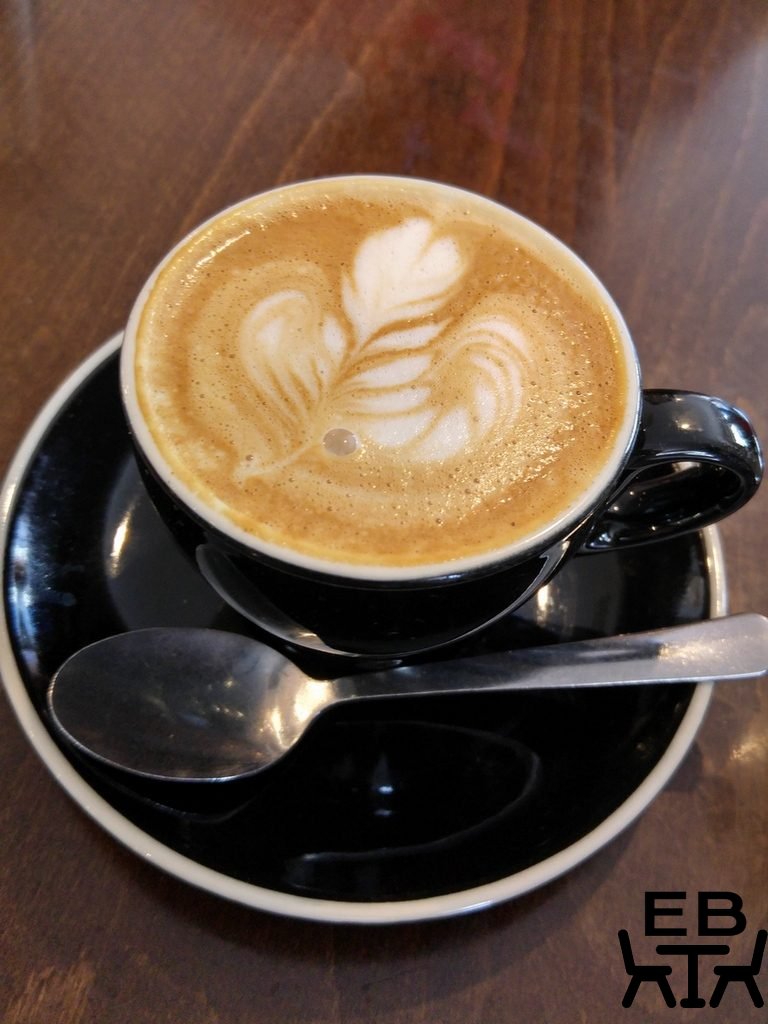 The Toronto Stack was warm sweet potato, apple, and cinnamon pancakes layered with bacon, served with maple syrup and topped with a fried egg, with maple butter and crispy sweet potato ribbons on the side. The hotcakes were soft, and were sweet from having absorbed the maple syrup. They were a good balance between being well saturated, without being gluggy. You could see the cinnamon flecks in the hotcake mix, and it did have the aromas of it. Small bits of cooked apple occasionally studded the hotcakes. The bacon was crispy at the edges, and added a nice salty contrast to the dish so the sweetness wasn't overwhelming. The sweet potato ribbons weren't quite crispy, even though they were tested straight away. They did add colour to the plate though.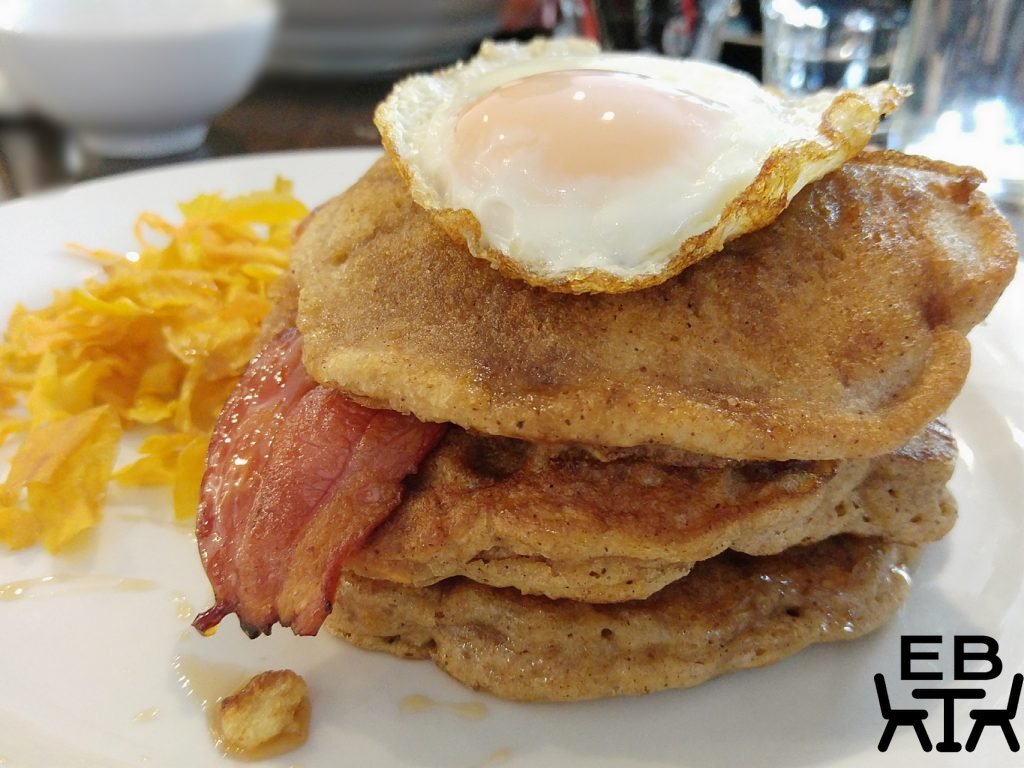 The Paddy Cake consisted of potato, smoked salmon, and herb cakes, topped with two poached eggs, hollandaise sauce, and bacon dust, served with toasted sourdough and grilled roma tomato. The potato cakes were slightly savoury, dense, and nicely chivey. There was an adequate amount of smoked salmon bits in them. The poached eggs had runny yolks, which added more moisture to the dish. The roasted tomatoes added sweetness. The bacon dust would more accurately be described as bacon bits (dust probably sounds more interesting though), and gave the expected smoky bacon flavour to the dish. It wasn't really crunchy, but the toast provided that needed crunch texture.
The waitstaff were efficient, and despite it being busy, coordinated seating patrons and getting food out well.
Jam 4012 is a great suburban cafe. It's not fancy or artisinal. You won't find superfood spruiking here, but you will find some pretty tasty stuff. I take their whittling their opening hours down more as an indication that they don't have to stay open as long to turn a good profit than that they are struggling, from the many other patrons filling the tables when we were there. Stop by if you're in the 4012, and worth going to even if you don't live in the area.Just make sure you get there before midday..
Scores:
Food: 3/4
Setting: 1/2
Service: 1/2
Total: 5/8
Price point: Breakfast items $12 to $18 for things more substantial than just toast.
Value: Not bad.
Details:
Address:  Shop 3/1208 Sandgate Rd, Nundah
Phone: 07 3266 1704
Website: Jam 4012