Canteen Kitchen is one of the popular breakfast/brunch spots in Burleigh Heads, as we discovered when we got there to find ourselves at the back of a 30 minute wait for a table. Fortunately, Canteen Coffee is set up just next door, and as I'm sure many others have and do, we started with caffeination there in the interim.
There are metal chairs by wooden crates doubling as coffee tables, and a row of repurposed old cinema seats that have the versatility to accommodate solo drinkers or groups. Pots of succulents are interspersed between the seats to provide some greenery to contrast the urban landscape. There is a box of blankets thoughtfully placed off to the side to help keep patrons warm in cooler weather. There are also pastries and cakes in the cabinet in the cafe to tide those who are ravenous and need something to sustain them till breakfast over, or if people just want a cake and coffee.
The iced latte had a good nutty, roasted flavour.
The flat white was also thought to have good flavour and strength.
We were called over to a vacated table by the staff at Canteen Kitchen in about the predicted time, and they brought over a bottle of water and menus. There was indoor and covered outdoor seating. Indoors, there was an open kitchen at one end, and large windows open to the pedestrian walkway between the shops at the other end. An array of photos of Burleigh Heads in earlier days hung on the wall. It had the atmosphere of a rustic little Italian eatery (it isn't Italian though).
We were seated outdoors, where there were a few longer tables that comfortably sat six, with individual rather than bench seats. There were speakers outside that played easy listening music at a comfortable volume, mostly from 60s and soul genres, making it quite a relaxed atmosphere.
The menu had all day breakfast and lunch options. As they're only open for breakfast and lunch, what that means is that all the food that's listed is available for all the time they're open, so you don't have to worry about being there too late for breakfast items or too early for lunch items. It is very middle-eastern influenced, with all the dishes using ingredients from that cuisine. From the list, we eventually settled on the za'atar chicken burger, and the lamb kofta with middle eastern beans.
The za'atar chicken burger came with avocado, pineapple chilli chutney, minted yoghurt, lebanese cucumber, and a side of greens. It wasn't really a pick up and eat burger, with the tower of ingredients (I'm pretty sure no one has a mouth that big), but rather one tackled in bits with fork and knife. The chicken was tender, and definitely herb-coated and flavoured. The minted yoghurt was slightly sweet, rather than tart. The pineapple chilli chutney had just a little bit of heat. There was a proportionally good amount of avocado. The turkish bread the burger was served on was toasted so that it was crisp on the outside but still had some softness on the inside. All of it went together well.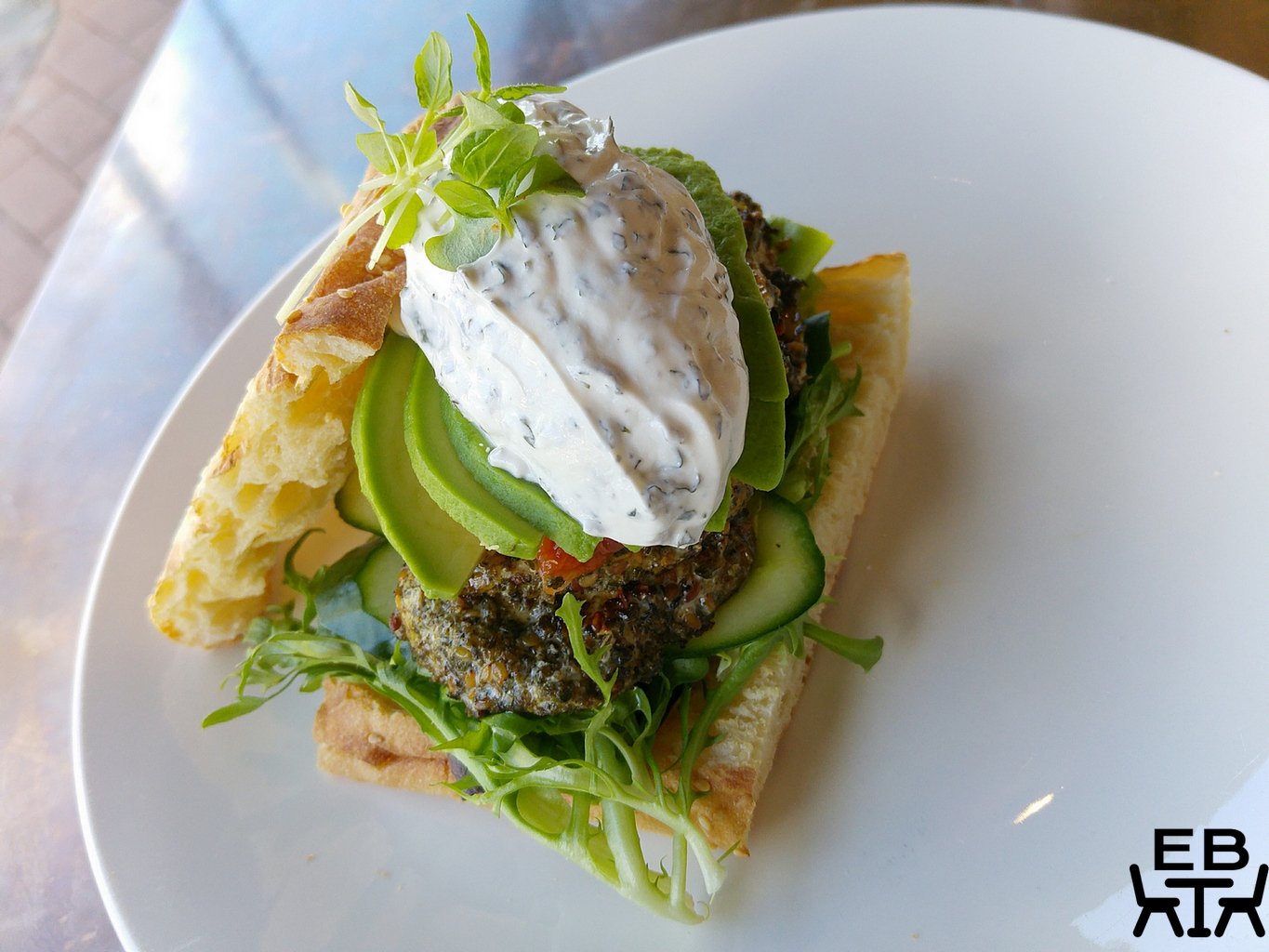 The lamb kofta came with middle eastern beans, poached eggs, and sourdough toast. The kofta had good texture, meaty without being gristly. The beans were savoury, tomatoey, and had a bit of spice flavour from a mix of spices rather than just one particular one. The poached eggs had nicely runny yolks. The dense sourdough toast made it all a rather filling dish.
Canteen Kitchen and Canteen Coffee are a cleverly paired setup. The kitchen uses spices to put together dishes that are a twist on the usual fare without trying to be too clever, and pretty tasty. There is a bit of a wait at peak times (they don't take reservations), but people are obviously prepared to do so.
Scores:
Food: 3/4
Setting: 1/2
Service: 1/2
Total: 5/8
Price point: Items $14 to $22 with some additions.
Value: Not bad.
Details:
Address: 23 Park Ave, Burleigh Heads
Phone: 07 5534 3877
Website: Canteen Kitchen