Located at the corner of a little row of neighbourhood shops in Cooparoo is Little Sista. It isn't obviously signed, and if you blink you might miss it as you drive past. There is off-street parking for the complex just around the corner, which makes heading there a bit more convenient.
There is plenty of outdoor seating, but on a hot day, indoors with air-conditioning is a great choice. Plenty of natural light comes in from the large windows, and inside the decor is white walls, wooden furniture, and references to nature in pictures and cushion prints.
You find yourself seats as you come in. There was a menu on the table, and we were soon brought water. It would have been nice if the water was cool rather than lukewarm, given the heat and mugginess of the day. The waitress thoughtfully brought us another menu, and returned for drink and food orders after having given us some time to peruse.
I had been looking forward to the Peanut butter french toast that was on the menu on Zomato (brioche french toast with chocolate peanut butter sauce, peanut and coconut brioche crumb, vanilla ice cream, and bacon), but alas, the menu available was different. Still, we did find a couple of alternative options that appealed. (There were also pastries and toasted sandwiches available in the cabinet for lighter food options, but we didn't really pay much attention to them.)
The peanut butter shake had the right balance of chocolate and nuttiness, and wasn't too sweet. It came out properly cold instead of just cool. Extra 50c for soy instead of dairy milk though.
They don't do a pretty picture on the top of their coffee, but it was a pretty good coffee.
The corn fritters had plenty of corn kernels in them, unlike other places where you get mostly batter. They had crunch on the outside, and were soft in the middle. The ginger and chive flavours in it came out nicely. The runny yolks from the eggs, the smashed avocado, and sour cream were good accompaniments to it.
The slow braised beef was served in pulled form on sourdough toast. It was saucy without being sloppy, and had a rich tomato flavour. It was a bit samey by about halfway through though. The chipotle sauce swept across the plate added a bit of kick. The sourdough bread had a good crunchy crust, and all of it together with the poached eggs made for quite a hearty dish.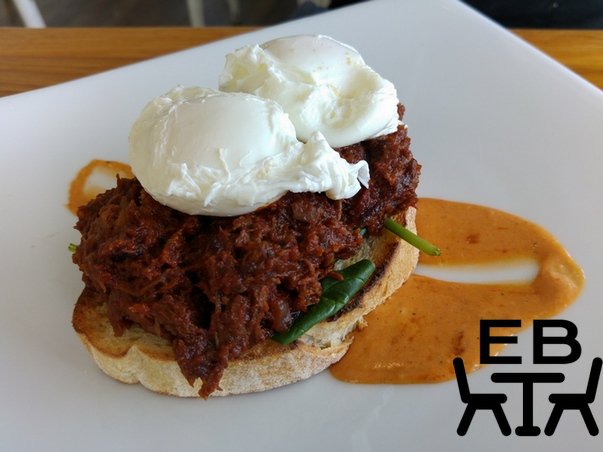 The waitstaff were friendly and cheerful, and enthusiastic about the food on offer.
Little Sista is a little neighbourhood gem, and well worth a visit if you're in the area.
Scores:
Food: 3/4
Setting: 1/2
Service: 2/2
Total: 6/8
Price point: $16 to $20 for items beyond simple toast or granola.
Value: Pretty good.
Details:
Address: 148 Chatsworth Rd, Cooparoo
Phone: 0421 130 564
Website: Little Sista