This was a return visit to the Northshore Harbour Cafe after the initial, an invitation to a new menu tasting. We were well looked after at that event. I thought that it warranted another visit, and that one where we were ordinary customers might be a better reflection of a typical experience at the place.
The Northshore Harbour Cafe is in a new development area, aspirationally named Hamilton Reach. A bit beyond Hamilton itself, if you keep going past the Eat Street Markets and what looks like just an industrial area, you will see residential blocks appearing. On a bend of the river, a few steps away from the Northshore Hamilton Citycat terminal, is the cafe. It is a single storey standalone building, and almost looks like it was made out of a giant shipping container. Affiliated with Riverlife at Kangaroo Point, it shares that similar overwater outlook, but doesn't offer the same gamut of outdoor adventure activities.
The interior is flooded with natural light, coming through big glass windows and doors on three of the four sides of the building, and they can be opened up when the weather is better to make it all al fresco. On a hot day though, the air conditioning here makes for a nice retreat. It has beachy colours, with white as the primary colour, and a splash of yellow. The turquoise gurgle jugs (also in yellow and white) add another hue, and are entertaining to use. You can buy one to take home for $49.95. Canvases from rotating featured artists hang on the walls and can be purchased as well.
We began with drinks. At the tasting, there were pitchers of the house-mixed sangria for the tables, fruity blends such as white wine, grapefruit, and lychee. These are still options you can get from the chalkboard menu on the wall. We opted for more routine caffeinated beverages this time.
The flat white was, unfortunately, weak and rather bland.
The mocha milkshake was served cool enough, but tasted more like artificially sweetened chocolate than anything else. It was impossible to tell if there was any coffee in it.
The menu had changed since we were there last. Gone were the interesting chef's specials options, which was a shame because they had some good things on it. For instance, pulled pork belly with sweet potato hash, fried duck egg, and avocado, or the dish I had, house made waffles and fried sliced duck breast with siracha maple and Thai basil. That was worth returning for, and I had rather hoped to be able to have it on this trip. Sadly, that wasn't to be the case.
We managed to miss the end of breakfast, which we realised only after we had decided what we wanted to get from the breakfast menu. No all day breakfast here, unfortunately. If you're there after 1130, no breakfast for you. After reevaluating the options left, we picked an item from the "From The Sea" section of the lunch page, and one of the specials of the day.
The special we selected was the herb crusted lamb rack, further described as pasture-fed Tasmanian lamb rack, crusted with pistachio and basil, served with pea puree, thyme potato rosti, grilled black pudding, and shiraz jus. The lamb was cooked so that it was still juicy and tender in the middle. The pea puree was smooth and had a vibrant colour and flavour. The potato rosti had a layer of crunch on the outside, and had buttery and soft potato strips on the inside. It was also seasoned well, so it was just a bit savoury without being overpowering. The black pudding would aptly be described as melt-in-your-mouth. The jus was rich, with caramelly hints. It was a delicious dish.
The other dish we had was the bug and prawn parppardelle, described as coming with fresh locally sourced bugs and tiger prawns, sauteed with fresh chilli, tomato, garlic, lemon and parsley, a splash of pernod, and finished with pangrattato. The parppardelle was cooked al dente, and the seafood with it was fresh and cooked so it all had the right texture, soft with a bit of crunch. It needed a flavour other than chilli though, because that was all that really came through, apart from the lemon juice you squeezed over it from the lemon wedge provided. It certainly didn't taste of licorice or aniseed (which the pernod should have provided). Also not sure what the torn up bread pieces (the pangrattato) actually added to the dish.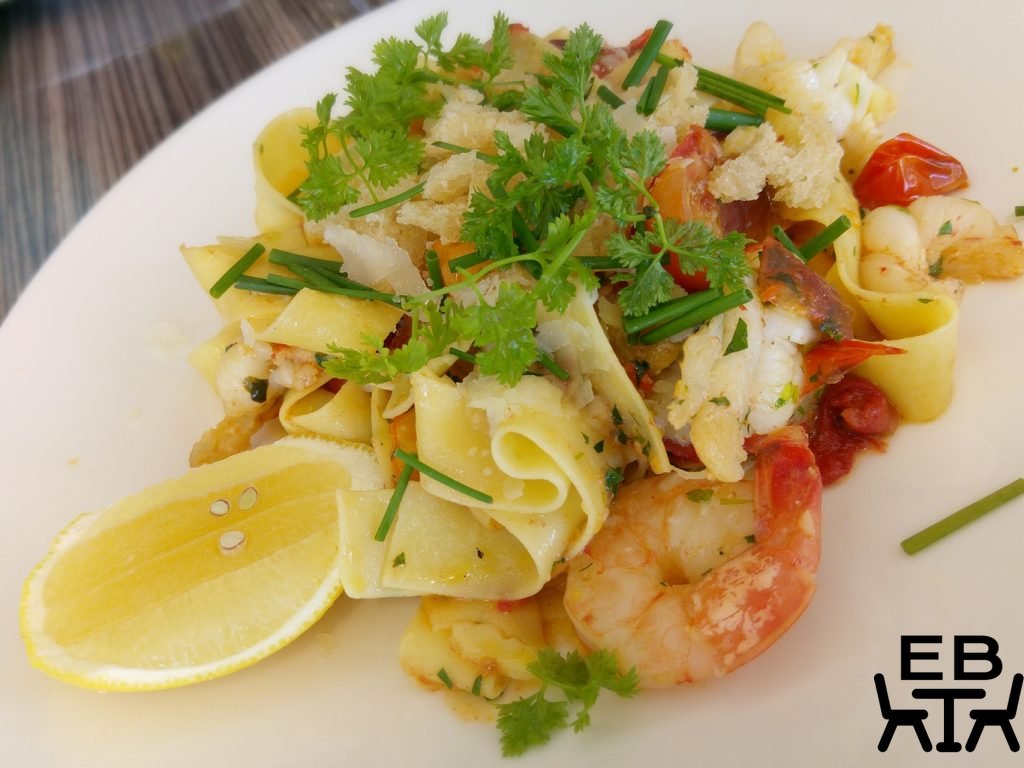 Service was fine. The waitstaff were attentive, although it was a bit much when we were looking over the menu and had three people come and ask us in the space of a few minutes whether we were ready to order..
Northshore Harbour Cafe is a bit out of the way from the usual hubs, and the drinks need a bit of work. The food is pretty good though. Perhaps they will eventually bring some of the more adventurous options back..
Scores:
Food: 3/4
Setting: 1/2
Service: 1/2
Total: 5/8
Price point: Breakfast items $16 to $22.50 for things more substantial than toast. Lunch items $17 to $29.
Value: Somewhere in between.
Details:
Address: 297 MacArthur Avenue, Hamilton
Phone: 07 3172 0595
Website: Northshore Harbour Cafe