Miel Container Premium Homemade Burger (it's quite a mouthful) has recently taken up occupancy in Market Square at Sunnybank, and judging by how packed it was, the move was a smart one. The new location is at least four times larger than the previous, named Miel Container because it essentially operated out of a converted shipping container. It had a few seats scattered outside, but was quite a small footprint for its popularity.
The Sunnybank outlet has plenty of seating in assorted configurations. You can be at wooden topped tables that seat two, long communal tables (with metal pipes for an industrial look), round high tables perched on converted oil barrels, or counter seating along the window.
The signature fire-engine red features on the door and at the service counter. Music videos are projected onto the side of a brick wall. High ceilings painted black and a multi-bladed industrial fan to keep the air moving complete the, well, industrial look.
The only way to describe the music playing though, is too loud. It's like being inside a club and being right next to the speakers. It was the one unpleasant, but very present thing about our experience at Miel Container.
The menu has a selection of what they term Classic Burgers, so ones with preset combinations of ingredients. "Classic" shouldn't be interpreted as typical though, as the offerings include a crunchy prawn burger, and a mozzarella cheese burger. There is also a Design Your Burger section, where, as suggested, you design your own burger, starting from the burger bun, then the protein, the assortment of salads or vegetables (options include grilled pumpkin, spiced gherkin, and caramelised onion jam), the cheese, any additional toppings (extra proteins, or onion rings, or avocado), then the sauce to finish it off. There are also special burger sauces, like a blue cheese one, that are only available when you dine in. Besides the burgers, they also offer snacks and share platters, with items like calamari rings, crumbed flathead, and onion rings.
You place your orders and pay at the counter, get a number to take to your table, and when your food is ready they bring it out to you. I don't know how the wait staff manage to find the number flags amidst the many tables of seated people, but they do. We picked the Korean BBQ Bulgogi Burger and the Miso Smoked Pork Belly Burger from the Classic Burgers list, and it wasn't too long before they arrived at the table.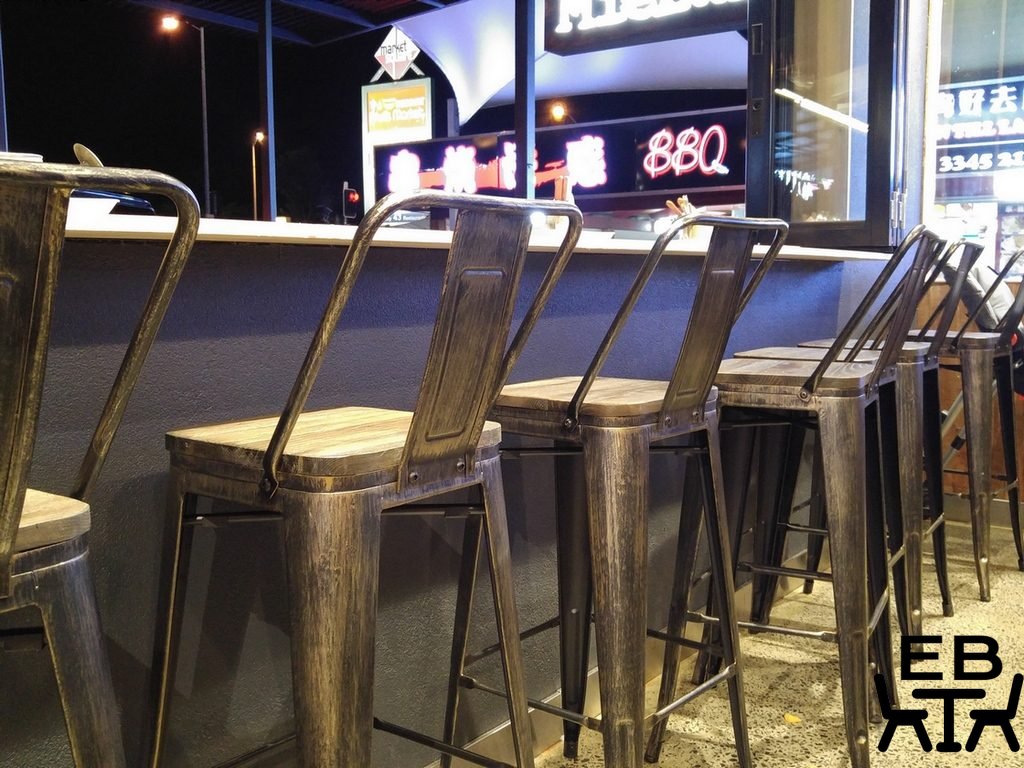 The Classic Burgers all come with a serve of beer battered chips. The serving size was more generous than what we've had each time we've been to the CBD outlet. The chips were hot and crunchy, and had just the right amount of salt. They also had a rosemary aroma from a sprinkling of the herb, and there was a blob of tasty aioli in the corner round of the slate plate to go with them.
The brioche buns the burgers are served on (you can have a ciabatta one instead if you want, but why?) are airy and light, and have a buttery flavour. They are also a beautifully golden brown colour with a shiny surface, and a little scorch at the edges and on top from being toasted before serving. There is a slight crispness to the surface before you break through to the fluffy layer below.
The Miso Smoked Pork Belly Burger had marinated pork belly, lettuce, tomato, gherkin, red onion, and garlic aioli. There was, as promised, a smoky flavour to pork belly, which was shredded rather than served as a whole slab as is more commonly found. That made for a more evenly distributed filling, and avoided the situation of pulling a whole chunk of meat out if you didn't quite bite through it right. It had a good amount of mayo, keeping every mouthful juicy. The pickled gherkin added crunch and tartness. The lettuce and tomato slices gave it freshness.
The Korean BBQ Bulgogi Burger had thinly sliced marinated beef, tasty cheese, mesclun, spanish onion, tomato, soy sauce and garlic aioli. The tasty sweet and savoury beef was loosely packed, and again, well distributed. The tasty cheese complimented the flavour of the meat. This too had a good amount of the aioli so that it was never dry, and at the same time not overdone so that everything was sloppy. The greens and tomato again kept it from being too cloying.
Besides bringing food to tables, the wait staff also very efficiently cleared plates when people were done eating. I had commented that one thing the place needed was a sink to be able to wash your hands after the meal (these burgers are ones you just have to get to grips with). It turned out that there was in fact a sink for just that purpose at one end of the restaurant.
Altogether, Miel Container should definitely be on your list of must-eat burgers in Brisbane. The new location is well thought out, and pretty nice, apart from the volume of their music. They're open 7 days a week, so you have little excuse not to visit.
Scores:
Food: 4/4
Setting: 1/2
Service 1.5/2
Total: 6.5/8
Price point: Classic Burgers $13 to $14.50. Design Your Burger starts at $11. Snacks $10 to $14.50.
Value: Good.
Details:
Address: Market Square, Shop 36/37, 341 Mains Road (corner of Mains Road and MacCullough Street), Sunnybank
Phone: 07 3345 8807
Website: Miel Container