The corn yellow Guzman Y Gomez sign has become easily recognisable to most, as more branches have opened in an assortment of places over the last few years. We had the opportunity to speak to one of the franchisees on the Gold Coast and learn some of the secrets of their success.
The Broadbeach Guzman Y Gomez store is quite thematically festively decorated, with sombreros and black and white photos of neighbourhood scenes (presumably in Mexico) hanging on the brick wall. The seating is communal-style, with long tables inside and outside topped with colourful tiles. Individual seats rather than long benches make it still practical. Open to the outside, it is al fresco style dining rather than air-conditioned. On a summer evening, the balmy weather and garland lights transported one to somewhere far away..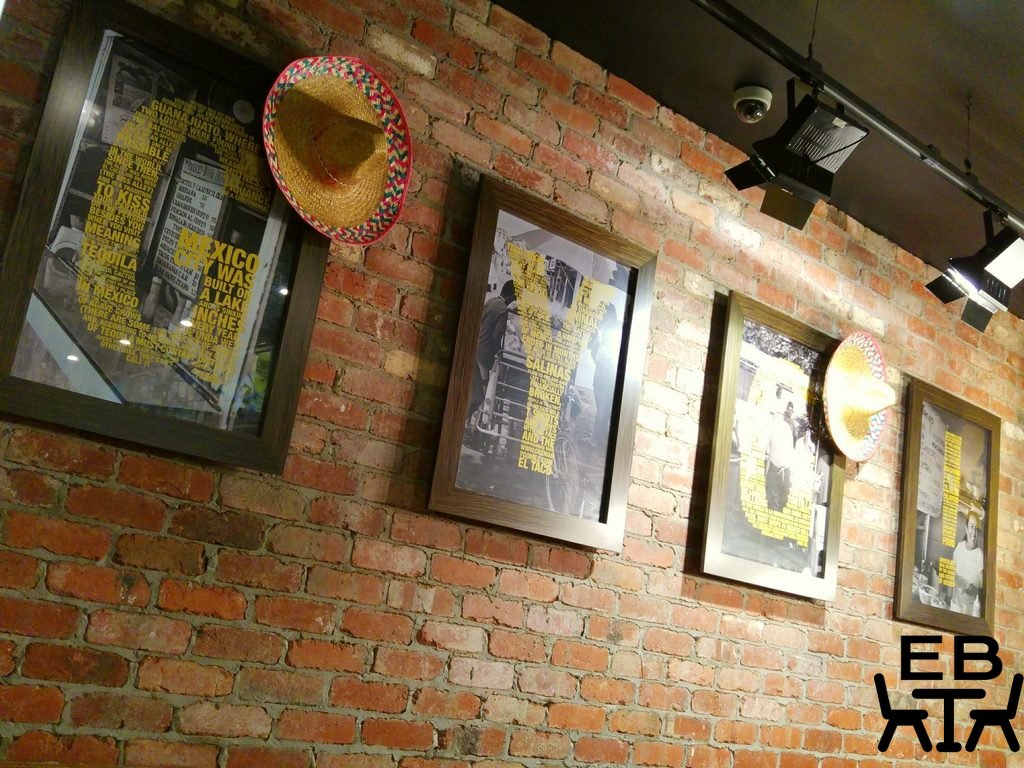 The menu, lighted above the service counter, has the usual items we have come to expect at a Mexican restaurant here. Nachos, tacos, fajitas, enchiladas, quesadillas, burritos, and a dish of their own, burrito bowls, all of which you customise to your tastes by choosing your protein filling, level of spiciness, and further extras as you wish.
What we were surprised to learn about was how much emphasis goes into making sure their food is fresh. The food you eat there is prepared on site on the same day you visit. We had a chance to tour their kitchen, and there are no microwaves, so no sneaky defrosting of long-stored food. They don't actually have a freezer, only a cold room, in which they keep limited amounts of stock, to ensure high rotation. We also got to peek into the cold room, and unlike the dodgy places you see on Ramsay's Kitchen Nightmares, everything was tidily arranged on the shelves, and was clearly labelled with the date made. They make the guacamole themselves from whole avocados, and whatever isn't sold is disposed of at the end of the day, so you're eating a fresh batch each time.
We started our tour of food with a couple of sodas. These are actually imported from Mexico, so you're getting more authentic Mexican flavours. Jarritos has been around since 1950, and is certainly one of the most popular brands of soft drink in Mexico. The guava soda tasted like guava juice does, but fizzy. It wasn't as sweet as many other soft drinks tend to be, so it wasn't cloying. The Mexican cola had a more caramelised flavour than the more commonly tasted American colas, almost like sarsaparilla.
Corn chips were the first food dish out, served with a container of guacamole, and a container of their tomatilla sauce. The corn chips were crunchy, with just the right thickness to give them a satisfying snap, rather than just being thinly crisp. Tom, the franchisee, explained to us that this was the 19th iteration of their corn chips, with different cuts and thicknesses of chip being trialled until they found just what they were after. The chips are actually water cut, which perforates the edges just enough for a little oil to get in, rather than soak through, which is why, as you'll find, the chips actually aren't oily. There's some clever food science that goes into getting you a good chip. The guacamole had just the right amount of chunkiness, and had bits of tomato and Spanish onion for extra flavour. The tomatilla sauce was a spicy chilli hit. It wasn't all fiery heat though, and you could actually taste a hint of sweetness, and a roasty flavour in the aftertaste.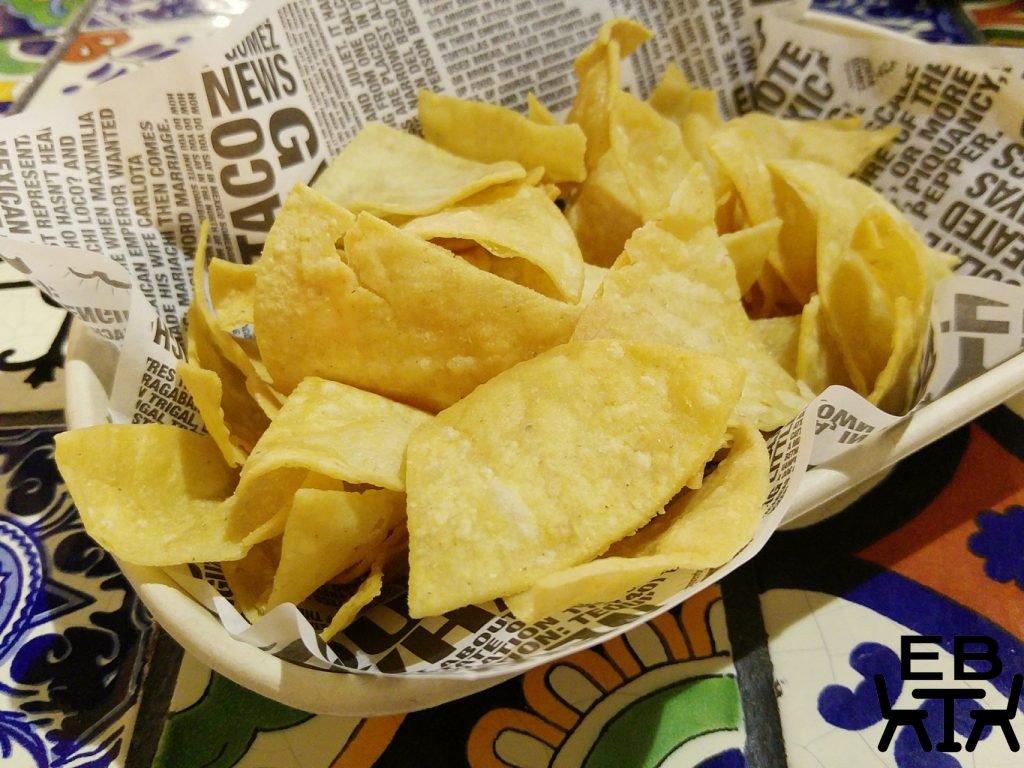 Next was a serving of their signature nachos. Those engineered corn chips formed the base. Layered on were black beans, pico de gallo (salsa), melted Jack cheese, nicely textured guacamole, and a good drizzle of sour cream. You also get a choice of one of their fillings on it, and we had their slow cooked beef. This is marinated and cooked for 8 hours, then pulled, so you get nice tendrils of meat you can distribute between your mouthfuls. The components went together well, with the contrasting textures of crunch from the chips, softer meat and avocado bits, and firmer beans. There was also different flavour notes from the savoury and slightly sweet pulled beef, tart sour cream, and herby pico de gallo. It's easy to see why nachos are so popular, even if they are hard to artistically plate up.
We had a serve of a taco to sample, with a filling of their free range grilled chicken, flavoured with Guerrero marinade. Also in the taco was pico de gallo salsa, and melted cheese. We had the hard shell version, but you can also have them as a soft shell taco if you don't want to worry, as I do, about the risk of it breaking with one of the first bites, and spilling the contents..not that it happened in this case. The Guerrero spice blend of achiote, chillies, onion, garlic, and cumin, is a fragrant and flavourful one, and the chicken pieces were well-seasoned in it.
We had to give the other food time to settle before having the burrito. It was a compact, tightly packed bundle, with a surprising heft. Their regular size burritos are actually 500g each, so will fuel you well for the day. Their burritos are filled with black beans, rice, pico de gallo, Jack cheese, and a filling of choice. We had ours with the pulled pork, which is described as being seared and slow roasted. It was tender, and saucy without being sloppy, and had a little bit of punchy spiciness. The rice was cooked just right, so that it had discernibly individual grains. The black beans were firm, but not powdery. There was a good amount of guacamole in it, and that and the cheese helped the ingredients meld.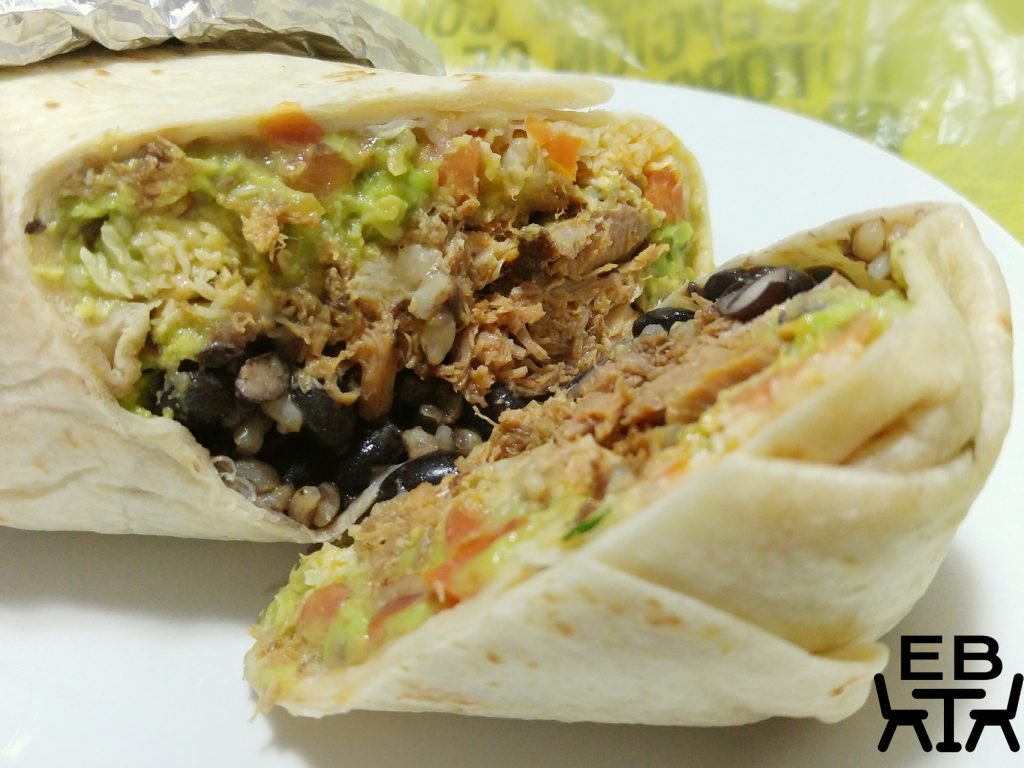 To finish the meal off on a sweet note, we had their churros with dulce de leche. They are fried to order for freshness, rather than being pre-cooked and reheated. They are also cooked in a separate fryer from the other foods, so that they don't pick up any flavours that they shouldn't. The churros had a bit of crunch on the outside, and doughnutty density on the inside, and were dusted with cinnamon and sugar. The dulce de leche was indeed sweet and creamy, and will certainly satisfy those with a sweet tooth (or multiple sweet teeth).
Our visit to Guzman Y Gomez was quite an insight. There are so many processes that go into making sure the food is fresh, and the franchisee we met was certainly passionate about the quality of the food, and the ethics behind the scenes driving what they do. It isn't your average fast food joint. If they can keep it up as they continue to expand, they're on to a winning formula.
Price point: Full size items from $11 to $15. (You can get a mini burrito for $8.)
Details:
Address: Shop E116, Oracle Shopping Centre, 3 Oracle Boulevard, Broadbeach
Phone: 07 3188 1702
Website: Guzman Y Gomez Broadbeach