Burgermeister was a place that reviewed very well when we were looking up places to eat in Berlin. Although it wasn't typically what one associates with German food (like pork knuckle or currywurst), it was still lauded as good food, so we made it a designated destination.
Its name is a clever play on words. "Burger" means "citizen" in german. "Meister" translates to "master". The "burgermeister" is the chairman of the city council, or the mayor. Or the burgermeister could be the master of burgers. It markets itself.
It had rather interesting beginnings, once a public toilet under the train station. More delightful smells now waft from it, and tantalise the commuters getting off the U-bahn at Schlesischen Tor. The location also makes it rather easy to get to, even as a tourist. You will, however, find that other people discover the same, and find yourself at the end of quite a long line.
The menu is quite a short one, and, rather inconveniently, right in front of the counter where you place your order, so despite the long wait in line, you don't actually get much time to decide what to have. Also, it is all in german, so if you're not a native speaker, you have to be pretty fast with your Google Translate typing.
We settled on the Meisterburger and the Hausmeister burger, and a side of the cheese fries. We were given an order number, and stood to the side to wait, along with a lot of other people. There were about 20 orders to be filled ahead of us. Suffice to say, we waited a while.
As we waited for our food, we kept an eye out for free tables and seats. I use the word "seats" loosely, as what they have are rails up against bar-height tables that you can either just lean against or attempt to perch on as you eat. If you're lucky, you will get one with some padding wrapped around it. If not, hope that the cloth of your pants is thick enough to keep your bottom from being frozen by cold metal. I guess it keeps patrons from loitering for too long, and keeps the space turning over. We managed to nab a space just before our order was ready, so had a table to bring our food back to.
The Meisterburger had the meat patty, bacon, mustard, BBQ sauce, and fried onions. The Hausmeister burger had the meat patty, fried mushrooms, bacon, and cheese. They use American-style sweet buns for the burger. These were soft and light, and slightly glazed on the outside. The meat patties were well made, juicy, tasty, and without gristle. The burgers were also served with token vegetables in the form of lettuce and tomato slices. The Meisterburger had quite a nice flavour mix, with sweetness from the BBQ sauce, and a little spiciness from the mustard. The Hausmeister burger, however, proved to be the tastier of the two, with extra juiciness and savoury flavour from the fried mushrooms and cheese.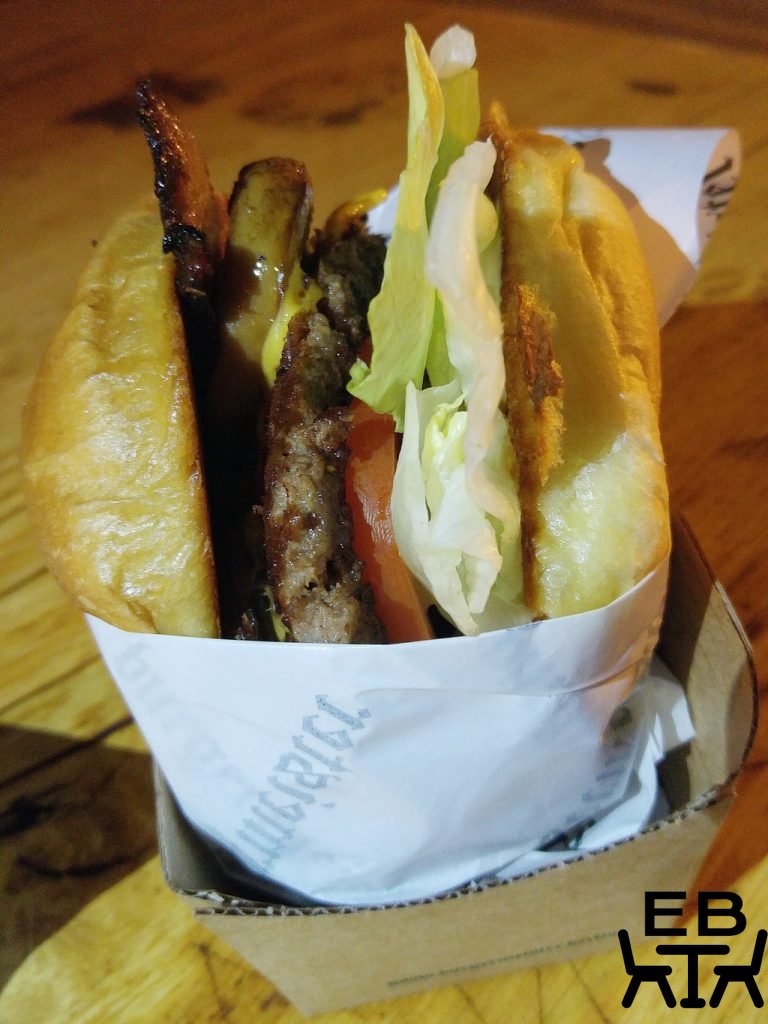 The cheese fries though, were sadly underwhelming. The fries themselves were alright, steak cut, with a crunchy outside, and not too oily. The cheese might have been melted when it went on, but it quickly stopped having pliability or stretchiness, and really behaved like just a lump. It stuck a bit to the fries it had been directly poured on when prepared, but then you couldn't transfer excess cheese to the fries that didn't have any on them. It also didn't really have a flavour of its own to add, so was just this sort of bland coating on some of the fries. Getting just plain fries would have been the better option.
Burgermeister certainly has its devotees. The burgers are pretty tasty. They're not quite FergBurger good though, and comparing the waiting times (it was actually a longer wait than we ever had for a FergBurger, and we went there six times on one trip, at assorted times of day), it was questionable whether the resulting burgers at the end were really worth it. Also, that eating environment isn't great. We're fortunate to have tight anti-smoking laws in Queensland. At Burgermeister, there were people smoking in line, and people smoking right where you were eating. There also wasn't shelter at the sides, so in the 7*c evening, you were also at 7*c. That's probably part of its "charm", but things to take in consideration if you're after a comfortable place to eat following a long day's exploring.
Venture there for the experience and to see for yourself, but that's our take.
Scores:
Food: 3/4
Setting 0.5/2
Service: 1/2
Total: 4.5/8
Price point: Burgers €4.40 to €7.30. Cheese fries €2.60.
Value: Pretty alright price for the burgers.
Details:
Address: Oberbaumstraße 8, 10997 Berlin (under the Schlesischen Tor station)
Phone: +49 30 23883840
Website: Burgermeister