You too may have spied Botanical Lab's colourful teas and desserts on social media. Being rather partial to matcha, it was just a matter of time before we were drawn to its new West End location to try it out for ourselves.
Botanical Lab has moved from Fortitude Valley into a quite prominent spot in West End, on a corner of that busy junction between Boundary Street, Browning Street, and Mollison Street. The sign at the entrance itself is quite subtle, but if you approach along Browning Street, you can see the interior through the large glass windows, indicating that you have indeed found the cafe.
There were menus stuck to the door, so would-be patrons had a chance to peruse their options before either committing to cross the threshold into the cafe, or at busier times to decide what they wanted before their turn came at the counter.
There were two sheets. One was a Bubble Tea menu, with milk teas, fruit teas, teanades (fruit teas with sparkling water), and ombre drinks, which are the ones you are most likely to have seen in rainbow-hued pictures of. There was a larger range of topping options than at a typical bubble tea place, including items like milo and butterfly blue pea (for that stunning blue colour). Notably, they also had non-dairy milk options for their milk teas, something we have only otherwise seen at Cafe Artease.
The other menu was a dessert menu. This had a variety of parfaits, soft serves, build-your-own sundaes, and Hokkaido Cheesecakes (these are from Mountain River Patisserie). We considered the options, and admittedly were a bit put off by the prices of the parfaits – up to $17.50 for a standard parfait, or $20.50 for the vegan matcha parfait. We decided to build our own sundaes instead, which seemed a more wallet-friendly option. You get to start with a soft serve base ($6), then add on up to four toppings (each individually priced).
We made our way to the service counter to place our order. There were a number of tables already occupied, despite it being a weekday afternoon. Word is that on weekends, it gets extremely busy, so much so that there was a sign at the counter indicating that there is a dining time limit of 1 hour. We placed our orders, and were asked to choose an available table to sit at.
The interior of Botanical Lab was evidently done up with a view to being a good backdrop for pictures. It had a light interior, with white walls and polished concrete floors. There were blush pink accents from the chairs in the dining space, and a little wall of boxes lined up along one section of the counter. Many bouquets of coloured dried flowers were scattered throughout the cafe.
It was air conditioned to a comfortable temperature. Relaxing chill-out music played over the speakers softly. The traffic outside was occasionally louder and punctured the calm, but it was otherwise a nicely tranquil atmosphere.
Having picked up a liking of parfaits from visits to Nana's Green Tea when we were in Japan, and Sonder Dessert's versions here, we decided to try to keep to the principles of complimentary flavours but contrasting textures when composing our sundaes.
One sundae had matcha soft serve as the base (of course). The toppings selected to go with it were matcha cake, lychee jelly, black tea jelly, and cookie crumble. The matcha soft serve was smooth and creamy. The matcha flavour was light, but present. The soft serve was just mildly sweet. In comparison, other places have matcha soft serves in which the matcha flavour is a little stronger, but the soft serves are also much sweeter, so the flavour can be masked by sweetness anyway. The lychee jelly provided sweetness to the mix, and had the gummy texture of konnyaku jelly. The black tea jelly had a softer texture, and an aromatic tea flavour. The matcha cake was quite dense, even after having taken up some of the melted soft serve. It was difficult to separate out if it actually had matcha flavour of its own. If so, it was less strong than the other components. The cookie crumb was right at the base of the parfait. We had hoped that that would be the crunch element, but it ended up more like the fine crumb base of a cheesecake.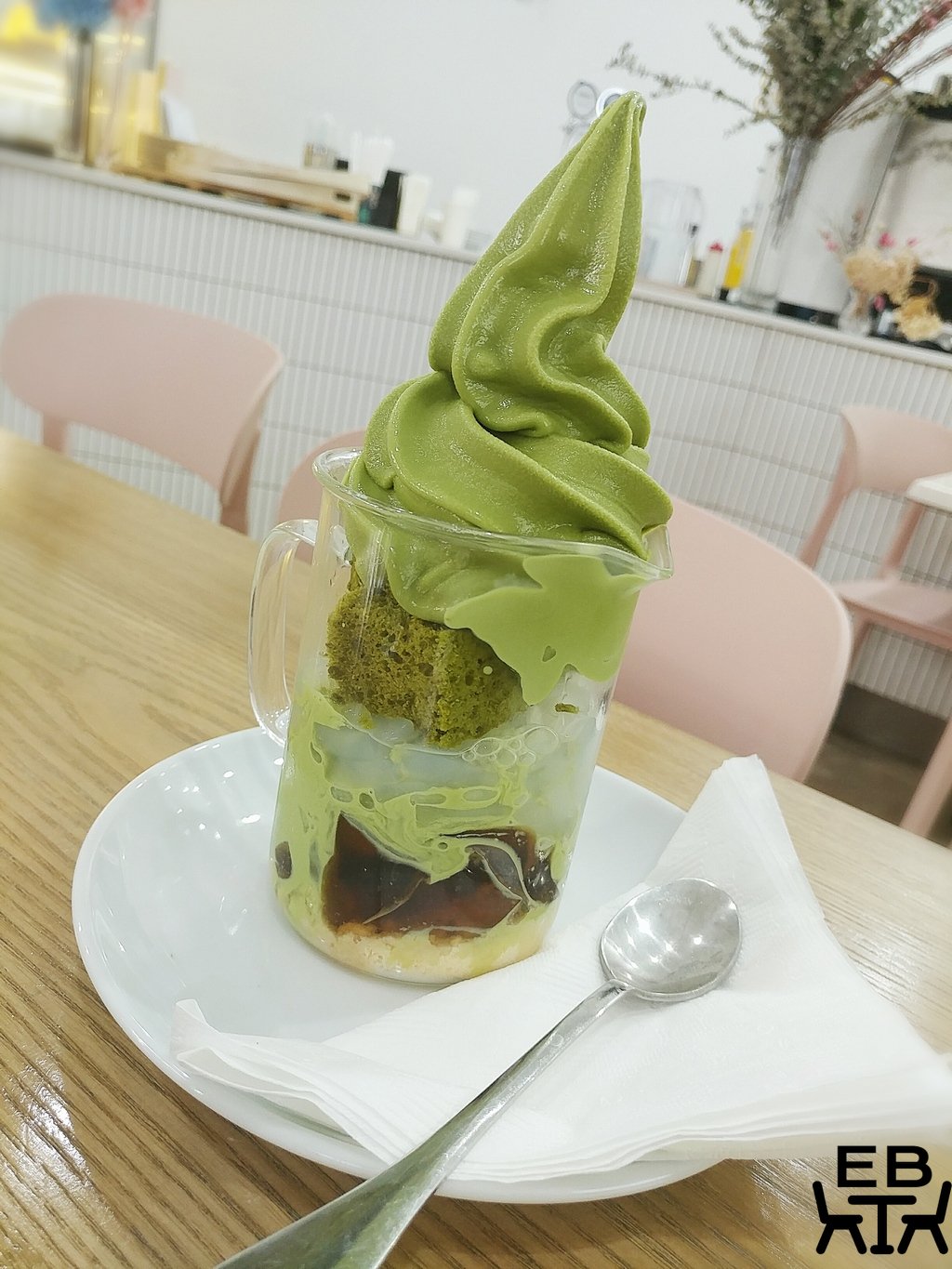 The other sundae had a mixed soft serve (Botanical Lab has three fixed mix options) of Milk Tea and Hojicha as the base. The toppings selected to go with it were ube cheesecake, crunchy nut flakes, and strawberries (two serves). This soft serve also had a smooth texture. Both halves were also lightly flavoured, and lightly sweet. The milk tea and hojicha flavours were discernibly different though. The ube cheesecake was impressively purple, and softer than the matcha cake was. It wasn't particularly cheesy, but it did indeed taste of yam, and had just the right amount of sweetness. The crunchy nut flakes had the crisp texture we had wanted as a component, and retained it most of the way through. The strawberry slices were ripe, though not particularly sweet. They were a fresh contrast.
Overall, Botanical Lab was a pleasant place to pass some time (even if you are only allowed to be there for an hour). While they didn't really deliver strong flavours, the soft serves in the sundaes were a good texture, and we did note that the sundaes had soft serve all the way through, rather than whipped cream filler as some other places do. As you pick your own toppings in the build-your-own sundaes, whether they work or not does come down to your own choices.. The components we had mostly delivered as promised though. All in all, it is worth visiting and trying it for yourself.
Scores:
Food: 3/4
Setting: 1.5/2
Service: 1/2
Total: 5.5/8
Price point: Parfaits $15 to $20.50. Total for our two sundaes $23.
Value: Uncertain. On the expensive side for what you get.
Details:
Address: Shop 2B/220 Melbourne St, South Brisbane
Phone: 07 3172 7912
Website: Botanical Lab