Asian flavoured cold desserts have been progressively popping up in Melbourne. Unlike more city-centric others, Kori Ice Cream has opened in Hawthorn's bustling Glenferrie Road. Those familiar with LuxBite may recognise one of the previous owners, and bring anticipation of a delicious dessert experience.
We couldn't quite pick out where the store was when walking along the street towards it. The shingle sign doesn't really jump out at you, most of the square being white background, and the red stripe across it more obvious than the letters spelling "Kori" that it strikes through. The half and half colouring of the outside of the shop might catch your eye as you walk past though.
The interior is bold, unlike the more sedate styles used in most other eateries currently. It is coral red on the walls and ceiling on one side of the space (the serving side), and a soft white on the other. It brings to mind tori gates and neon signs, without being too garish.
There is limited bench seating along one side, with a couple of tables along with it, and a counter you can stand at along another wall. For the most part though, ice cream being a portable dessert, you are meant to take your treat and go.
The menu of available flavours was on the wall in black lettering. There were three rows of options, one with plant-based flavours, and two with the milk-based flavours. Despite being spotlighted, the reduced contrast of letters against the wall colour made it difficult to read them, unless you were at the correct angle to them.
Their flavours are very Japanese though, with classics like Matcha, Hojicha, and Adzuki (Red Bean). There were also less common flavours that you would still immediately identify as Japanese, like Miso, Hokkaido Cheesecake, and Fuji Apple. Then there were the more creative ones, like Blueberry Calpis, Matcha Pistachio, and Hojicha Hazelnut.
You can just see the ice cream in submerged tubs beneath the counter glass.
There is also a range of extra special wafer cones to level your dessert up.
They have a selection of ice cream cakes for your next special occasion. These go beyond the standard ice cream cake, with a Luxbite-like complexity. As an example, the Mango Cheesecake looks like a cartoon Swiss cheese round, and comprises Hokkaido cheesecake ice cream, mango semifreddo, sudachi compote, mango kanten jelly cubes, cheesecake sponge, and a black sesame meringue model of Ratatouille's Remmy, with a white chocolate cheese slice.
We are allowed to taste test before choosing your scoops. We tried the Melon flavour, which had a fresh sweetness, quite like honeydew.
We contemplated others, but eventually settled on a couple of overlapping flavours (some might say "share", but if you want fries, get fries, instead of ending up eating most/all of someone else's), the Yuzu and Matcha Pistachio for one double cone, and Yuzu and Strawberry Sudachi for the other double cone.
They clearly pay attention to presentation, with the scoops very nearly spherical (more attention being paid to the shaping of the scoops than we had seen elsewhere), and neatly stacked on top of each other.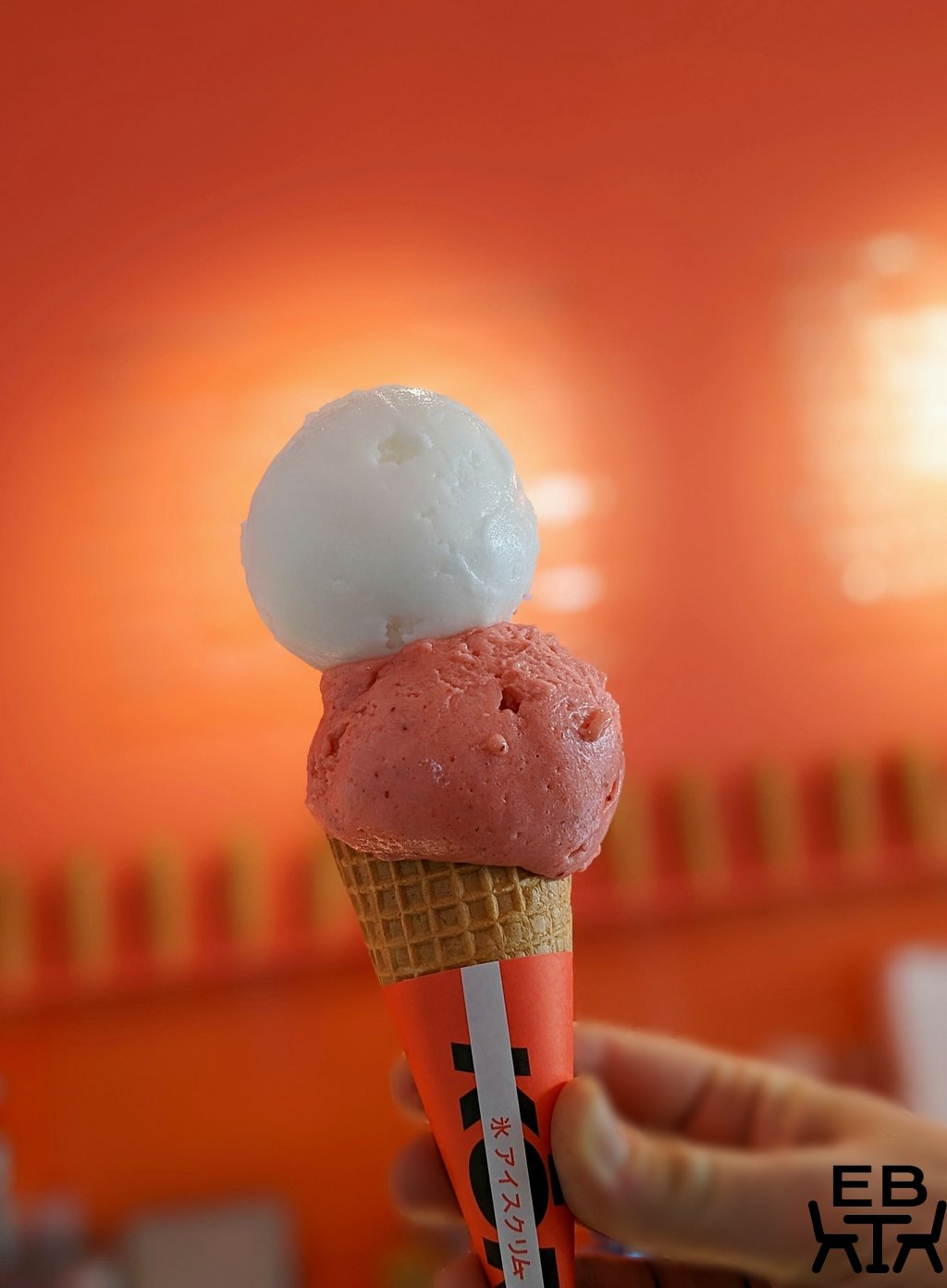 The Strawberry Sudachi seemed midway between a sorbet and an ice cream. There was certainly strawberry, but not much sudachi perceptible.
The Yuzu was a smooth sorbet, with definite yuzu citrus flavour, and more on the sweet side than tart. It was not too sweet though, and was pleasantly refreshing.
The Matcha Pistachio was an inspired combination. It had good strong matcha flavour, completed by the nutty pistachio finish. They worked surprisingly well together, and made you wonder why that mix wasn't more commonly found. Despite it being plant based, it had a smooth, creamy texture, and you probably wouldn't know that it was non-dairy if you weren't told.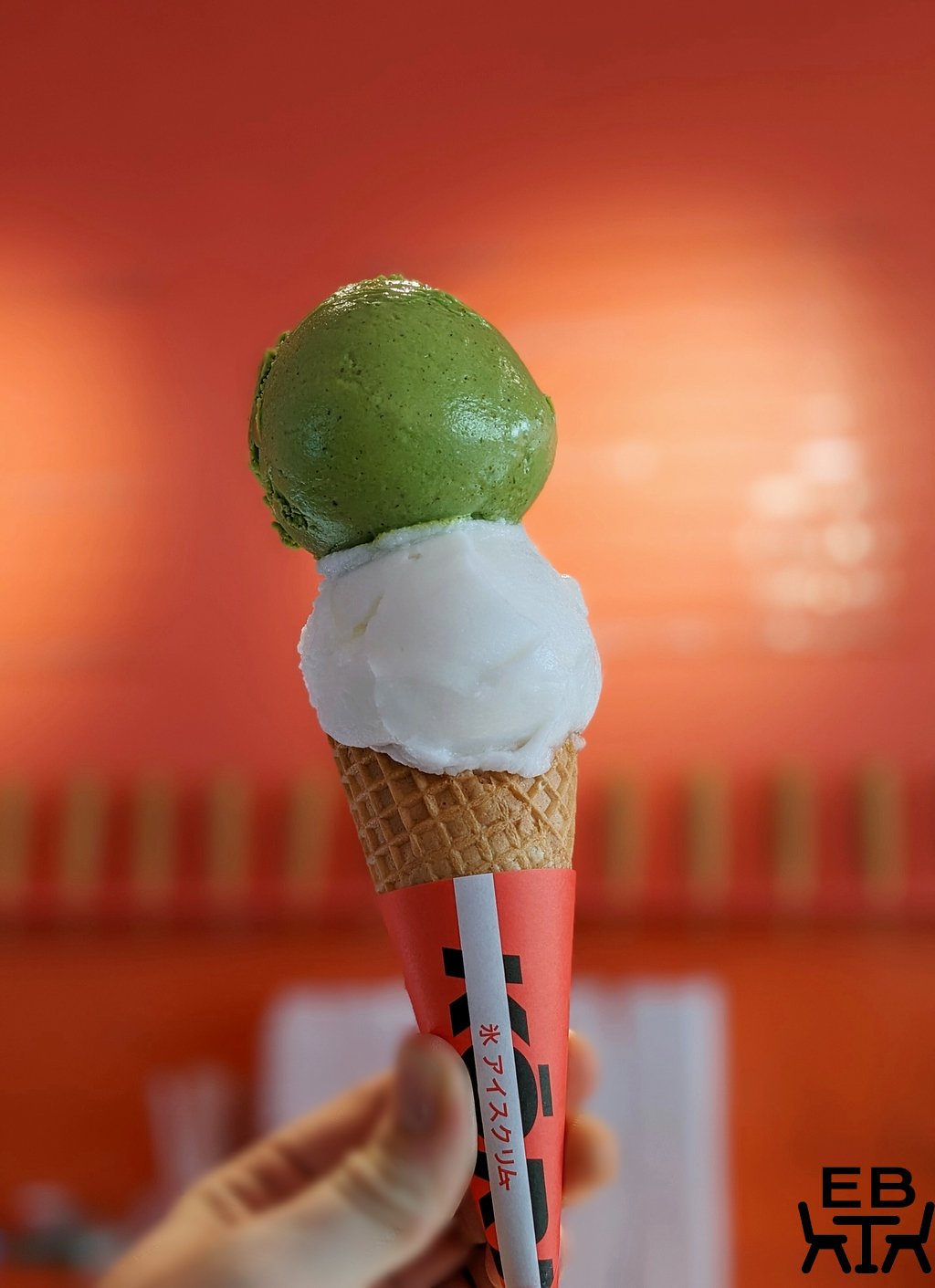 We could see why Kori is so popular. The flavours are very Japanese, but have some innovative twists. We also appreciated that there were some solid plant-based options, rather than it just being an afterthought. It definitely joins Beku Gelato and Hareruya Pantry as gelati/ice cream destinations we would recommend.
Scores:
Food: 3.5/4
Setting: 1/2
Service: 1/2
Total: 5.5/8
Details:
Address: 659 Glenferrie Rd, Hawthorn
Phone: 03 8394 7066
Website: Kori Ice Cream