Last updated on July 1, 2022
It took surmounting a few hurdles to eventually get to Elska (including having to cancel a booking on the day due to needing a COVID test and clearance), but we finally made it. We had only managed to try their takeaway when they were at their previous Wilston venue (when restrictions were first happening), and by this time, they had moved to a shiny new location in New Farm, the previous home of Allium (which we had enjoyed, and were sad to see go).
Elska has made its mark on the space, firstly and very obviously, by changing the entrance. We had seen the progress of the door on their Instagram feed, a hefty piece hewn from wood, with clear acrylic between the seams that lets light out, and lets curious would-be diners peer in.
Once through that door, we found it to be even more different on the inside. Where the previous setting was dark and moody, this was very much light, Nordic styling, which is entirely in keeping with Elska's ethos.
Dividers made an antechamber waiting area, separated from the main dining area. There were bar-height tables and seats for patrons who were awaiting their seating time. Elska does two dinner seatings, at 1830 and 2030, so it makes sense for them to have made this space for those awaiting their turn, rather than have people stand around outside. Bunches of dried herbs hung on a far wall, as well as antlers and animal skins, giving the feeling of being in a rustic lodge.
Waitstaff brought us a drink menu for libations while waiting. We paged through it, and found a few promising non-alcoholic options. It was not too long before we were shown through to the dining space though.
It was a cosy setup, with just 6 tables in the space. Similar to the waiting area, it was light walls, light wood tables and chairs in Scandinavian style, and warm lighting. Each table had a candle, a small egg-shaped vase with dried flowers, and an antler on it. Water glasses, napkins, and menus were also laid out. The seats were arranged so that diners faced the open kitchen and could get glimpses of dishes being prepared. Sound baffles blended into the ceiling overhead, but ensured that the space never became noisy.
The house-made kombuchas we had ordered were brought to the table first. There had been two available, and we had ordered one of each. They were presented in wine glasses, with slices of dried citrus floating in them, so they looked like a sophisticated drink.
There was a Wild Dandelion and Lemon Myrtle kombucha, with foraged dandelion root, lemon myrtle, and grapefruit sparkling kombucha. It had a distinctly yeasty aroma, and interesting, almost savoury flavours.
The other was a Black Lime and Ginger kombucha, which was a local black lime kombucha spiked with native ginger. We found this one the more pleasant of the two. It was lightly citrussy, and had depth reminiscent of a red wine.
As Elska does purely degustations, the menu listed all the dishes that were to come, rather than being something diners had to choose from. We were quite happy to see that it was quite a long list, and we were assured that we certainly wouldn't be hungry at the end. In the modern style, only a couple of components of each dish were listed, rather than descriptions of the dishes, which added a sense of intrigue.
The first three dishes were brought out in quick succession as a trio of entrees, a clever tactic to mollify hungry diners.
Gooralie Blood Sausage. This was a pig's blood sausage, served on a wafer crisp, topped with a Warrigal green leaf. We had not encountered Warrigal greens before, but discovered that they are bush tucker, which is in keeping with Elska's aim to feature native ingredients. The blood sausage was salty, but not gamey. This was countered by the sweetness of the caramelised wafer crisp.
Mussel XO, Smorrbrod. Wedges of bread were smeared with a thick XO-based paste, topped with a smoked mussel, and an ice plant leaf. The bread had a chewy texture. The XO paste had funky umami. The smoked mussel was indeed smoky. The crystal ice plant leaf was something we had had before, at another degustation (possibly Allium). It is a succulent that looks like it has little beads of water all over it. It has a plump crunch, and a little saltiness.
Fermented Chestnut Aebleskjiver, Black Truffle. These were presented almost like upside down mushrooms on a grassy forest floor, with thin slices of the black truffle displaying their swirling pattern on top. We learned that aebleskjiver is sort of a Danish pancake. It was crisp on the outside, and light and fluffy on the inside. Ribbons of the fermented chestnut cream were piped into the hollow of the aebleskijver. The cream was slightly tart, and its smooth texture was a good contrast to the pancake.
Mangrove Crab and the Poor Man's Apple. Precisely cut choko discs were deftly arranged to conceal the mud crab beneath. It was explained to us that chokos were used as a substitute for apples in desserts when the budget wouldn't afford the luxury of apples. In this instance, the chokos were pickled and crisp, complimenting the natural sweetness of the soft crab meat.
Accompanying this was a daintily presented little sphere, with cream piped onto the top, like a rosette. We were told that the sphere was a Danish brioche, and it was topped with crab mousse. The mousse was smooth, and carried umami flavour. Come to think of it, with a little imagination, it could look like an apple (with the dill frond being a stalk).
Crocodile Tail, Mandarin. The crocodile tail was used as the meat for a dumpling, and a sweet onion broth was poured over it at the table. The dumpling eat had a definite smoky note. Floating in the broth was also an ice plant leaf, and a sprig of samphire (another salty succulent). The broth had quite a mild flavour, and we have to admit, we couldn't really pick the mandarin.
Marburg Emu. We were definitely impressed by the presentation and concept behind this dish. The title in the menu was succinct, but the dish was a whole story. A halo of emu feathers surrounded the plate placed on the table. In a neat circle in the middle of it was raw emu marinated with black garlic and shiso leaf, layered with emu egg yolk mayonnaise, and topped with puffed grains of freekeh and amaranth. How do the grains fit in? They are what emus eat. It was a whole cycle in a dish. More importantly, it ate well. The black garlic gave the emu tartare a mix of sweet and salty flavours. We detected a hint of horseraddish or wasabi in the background. There was a different textural crunch from each of the different grains. It was very clever.
Quince Basser, Pepperberry. Basser is not a fish, but a Danish pastry. It looked like an escargot, or snail pastry. Instead of being a sweet though, we were told that it had been basted in chicken jus, and had a little chilli on it. It had crisp edges, with a richness of flavour that Maillard reaction depth and sweetness like caramelised onion. A wooden spoon with a quinelle of creme fraiche flavoured with pepperberry accompanied this. This carried a peppery bite, and the Borage flower atop it, besides being a pretty splash of colour, imparted high floral notes.
Dry Aged Murray Cod with Seasonal Brassica. This was simply plated, with the pieces of fish planted in the middle of a golden pool of mustard emulsion, and the brassica leaves on the side, like trees by the edge of a lake. We were told that the Murray cod was sustainably farmed, and as part of the preparation, it had been dried for seven days. The fish was perfectly cooked, with just crisp skin that carried smoky flavour. A few beads of seeded mustard accentuated the flavours of the mustard emulsion, which were actually quite gentle. Smoky campfire aromas wafted up from the dish. This largely came from the brassica leaves, which had been coal roasted, and retained that smoky richness. Brassica flowers had a sweetness that reminded us of fennel seeds. This dish had a number of smoky flavoured components, but none were overpowering (entirely unlike our experience at Aria).
Celeriac and Valley Mushrooms. The dish was beautifully presented, a little ribbon mound of many folds, decorated with fronds of fennel. The ribbon was a long celeriac noodle, almost with a pasta texture, sitting on a bed of roasted celeriac skin and sourdough emulsion. The emulsion was creamy and rich. Little pieces of foraged mushrooms (from the Valley/city) studded the dish, and were tender and well seasoned.
Matured Charcoal Chicken. We were amused by the presentation of this dish, which seemed to be a bit of a laugh at fine dining, in case anyone was taking it too seriously. A roulade of chicken was served on a skewer which ended in a black chicken foot, complete with nails (not a real chicken foot though). We were told that this chicken meatball was made from mature chickens – 16 weeks old, rather than the industry norm of 4 weeks old. The meatball had a texture you could still tell was pieces of chicken meat, rather than a ground up mince. It had a topping that was made from chicken feet, chicken wings, and chicken salt. Waste nothing. It had quite mild, nutty flavours.
Wattle Seed and Black Rice Grod. Grod is a Danish porridge, and often sweet. The dish had a pretty presentation that harked back to rustic roots, served in a wooden bowl with a large wooden spoon, upon a folded hessian cloth and dried herbs. We were told that it had been mixed with Guanciale fat, and was served with Guanciale pieces and stinging nettle leaves. The porridge was thick and sticky, more than your typical oatmeal or rice porridge. It was faintly sweet, and in contrast there were hits of salt from the meat. The notion of stinging nettles caused a little trepidation to start with, but we were relieved to find there was no sting to them, just a tangy flavour.
Lamb. Blackberries. The stout little cylinder at the base was lamb neck, rolled and rested for three days. It was topped with fermented blueberries and blackberries, then a folded ribbon made of a strip of potato. It sat in a small pool of jus, which tasted like a rich, distilled essence of braised lamb. The lamb neck itself was robustly meaty, but not gamey. It was a touch dry, even with the jus though.
The lamb dish was served with slices of sourdough and a quinelle of 5 day cultured, fermented, and smoked butter. The butter had a complex flavour combination of tanginess and smokiness. The sourdough had just the right chewy texture, and was perfect for mopping up the remnants of jus from the lamb dish.
Australian Citrus Koldskal. This was the first of the desserts (always love having more than one), a neat little many-layered stack with native citrus ice cream, citrus granita, citrus cream, and a biscuit base. Koldskal is a Danish buttermilk-based dessert, though by all accounts, it is usually more like a soup than how this version was presented (realistically, this dish was more impressive). Despite citruses being predominantly sour, sweeter components like the citrus cream and the biscuit helped to balance it out, so it was not too acidic when they were all eaten together. There were certainly sharper elements, like the granita, so it served as a palate cleanser after the other savoury dishes. Clusters of finger lime pearls right at the bottom of the dish added little punchy pops. We were also pleased that the biscuit stayed crunchy all the way until the last of the dish was eaten, despite sitting with the runnier elements like the ice cream and cream.
Elska Crunchy. This was explained as their take on a Crunchie. It was clearly much more sophisticated though, so it was an expansion of the key elements of chocolate and honeycomb. The dessert was a quite architectural stacking of shards of tuille, interspersed with mousse. There was a dark chocolate and honey tuille, a dark chocolate mousse, a salted honey tuille, an aerated honey curd, a lime and dark chocolate tuille, a fermented honey mousse, and another dark chocolate tuille. The tuilles were all paper-thin and crisp, and you could discern that they tasted different when eaten separately. The mousses were rich in flavour but not too sweet. The aerated honey curd was indeed airy and ephemeral, and quickly melted away to nothing in your mouth.
Emu egg. Perhaps a bookend to the earlier emu dish, this was brought to the table as a mystery, the large emu egg half shell hiding what was on the plate. The egg shell was lifted up to reveal an emu egg meringue, an emu egg yolk custard ice cream, and fermented berries. On breaking the crisp meringue shell (a link to breaking an egg), we found a sweet, sticky, faintly blue meringue, and in the middle of that, a creamy "yolk" of emu egg yolk custard. The emu egg yolk custard ice cream accompanying it had a lightly nutty flavour.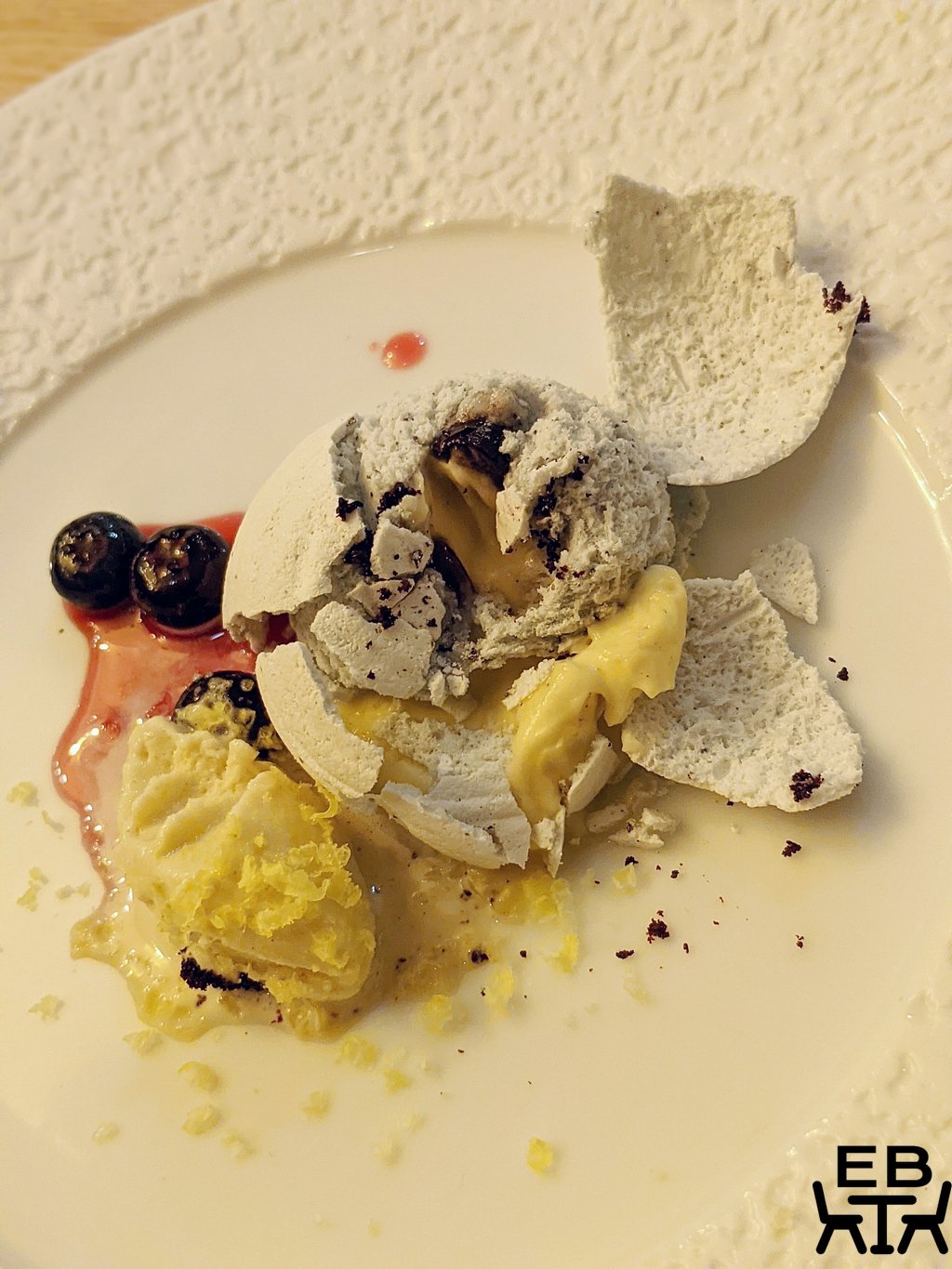 Overall, Elska was certainly what we hoped it would be. They presented a clever degustation with lots of variety and creativity. The dishes were delicious, with consideration clearly applied to both flavour mixes and presentation, rather than combinations that tried to push boundaries just for the sake of it. There was also the hospitality and warmth that was one of the hallmarks back at Freja's (from Freja herself as well as the other staff, of course).We always thought the brunches at Freja's were more technical and elaborate than other options around, and they have certainly hit the ground running with the transition to fine dining. "Elska" is a Norse word for love. A lot of love has clearly gone into creating this dining experience, and we hope Brisbane continues to show lots of love back.
Scores:
Food: 4/4
Setting: 2/2
Service: 2/2
Total: 8/8
Price point: $135 per person for the degustation.
Value: Very good.
Details:
Address: 148 Merthyr Road, New Farm
Phone: 0451955084
Website: Elska