Mac From Way Back was a food truck with a following. It was well known for its smashie burgers (a style of patty which is smashed on the skillet so it gets caramelised on the sides) and mac and cheese (hence the Mac from way back?). The Instagram page used to tell you where the food truck was, and when. On weekends, it was often at the Coorparoo Bob Jane carpark from midday on.
While that certainly had a street vibe, that was really for takeaways, a grab-and-go setup with no room to sit and chill. And, like other takeaways, sometimes your food wasn't quite as prime by the time you got home.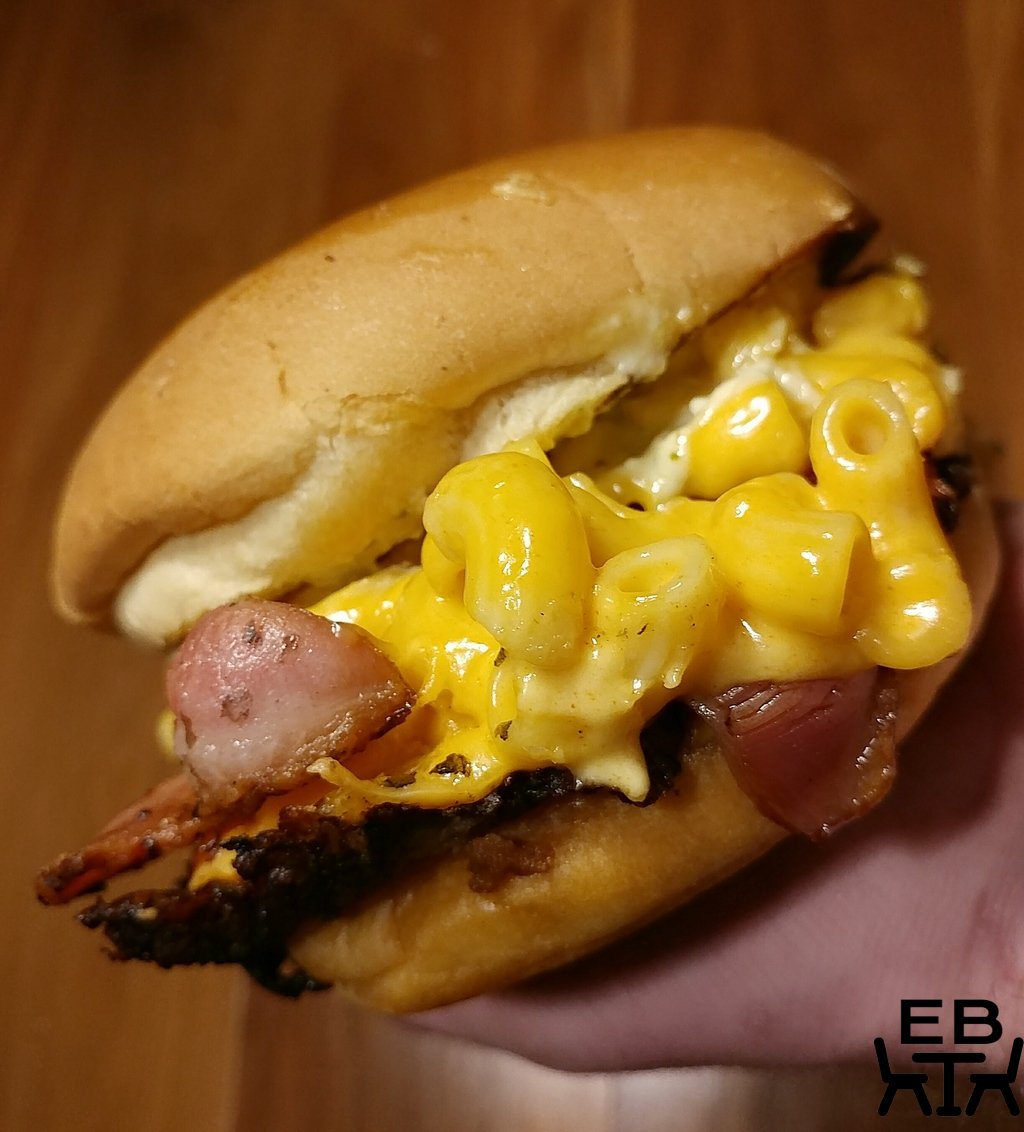 Recently though, Mac from Way Back has traded free-wheeling for a bricks and mortar location. It now has a store in Woollongabba, in that little street that is also home to Pearl Cafe and 1889 Enoteca. We were fortunate enough to be invited to a preview of their tasty treats.
The eatery decor very much has a street vibe, with the concrete floors, high ceilings, and burger characters painted on the walls in a graffiti cartoon style. It has a pared back colour scheme of black, white, and yellow, and the seating is functional but not fussy, consisting of long wooden tables and simple wooden chairs. Hip hop music played over the speakers, but at not too loud a volume.
They didn't have a menu at the preview, but the food, which was a showcase of what would be available, was an expansion from what the food truck served. In addition to the smashie burgers and mac and cheese, there were other items that you really needed a proper kitchen to deliver, and were less feasible to turn out from the back of a truck. (Their current menu is now available online here.)
To start with, we were brought a tray of their Mac and Cheese with bolognese sauce, one of their giant Mozzarella Sticks, and a piece of grilled Saganaki.
The Mac and Cheese was like their classic Mac and Cheese mix, but with a meaty bolognese sauce. It was piping hot, and definitely cheesy. If you weren't that hungry, this might well be enough of a meal for you..
The Mozzarella Cheese Stick was coated with a coarse breadcrumb, giving it a good crunch. It too was served piping hot, and when broken open the cheese had an excellent stretch. It was a good mix of chewy, gooey cheese, and crunch. It came with a little container of tangy dipping sauce. That complimented it well, cutting through the richness. A number of other burger places now do mozzarella cheese sticks as well, but this was the best we have had for a long time, with the ratio of molten filling to crumb coating.
The Saganaki was thinly sliced, and just fried. It was just crisp on the seared sides, and the inside had a springy chew almost like halloumi. This is a less commonly served cheese here than halloumi. The last time we had had it was at Gazi in Melbourne, served with a balsamic honey which balanced out the saltiness with a lovely sweet and fruity complexity. Here, it was served with a wedge of lemon to squeeze over it. That gave it a tangy zing, but played to a different flavour range.
The main event brought to our table was a couple of their Double Smashie burgers. These each had two of their smashed beef patties, cheese, onions, pickles, their Mac from Way Back secret sauce, and mustard on their house made soft buns. The meat patties were well seasoned, and had a crunch to their outer edges. Though they had been flattened (smashed), there was still a good amount of meat to them. The buns were soft and airy, and were easily squashed down. The melted cheese and sauces melded together with the burger patties and other components well. Their burgers may not be as photogenic as some others, but they are pretty tasty.
They do also have a fried chicken burger in their lineup, for those who want something other than beef. We haven't tried it yet though, so can't comment. They also have a meat-free burger (although it does have Saganaki) as an option if you want to visit with friends who are vegetarian.
New to their offerings is a range of desserts. Everyone was captivated when they brought out cheesecake on a stick and dessert pizzas.
They don't do things by halves, so the cheesecake was coated in chocolate, and studded with blocks of cookies and cream and Oreo cookie pieces. The cheesecake itself was light, rather than being too dense, and was on the sweet side, rather than having the salty note some have. The biscuit crumb base and the chocolate shell gave it some crunch. It was a good dessert finish, despite not actually being too cloyingly sweet overall. We were told that the cheesecake flavours will change weekly, so you will likely get something different when you visit.
The dessert pizzas we had previously encountered tended to be variations on Nutella, banana, and marshmallow. The dessert pizzas they brought out were quite different. They had a cake pizza, and a cookie pizza. The cake pizza had wedges of Red Velvet cake and Iced Vovo biscuits on it, and a white chocolate layer on the base. The cookie pizza had chocolate chip cookies and chocolate blocks on it, and a milk chocolate layer on the base. The pizza bases were hard, so as a whole they were more like giant cookies with extreme toppings than your typical pliable pizzas per se. Still, they worked pretty well overall, and actually, might be something to consider as an alternative for your next birthday cake.
The Mac From Way Back store provides a more predictable location to be able to obtain your #cheatdayeats fixes from. In-store seating means that you can have your food in the condition it was intended, in particular the hot, gooey cheese components. Worth the visit, and definitely try the giant Mozzarella sticks.
Details:
Address: 31 Logan Rd, Woolloongabba
Phone: 07 3161 0517
Website: Mac From Way Back