Mountain River Patisserie certainly has an idyllic name. We had seen their delicate cakes (particularly the shaggy-exteriored cubes of different flavoured cheesecakes) appear in places like Sweet Treats Desserts since last year, but apart from trying to snaffle them before they sold out, there had not been an actual store to visit to get the cakes yourself. This has recently changed, however.
Mountain River Patisserie now has a physical store in Salisbury where you can pick up a range of their wares (a greater variety than has been available at their distributors). It is actually in the Food Connect shed, so there wasn't really obvious signage. An A-frame was placed near the main door to indicate that they were there though.
Not long after we crossed the threshold, a staff member came out of the kitchen and greeted us. The chalkboard menu had already caught our eye, but we were also given a paper menu attached to a wooden clipboard.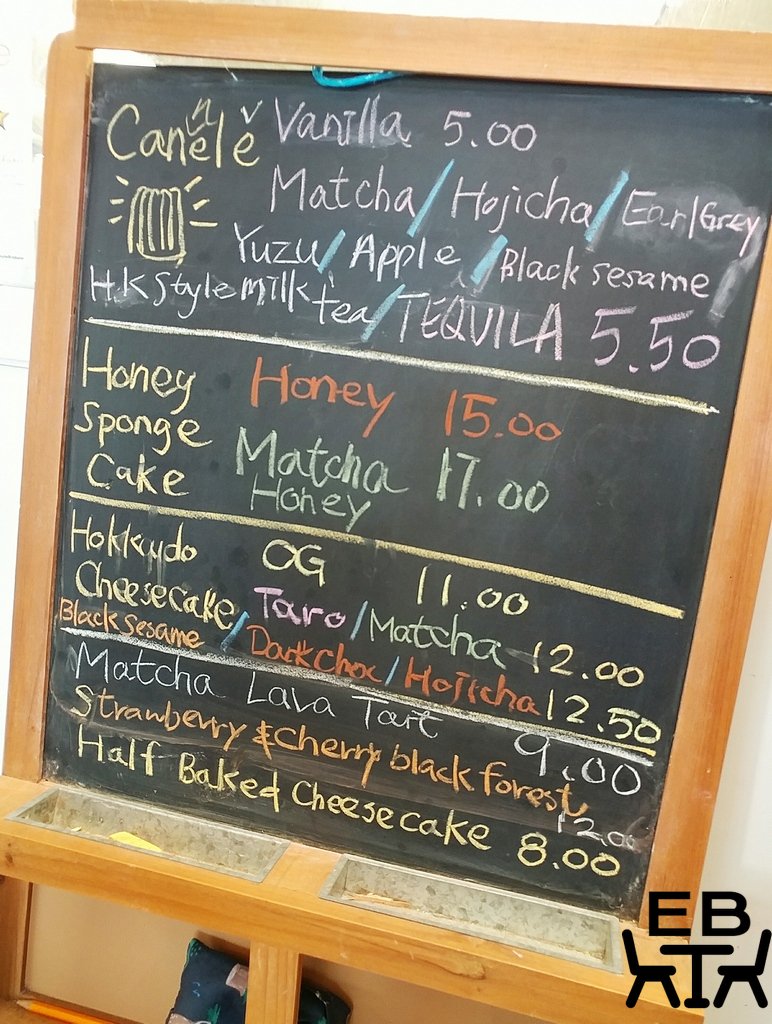 The items listed were mostly similar, but the paper menu described them a bit. The chalkboard menu also listed a Matcha Lava Tart, which was not on the paper menu. There were no cakes on display, but those who have hunted this place down likely already know what their cakes look like. Their Instagram profile has lots of pictures, if you need a reference.
Although we were tempted to get one of everything, we were also mindful that their cakes are best had fresh, and there was probably a limit to how much we could eat quickly enough. We eventually decided on a Matcha half baked cheesecake, an Original half baked cheesecake, a Matcha lava tart, and four of the caneles – Matcha with sake, Earl Grey with run, Yuzu with choya yuzu, and Hojicha with rum.
These were all neatly packaged for us, each of the cheesecakes and the lava tart in their own protective containers, and the caneles in a cardboard box that was just enough to fit them all in a single row. We were actually only going to get a couple of caneles initially, but then we were told that if we got four, they could be packed in that box. Figuring that they would travel better, we were convinced to increase the order..
As we weren't going to eat the cakes straightaway, the staff member explained to us how to best prepare and serve them, so that they would be at their prime. They helpfully write instructions on top of the Matcha lava tart box, and there were instructions in the canele box as well.
The half baked cheesecakes were to be eaten just as they were. We had them not too long after taking them out of the refridgerator. They were light and airy. If you have not had them before, the Japanese style cheesecakes are less dense than American ones. "Cottony" is one quite common description for them.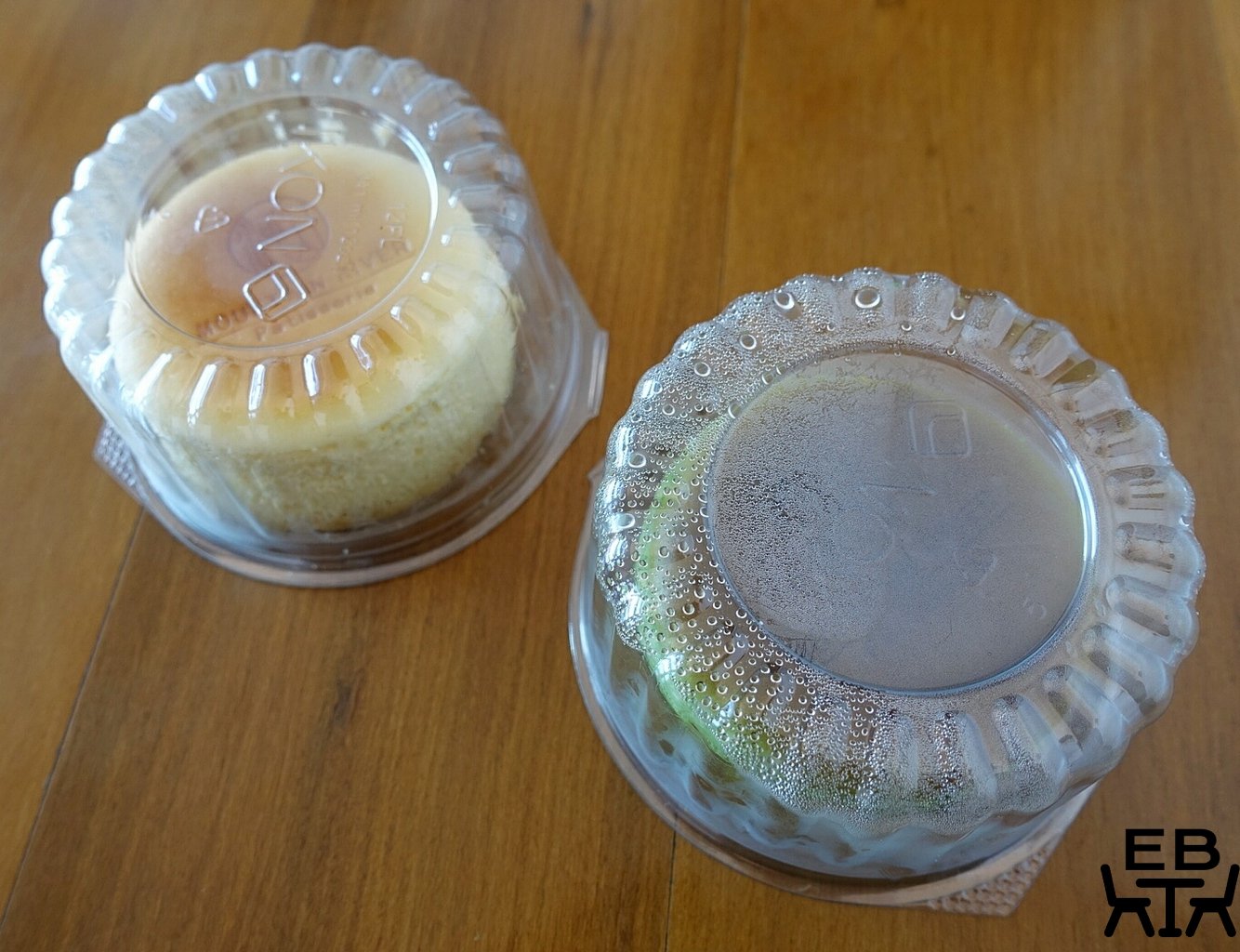 The Original flavour half-baked cheesecake had a good balance of faint sweetness, savouriness, and a light tart tang It was reminiscent of the flavour of Kinotoya Bake Cheese Tart (if you have never had the deliciousness, vicariously learn about it here). The cheesecake had a crumble case that was well-packed, but came apart easily. It provided a firmer texture to contrast, if not crunch per se.
The Matcha cheesecake had a similar light texture. If anything though, it was a little more crumbly and a little less sticky. There was a definite matcha note to it. It had a hint of citrus flavour, possibly yuzu. The sweet and sour flavours of the cheesecake came through. There were also red beans studded through it, a quite popular combination with the matcha. The base of this cheesecake was more cake-like than the previous crumble base. Though it was also green, it didn't taste of matcha compared to the rest of the cake.
The Matcha Lava Tart was possibly the one we wanted to try the most. We followed the instructions that had been written for us, and heated it in the oven for 8.5 minutes at 180*. It was a richer, verdant green after baking. It was indeed soft and gooey on the inside, with the lava-like flow as promised. The sides of the tart filling had a soft, set custard texture. If heated for longer, it probably would have been more runny all the way through, but we didn't want it that liquidy. The filling had a good strength of matcha flavour, balanced with a hint of sweetness. It was not bitter. The tart shell was a thin, crisp sable that had a slightly sandy crunch. It was a good contrast against the smooth tart filling.
We were initially unsure about getting the caneles, as we have had mixed experiences with caneles in the past. Some we had from markets in Brisbane were just squishy all the way through, and we didn't really get the point of them. Then we tried some from a bakery in Jeonju (South Korea), and they were beautifully caramelised and crisp on the outside. That, we understood, was the art of them. Given the detail that seemed to go into their other cakes (at least from the pictures), we decided to try the Mountain River Patisserie's caneles. As described above, they were neatly packed for takeaway travel.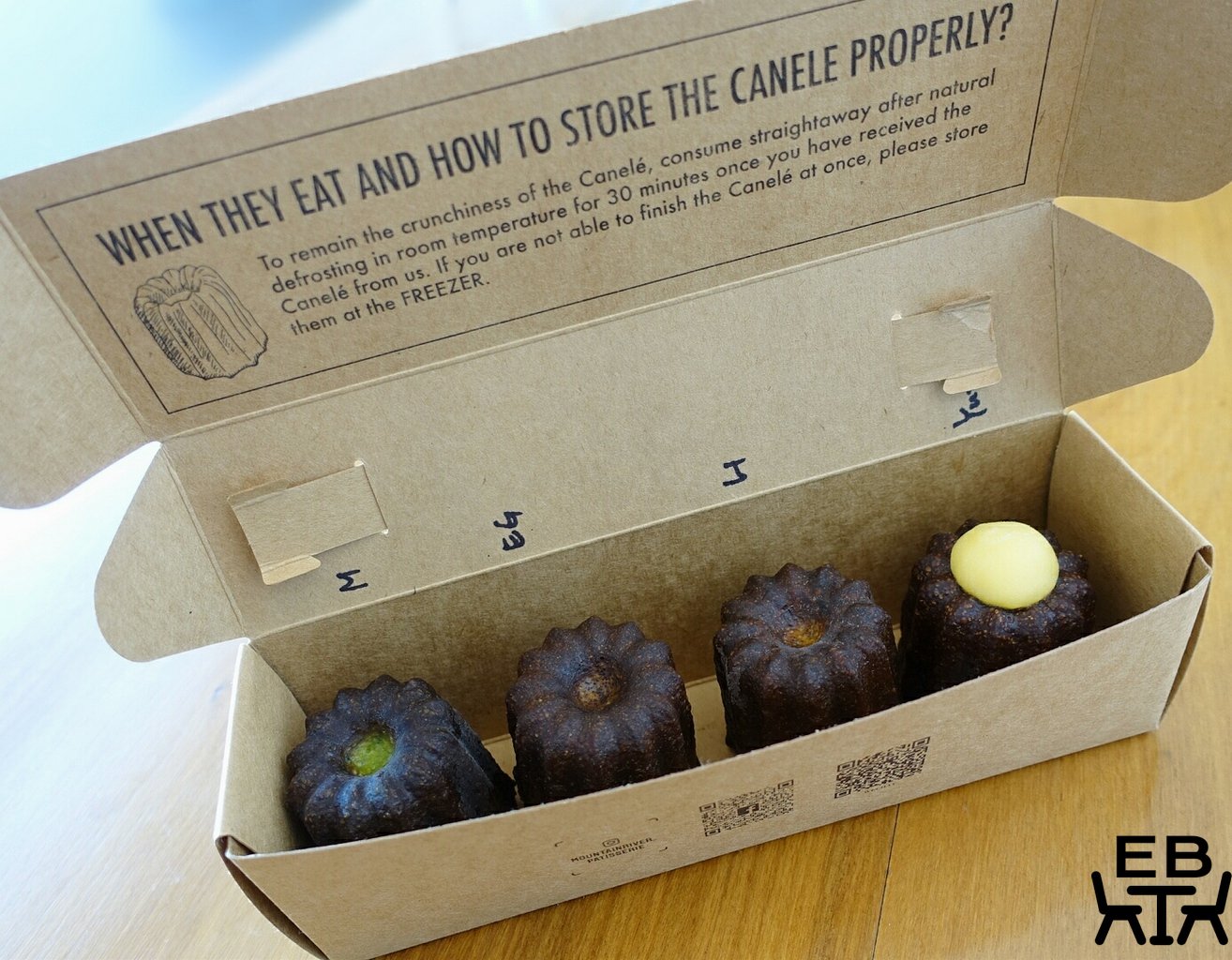 The staff member had helpfully written on the box which canele was which. As you can see, it would have been quite hard to tell otherwise. The box also had instructions on how to store the canales, and how to prepare them when you were ready to eat them (if not straightaway).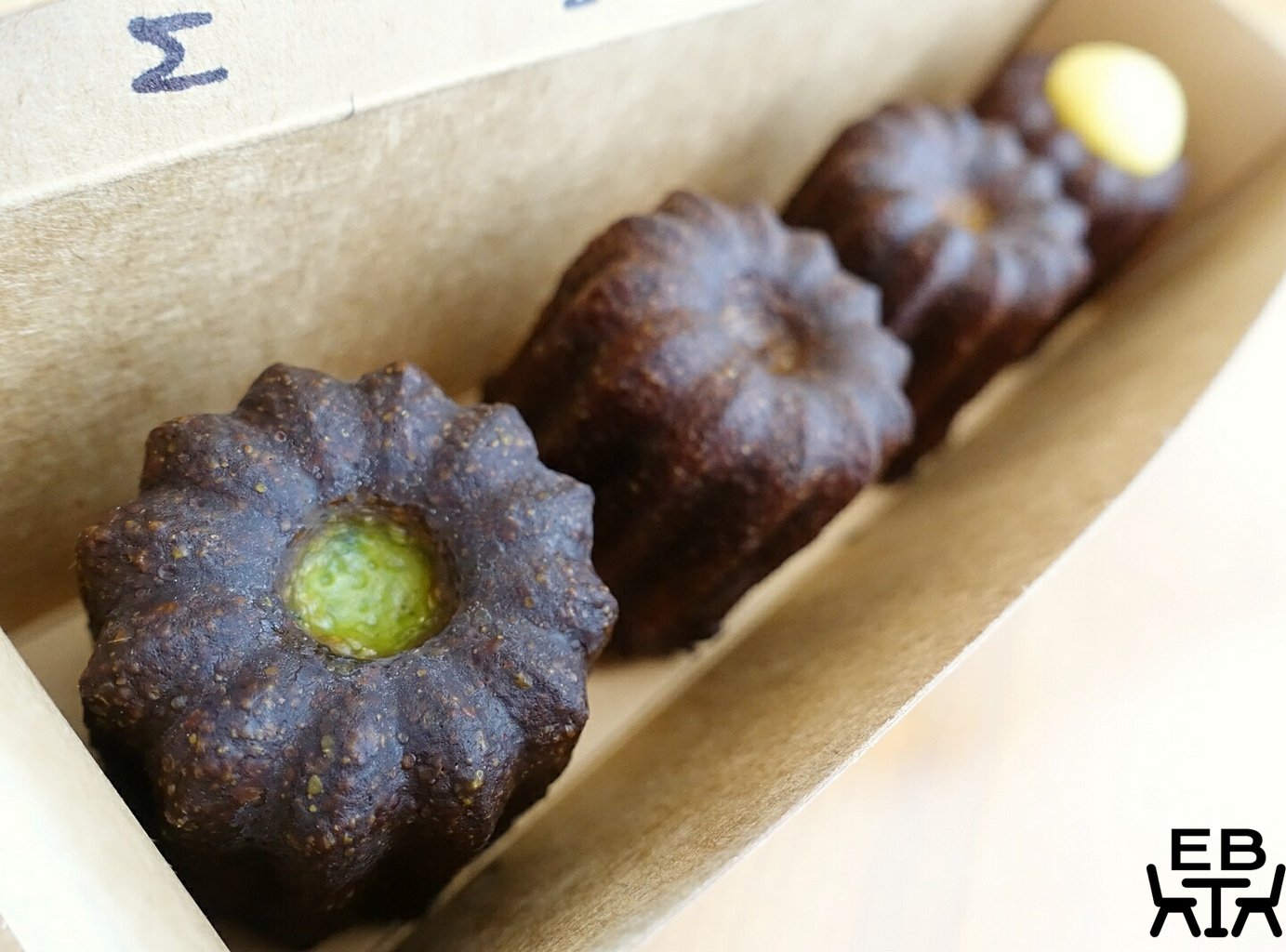 The Yuzu with choya yuzu canale had a caramelised crunch on the outside, with a good bittersweet flavour. It was particularly crunchy on top. The inside was soft and moist, an interesting texture that was not quite a cream, and not runny, but not a firm cake texture either. It had a light yuzu flavour, but the dollop of yuzu cream on top was stronger. That had a citrusy, balanced, light sweetness, and really drove home that this was a yuzu pastry.
The Matcha and sake canele had that similar bittersweet crunchy outside. The interior was more of a springy sponge texture. It had a slight sweetness, possibly from the sake component.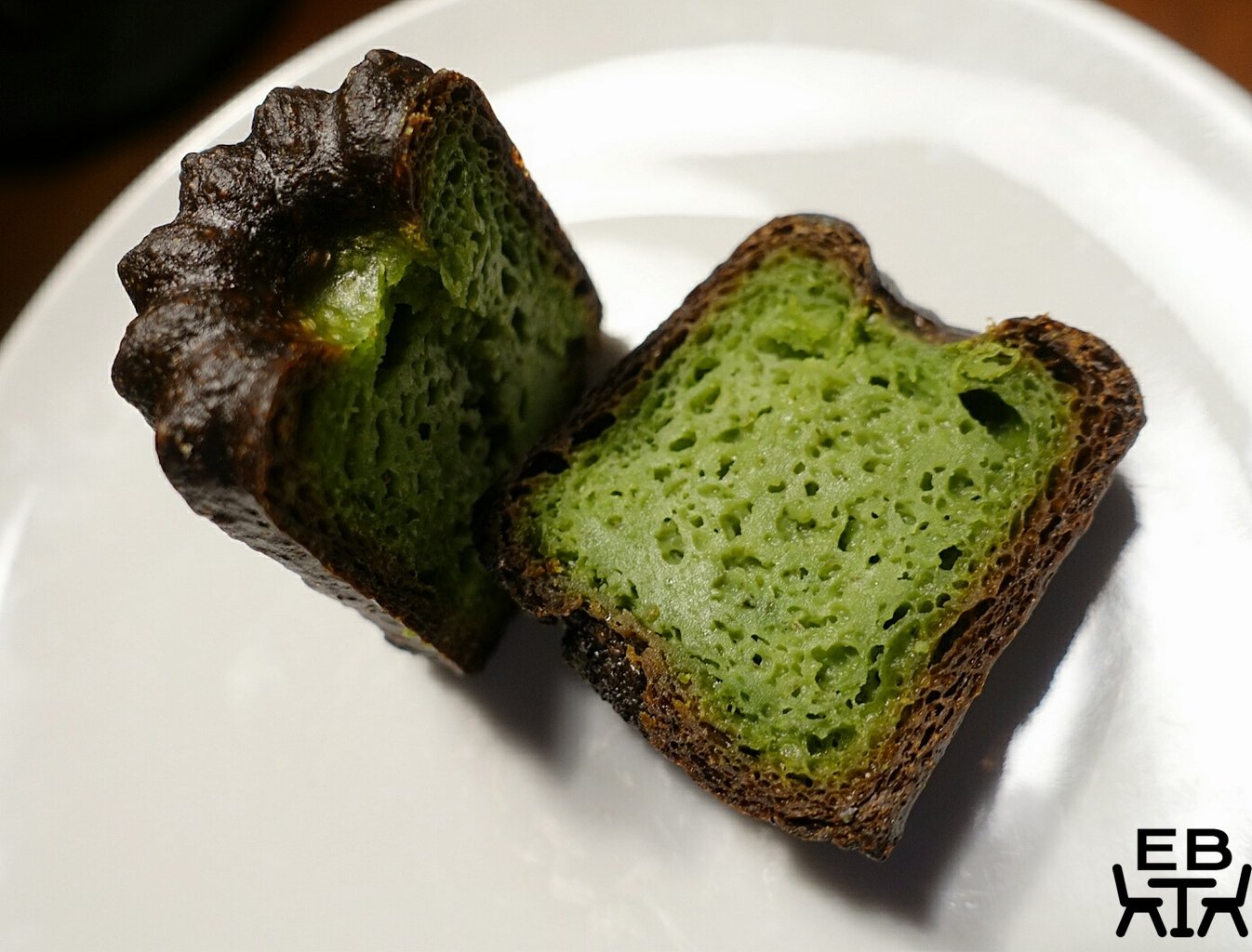 The Earl Grey and rum canele also had a more spongy than custardy centre. It was mildly sweet, with faint floral and citrus notes, in keeping with the components of Earl Grey.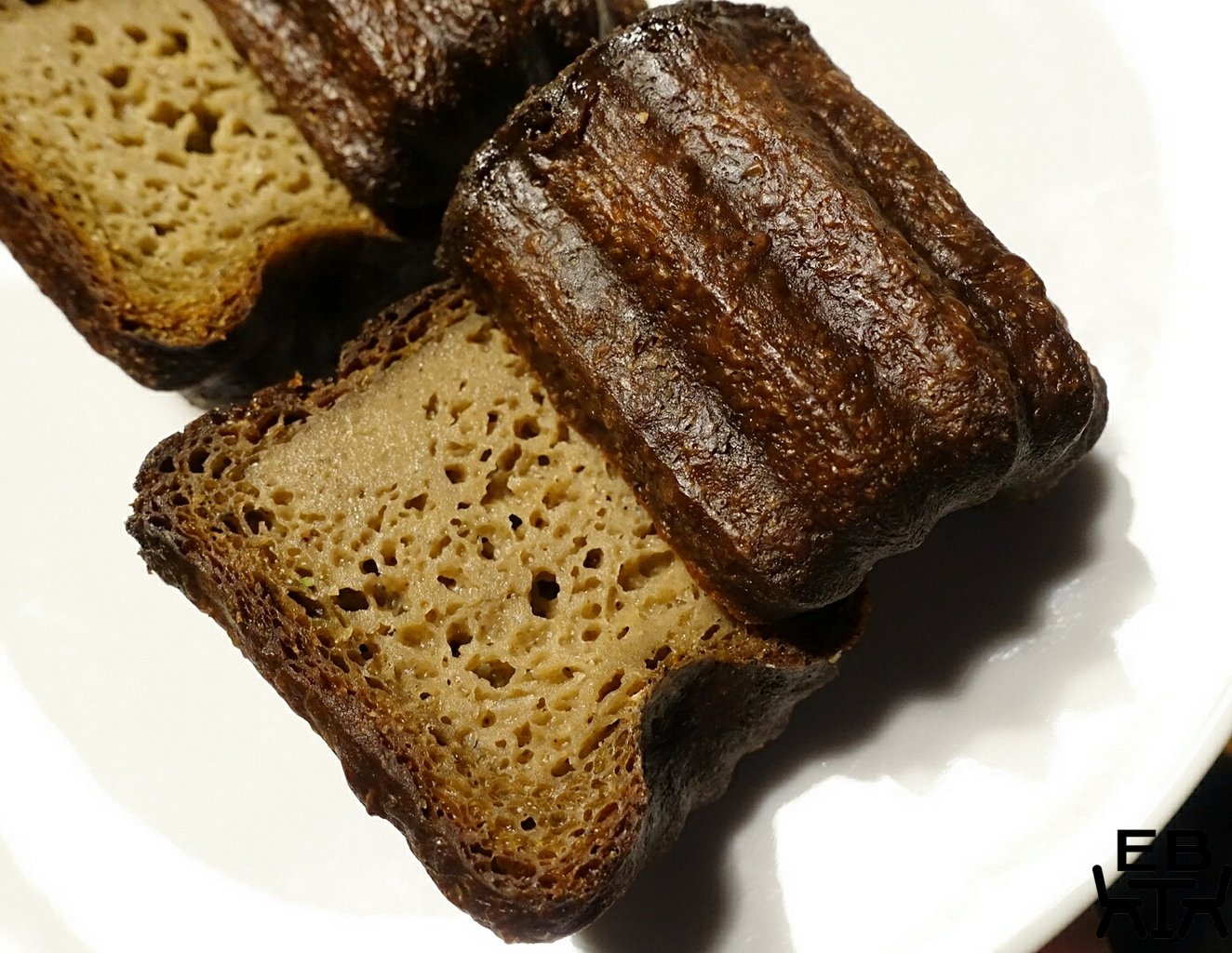 The Hojicha and rum canele had the mildest flavour of the caneles we bought. It was nutty and lightly sweet, but otherwise seemed similar to the underlying flavour of the pastry, rather than being clearly hojicha.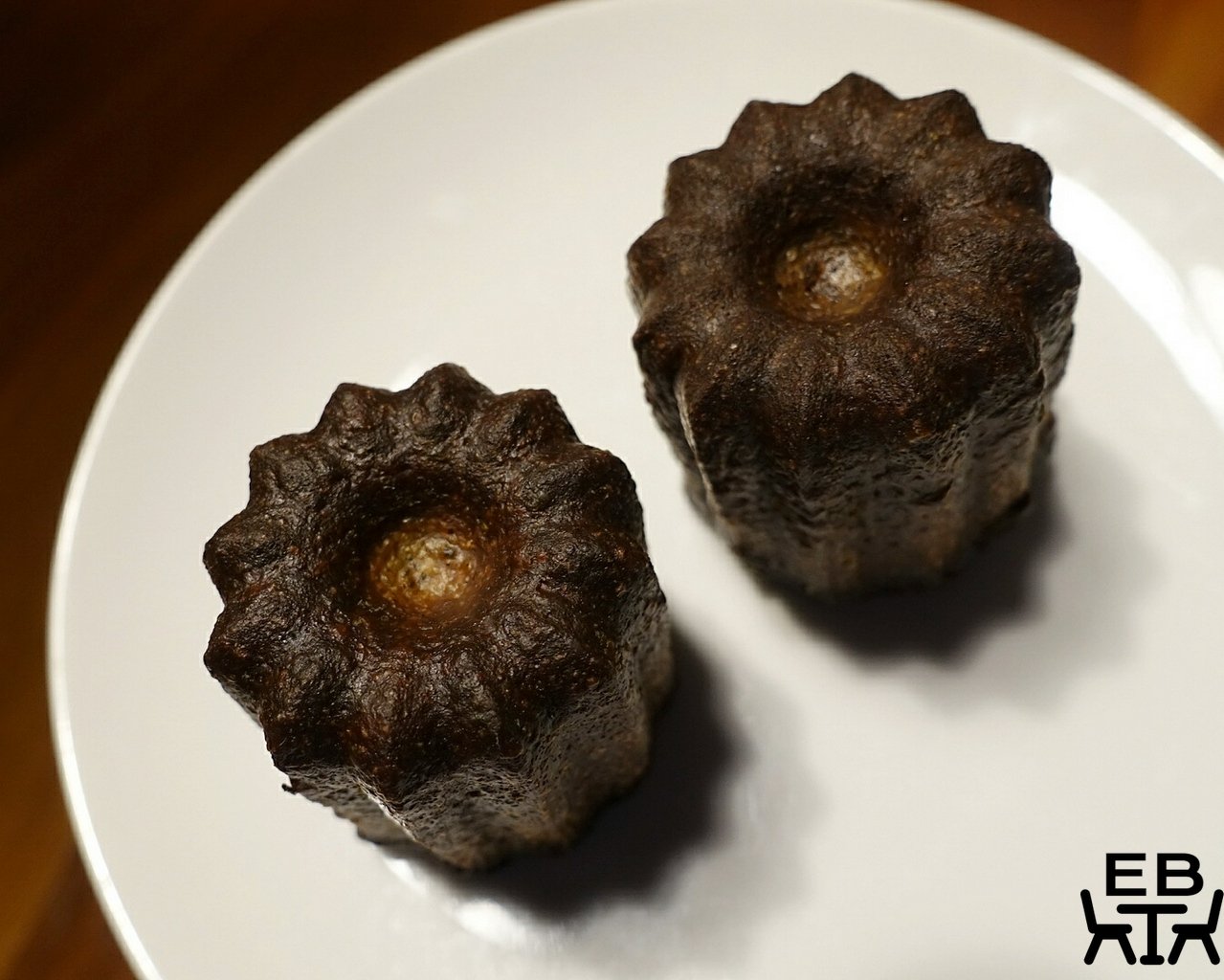 Mountain River Patisserie does some very beautiful cakes, and they clearly take care in their craft. If you are looking for Japanese style cakes and pastries, this is a place you should visit. Note that they are takeaway only though, so if it is going to be some distance home, or you have other errands to run, perhaps bring a cooler bag to keep the treats extra fresh.
Scores:
Food: 3/4
Setting: 1/2
Service: 2/2
Total: 6/8
Price point: Half baked cheesecakes $8. Matcha lava tart $9. Caneles $5 each.
Value: Alright, for what they were.
Details:
Address: 12 Commerce St, Salisbury
Phone: 0474 088 565
Website: Mountain River Patisserie