Last updated on March 25, 2016
On the main strip of Wilston Village is where you'll find Alcove Cafe and Deli. Actually, just on a corner turning off from about the middle of the main strip. You'll see the striped awning just peeking out..and it's not Cafe 63 (they seem to be springing up everywhere).
It is all undercover outdoor seating. The aforementioned stripey awning and large umbrellas protect patrons from the elements. This was tested by a light drizzle on the morning we went, and held up pretty well, apart from a few small drops getting in through the gaps. There weren't visible fans or heaters for other seasons, and in less accommodating temperatures, al fresco might not be as pleasant. It was fine for the day though. The decor and the atmosphere is casual and relaxed, with an almost beachy feel.
We were quickly greeted and seated, and given water and menus. We were introduced to the specials, then left to ponder. It is an order at the counter affair once you have decided, and when you go into the busy little area where orders are taken, coffees and other drinks are made, and the kitchen turns out food, you see why there is zero room for indoor or counter seating here.
The iced mocha on soy was richly chocolatey, and was nicely balanced with the coffee. It was cold as opposed to just a bit cool, and not too sweet. Soy was 30c extra, which is less than it costs elsewhere.
Other coffee (flat white) was also thought to be pretty good.
The roast pumpkin and chickpea fritters were very photogenic. Piled high with layers of smashed avocado and fetta in between, and a slab of toast at the base, it was pretty and delicious. The pumpkin and chickpea fritters were soft without being starchy, almost like thick pancakes, but easier to pull apart. They did taste like pumpkin. The salt and pepper on the avocado added an occasional bit of punch. They was also a good amount of avocado, despite the current #avocadocrisis. Nicely, there was also no avocado surcharge. The only thing missing in the dish was a crunch element. The edges of the toast did provide a bit of it, but not quite enough. Perhaps adding on bacon would have completed the dish.
The lamb koftas had a bit more flavour variety. The koftas themselves were tasty without being too salty, and the cumin rolled poached eggs had a nice hint of extra flavour from the spice. There were also rosemary tomatoes and balsamic roasted beetroot, as well as nerves yoghurt. Having a bit of everything rolled up in a piece of flat bread made for a pretty delicious bite. Again though, it could have used something for crunch.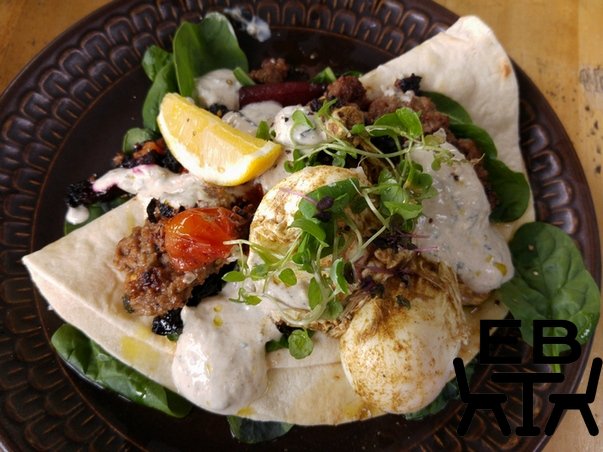 There were some enticing cakes in the counter cabinet, but we didn't have room for more this time. Perhaps next time.
The waitstaff were cheerful and friendly, and came by to check that the food and drinks were going down well. We also overheard them telling customers at a nearby table a bit about the neighbourhood. I think they do a good job in making people feel welcome at the cafe.
All up, Alcove Cafe is a lovely place to be and eat. You can see why they've managed to stick around for a few years now. If I were a local, that would be my regular hangout as well.
Scores:
Food: 3/4
Setting: 1/2
Service: 2/2
Total: 6/8
Price point: Items more substantial than simple toast or museli $11.90 to $22.90.
Value: Pretty good.
Details:
Address: 92B Kedron Brook Road, Wilston
Phone: 07 3161 1591
Website: Alcove Cafe and Deli