Last updated on June 15, 2021
Being croissant fans, we of course took note when Darvella Patisserie opened in Bulimba. We hadn't actually made time in our itineraries to visit early enough in the day for it to be pointful though (we wanted to spare ourselves the disappointment of making the trip there only to find everything was sold out). We happened to be in the neighbourhood at a timely time on a recent weekend though, so finally got to try it for ourselves.
Darvella Patisserie is located on Bulimba's popular Oxford Street, but away from the main busy area, and closer to the jetty end instead. An A-frame sign just off the sidewalk indicated that there were croissants to be had, in case people happened to be wandering by and unaware of what they were missing out on.
The storefront itself had a simple, classic style, with bricks in cool white, "Darvella" in bold font above the coffee window, and a faux stylised street sign that said "Patisserie" near the entrance.
We made it there about half an hour before closing time, and weren't overly optimistic about what would be left on the shelves, but were pleased to find a reasonable range of options left.
The interior of Darvella was not the minimalist modern style we expected from the look of the exterior, but a more casual, homely European style, with a crazy paved floor, and peach-hued tiles fronting the service area. The display counters made an L-shape along half of the shop space, creating plenty of room to display their wares, which is a great way to tempt people into many purchases.
They had a range of small cakes, reminiscent of the tall cakes Chester Street Kitchen used to offer.
They also had ready-made croissant sandwiches, for those who were after something savoury. One wonders how crisp they are though, if sitting there already filled..
What we were after though, were the sweeter options.
There was a basket of plain croissants sitting on top of the service counter. Much as we would usually take the plain croissant as the baseline comparison for a croissanterie, we just weren't convinced enough by how they looked to put down money for them. They already looked too pale, and not quite right for proper croissants. They looked more like the croissants you see in packets at supermarkets..
The baked croissants looked more promising. We ordered an almond croissant, then were told they had an almond and chocolate one as well, so opted for that instead. It was only on checking the bag after the purchase that we discovered that it was actually more like a pain au chocolat in form.
We also decided to get their weekend special croissant, although they also looked quite blonde and flat. We were told that it was Earl Grey with Ruby Chocolate, and were at least intrigued by the flavours.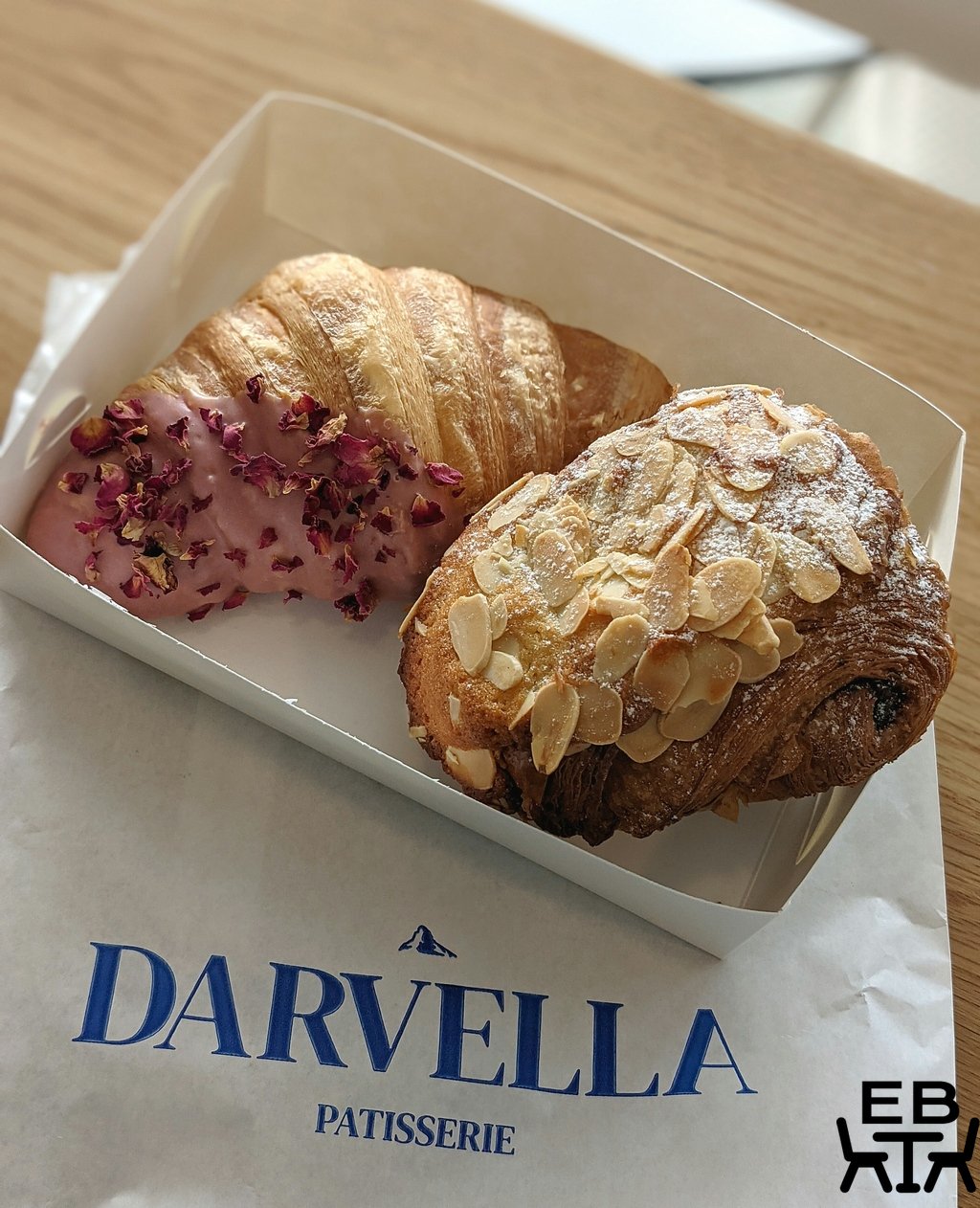 The Earl Grey croissant was quite prettily decorated, with the swathe of pink from the ruby chocolate. Inspecting our croissant closely though, we could see the same flaws that we were suspicious of in the plain croissants. It hadn't quite risen and the layers hadn't quite separated. It certainly didn't look like the croissants they flaunted on their social media feed.
Cutting it in half made it flatten down even more. It had some flakiness to the exterior, but the texture and flavour was more like a puff pastry than croissant pastry. Sadly, the croissant didn't have the hoped for buttery richness. It had a soft break, rather than a brittle shatter. The Earl Grey filling was a light cream, with a subtle floral flavour. It complimented the lightly fruity note of the ruby chocolate.
The Almond and chocolate pastry (it couldn't be called a croissant) was more promising in hue and visible layers. The pastry was more crisp and more buttery. It had an almond frangipane on the inside, as well as chocolate filling. These were sweet, but not cloying. The frangipane baked on top and the sliced almonds gave it further, different, textures of crunch.
Overall, we found Darvella Patisserie hit and miss. The hype ran hot, but it didn't live up to that. It was similar to our experience of Superthing, in which there was a lot of publicity for it, but it didn't deliver. Perhaps it is about choosing the right items to get, but we have to say, our preferred, and consistent croissant supplier in Brisbane remains Reno Fine Patisserie.
P.S. Technically, given that Darvella Patisserie doesn't sell finer French pastries, it should be called a bakery rather than a patisserie. See this for the definition.
Scores:
Food: 2.5/4
Setting: 1/2
Service: 1/2
Total: 4.5/8
Price point: Plain croissants $4.50. Our two pastries $14.50 total.
Value: Disappointing.
Details:
Address: Shop 1/37 Oxford St, Bulimba
Phone: TBA
Website: Darvella Patisserie