After opening outlets throughout Asia, Hokkaido Baked Cheese Tart eventually made its way to Australia. After the taste developed from our Bake Cheese Tart tour of Japan and Singapore, given it didn't look like Kinotoya Bake was coming to Australia anytime soon, we thought we would try this competitor out and see if it would be suitable substitute sustenance.
Hokkaido Baked Cheese Tart opened a couple of outlets in Brisbane in quick succession: one in the city in the Myer Centre, and one at Westfield Garden City. Avoidant of city crowds, we visited the Westfield Garden City one.
It is located near the food court area, across from Starbucks, and on the way out to the outside dining area. It is easily visible and well-signed, "Hokkaido Baked Cheese Tart" in bright yellow lights at the front of the store, and their sunshine-yellow boxes stacked on shelves to form blocks of eye catching colour, the way Kinotoya Bake does it. It is mostly set up as a takeaway, with just a couple of bar height tables and stools at the front, and a couple of counter seats on the other side for the patrons who do decide they want to eat there.
The visible cheese tarts are on display behind glass (for hygiene reasons), and tempt you as you line up. There is a bigger range of flavours on offer here than from Kinotoya Bake, which typically carries just plain cheese tarts (but had special blueberry ones at select locations). Hokkaido Bake Cheese Tart had Strawberry and Blueberry alongside the original at the time of the visit. You may also find Chocolate at other times. The original cheese tarts are $3.90 apiece, and the flavoured ones a little more at $4.20 each.
Not on display but also on the menu are cream cheese soft serves. Again, Kinotoya Bake also sells soft serves, as Hokkaido milk is reputed to be excellent. There are also hot and cold drinks of the caffeinated variety on offer. They occasionally run specials on this, like the promotion of a $2 coffee with any cheese tart purchase when we were there.
To make a fair comparison, we stuck with the plain cheese tarts, and unable to walk away from a deal, had a flat white. It was noted that all the plain cheese tarts on display were quite blonde, but we asked for the most browned of them.
Waitstaff were cheerful and polite throughout, and it wasn't too long before the coffee and tarts were ready. While waiting, patrons can watch some of the cheese tarts being prepared in the little glass-fronted kitchen area. Similar to how Kinotoya Bake does it, these cheese tarts are made in a separate location, then glazed and cooked at the store, so you don't really get to see the secret mix being put together from scratch, just the final, less exciting bits.
The flat white was pretty good, with well-textured foam, and a chocolatey flavour. The print on the cup was quite quirkily cute.
The true test though, was the cheese tarts. The staff had, indeed, gotten us the most bronzed ones, promisingly burnished on their edges. While they didn't have quite the same heat-kissed glaze all over their top surface, they looked better than the other paler ones on the trays.
The first bite was a nibble at the pastry. This wasn't crunchy, but sort of dense in the way the pastry of custard tarts from Coles or Woolworths are. It did at least hold together, rather than crumbling apart as you ate. It seemed like a bland vehicle to hold the cheese tart filling though, rather than the buttery, biscuity, also contributory base of Kinotoya Bake's cheese tarts.
Next, we tried the cheese tart filling itself. This was very much like a soft-set cheesecake filling in texture, creamy and smooth. Rather than the mousse-like airy texture of Kinotoya Bake's cheese tarts, or the gooey centre of Pablo's cheese tarts, it was in-between, and not really anything we could call special in itself. It also had quite a mild flavour, like cream cheese. Again, our standard of comparison and expectation was Kinotoya Bake, which has a filling that is a tasty, moreish balance of sweet and savoury. This was certainly not it.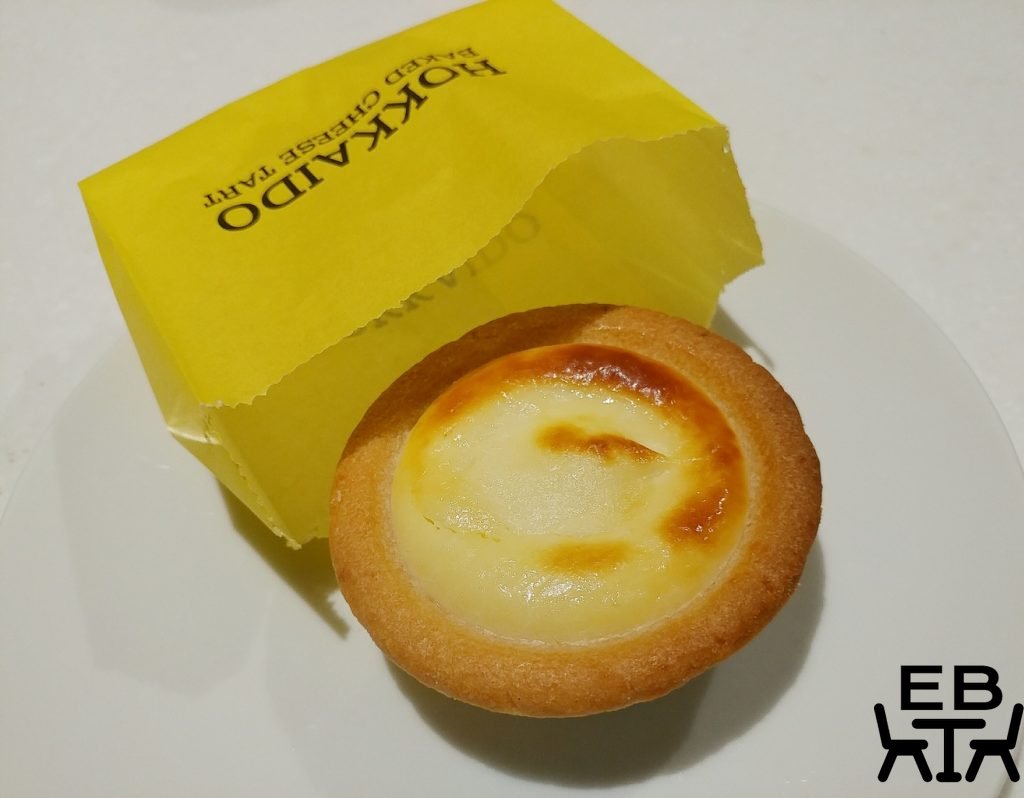 On the whole, the Hokkaido Baked Cheese Tart original cheese tarts were like small portions of not very impressive cheesecake. They lacked the textural contrast and addictive flavours of Kinotoya Bake's cheese tarts. They have copied the idea, but just can't hold a candle to the original. Perhaps it will suit others who like cheesecakes just as they are, or prefer milder flavours, but we will have to continue to hold out hope that Kinotoya Bake eventually comes to this part of the world..
Scores:
Food: 2/4
Setting: 1/2
Service: 1.5/2
Total: 4.5/8
Price point: $3.90 to $4.20 per cheese tart.
Value: Uncertain, when you compare it to the real thing..
Details:
Address: Westfield Garden City, Shop 2012, Cnr Logan & Kessels Roads, Upper Mount Gravatt
Phone: 07 3135 5450
Website: Hokkaido Baked Cheese Tart