Last updated on December 14, 2020
We visited Cafe Scenario not long after they opened. This new eatery is located amidst a little cluster of shops in Yeronga, and will certainly look familiar to some. The same space once housed Seven South, then the Hyde Away Cafe, before now becoming Cafe Scenario.
We were greeted as we approached the entrance, and after establishing that we were there for food and not just coffee to go, we were invited to choose a table. They suggested inside, as it  was an overcast, windy day, but it was a pleasant temperature, so we opted to sit outside after we had signed in.
Those who have been to the eateries that were previously there will recall the wooden paneling and shelves that covered one wall, the light walls and tiled floors, and the orange-hued pendant lights descending from the ceiling. Cafe Scenario is furnished with more classic dark wooden tables and chairs, which gives it a more grounded look than its predecessors. Outdoors, it had a pleasant outlook to a park, and was sheltered overhead.
We were soon brought water, glasses, and menus. The menus had food printed on one side, and drinks on the other. The food items were split into an All Day Menu section, and Lunch items available from 11am to 2pm. There were a number of items with distinctly Asian influence, mostly Korean, like the Boo-Chuu (garlic chive) Fritter, and the Korean Fried Chicken Burger. We were tempted by the Croffle dish, but had a hankering for savoury rather than sweet dishes. As the staff were Korean (and on their recommendations), we decided to play to their strengths and ordered the Kimchi Shakshuka and the So Gal-Bi. (We had initially wanted the Boo-Chu Fritter, but they had already run out for the day – they were very apologetic about this.)
The blackboard at the front of the cafe advertised an opening special of 10% off coffees, but we would have ordered coffees regardless. The cups out front indicated that they use Toby's Estate beans.
The flat white was strong, with good flavours, and a crisp appley finish.
The soy iced latte was properly chilled. It was nutty, without bitterness, and also was a good strength.
The staff were so lovely that they brought us a complimentary side dish to make up for not having the dish we initially ordered. We picked the Beer battered fries. They were served piping hot, and were not oily at all. They were just as hot chips should be, with a proper crunch to them, and no soggy bits.
The Kimchi Shakshuka intrigued us when we spotted it on the menu, and were curious about how the flavour combination would turn out. It was listed as having baked eggs in kimchi and Moroccan tomato sauce, with parmesan sourdough toast. The shakshuka was presented in the stone bowl Korean stews are often served in. Diced tomatoes and cubes of fetta sat just on the surface, and an egg lay half-submerged under the other ingredients.
The egg yolk was still soft and runny, and staff came to check if we wanted it cooked more, as some people do like it more set. We reassured them that it was fine (what heathens want their shakshukas with cooked through egg yolks?). When mixed all together, it came together as a good density, substantial and just right for dipping the bread into, rather than being too runny, which is a shortcoming we have encountered in other places. There was other melted cheese hidden in the mix, which had a soft stretch when parts were lifted out. The shakshuka was predominantly tomatoey in flavour, with some heat from the kimchi, but not too much. We thought that it had definitely been tempered to suit those who might not be that familiar with kimchi. Being much more accustomed to it ourselves, we asked staff for more kimchi. They obligingly brought more out in a small side dish, and we learned that their kimchi is house-made. The kimchi had a good umami richness and depth of flavour, and was not too sour. It did have some heat to it, and livened up the shakshuka when we mixed it in. The thick-cut sourdough slices that accompanied it were perfectly toasted, with crunchy surfaces and soft insides. They were just the right textural contrast to the shakshuka, and were sturdy enough to hold spoonfuls of the sauce piled on.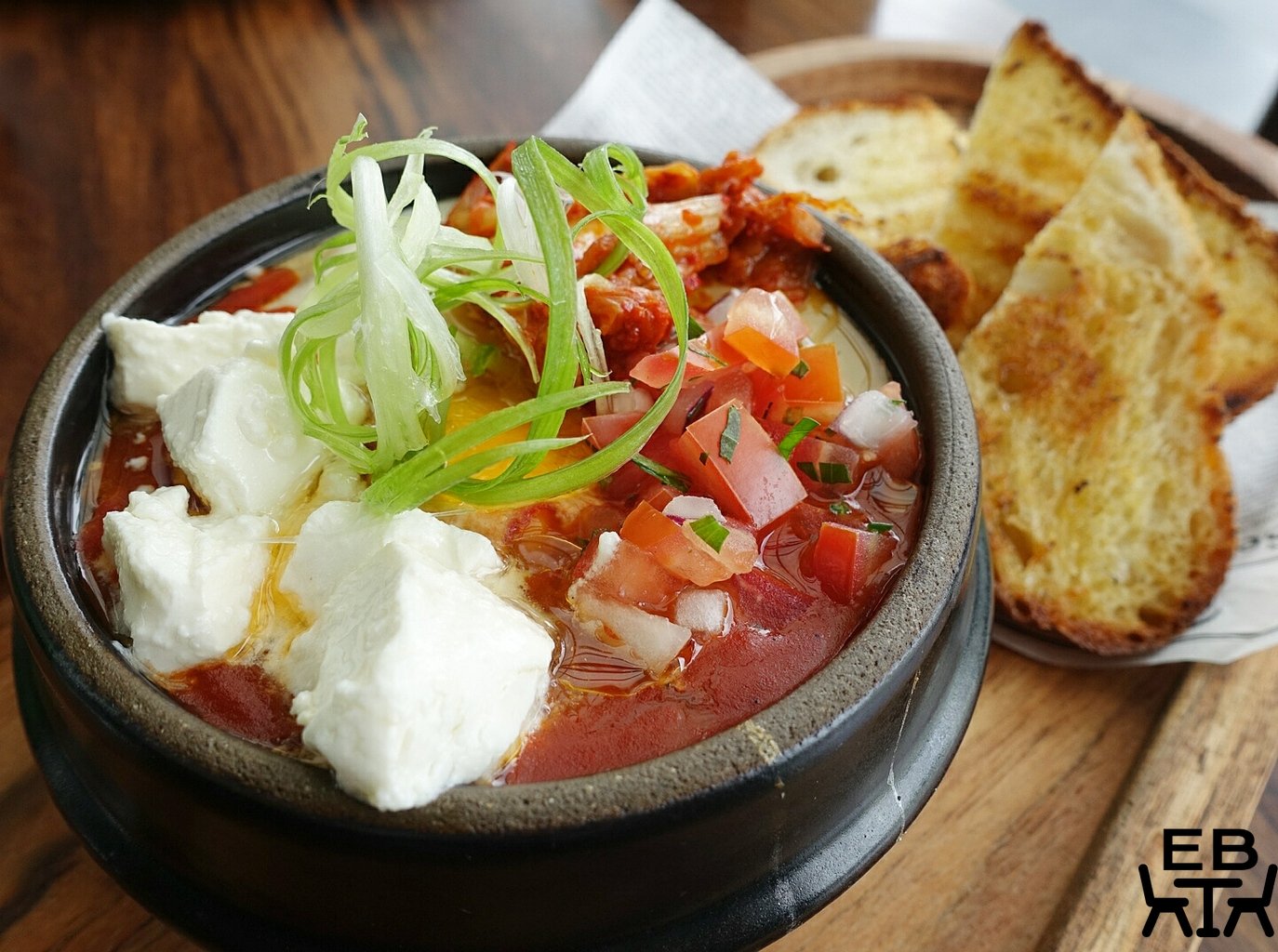 The So Gal-bi was described as having slow-braised and grilled beef ribs, grilled romaine, soy pickled onion, and ssam-jang dressing. The dish was wonderfully aromatic as it was placed on the table. For those unfamiliar with it, the Korean beef short ribs are often cut transversely rather than longitudinally, on a shorter axis than you tend to see in European cuts. This makes it easier to separate the meat from the bone, and the thinner cuts of meat absorb marinade better.
These slices of beef rib were caramelised and glistening. There was a delectable combination of sweet, salty, and umami flavours from the marinade and the Maillard reaction. There were beansprouts underneath the meat, that had just been blanched, so they retained some crispness. They soaked up the extra juices from the meat, so took on some of that rich flavour as well. The grilled romaine lettuce provided visual freshness, particularly when garnished with slices of capsicum and the slightly fruity ssam-jang dressing. The bright flavours and crisp texture were also a good contrast to the other components. You could see how this was a modified take on ssam, a typical Korean dish in which a lettuce leaf is used to wrap meat for a bite-sized treat.
We enjoyed the dishes we had at Cafe Scenario. We liked how they applied and incorporated Korean flavours in the items we had. The staff were welcoming and friendly, and we felt looked after. It is makes for a nice addition to the eatery options in the area, and hopefully more people come to discover it. 
Scores:
Food: 3.5/4
Setting: 1/2
Service: 2/2
Total: 6.5/8
Price point: $14 to $25 for items more substantial than eggs on toast. Our dishes $20 and $25 respectively.
Value:  Airight.
Details:
Address: 1/92 Hyde Rd, Yeronga
Phone: 0491 616 424
Website: Cafe Scenario