LuMi Dining was recommended to us when we were looking for a dining place that would be a special experience while we were in Sydney. Going by the generally great reviews, regardless of which platform you looked on, we went there with high hopes.
We booked in advance, as given their awards and hats, we doubted that one could just walk in and be guaranteed a table. The restaurant is located on one of the piers at Pyrmont Bay, and sits like a large glass and metal box over the water.
The interior has oceanic hues, with blue-grey carpet and dark teal padded seats. There was a mix of concrete and wood tabletops. The tables were simply set with glasses and rolled napkins. The menus that were brought to the table were presented as bound folders in a seaweed shade.
The Chef's tasting menu was printed on a single sheet, separate to the bound menu. The items were listed, without descriptions, in a single column running down the page. There were further add-on options printed in gold. We had already decided that we would do the degustation, so didn't pore through the rest of the menu.
The descriptions that follow will be a bit briefer than usual, because there were many items, and this is a bit of a back in time review. We do want to showcase the craft and creativity in the dishes from LuMi Dining though.
Italian Gunkan. We were initially perplexed by the title, and didn't know what to expect. The LuMi Dining website says that they do Italian food with a Japanese twist. This was a good example. It was presented like the gunkan (boat-style nigiri sushi) you might get from a sushi store. The uni (sea urchin) on top was a very Japanese ingredient. Beneath it was stracciatella, a creamy Italian cheese. It was a good representative first item. Staff explained that it had to all be eaten in one bite. The components had a smooth, creamy texture together. The uni was definitely fresh, with a rich umami, salty, faintly sweet flavour (sadly, we have previously had bad experiences with uni, at a seafood market in Hokkaido, of all places).
Tart. Out of order from the menu listing, but neatly presented in a bowl of pumpkin seeds that echoed the appearance of the toppings on the tart itself. The light, puffed pumpkin seeds that topped the tart were crunchy, and shone with glaze. The tart itself was filled with creamy, sweet, finely diced pumpkin, and a layer of smooth, slightly salty blue cheese. The tart shell was very fine, and crisp.
Porcini. We loved the creativity of this presentation. Cutouts profiles of mushrooms were stuck in a bowl with dried mushrooms in it. These were actually very thin crisp crackers, with a fine layer of mushroom paste spread on them, then dusted with porcini powder. Mushroom, on mushroom, on a thing that looked like a mushroom, in mushrooms. It was, as you might expect, very mushroomy. The smell from the dried mushrooms in the bowl and the porcini powder was a little reminiscent of a herbal shop. The flavours were earthy, salty, and just faintly sweet.
Dauphine. A neatly balanced little tower of caviar, scallop, and smoked bone marrow on a pomme dauphine, perched on a hollowed out section of bone. This was a rich combination of components. Once you have had pomme dauphine, you might, like us, think that making more of them yourself might be a great idea. Then you find out that they are more than fried mashed potato balls, but actually potato mixed with choux pastry then deep fried. This gives them a light fluffiness inside (lighter than mashed potato alone would be), and a crisp exterior. They are dangerously addictive, (a large bowl of them would vanish very quickly), but the process of making them would be a hurdle to having access to that many. The smoked bone marrow was custard-like in texture, with a mild flavour.
Egg. The bowl held what looked like a neatly de-topped boiled egg (likely done with an egg clacker). The "egg" held what we initially thought was chawanmushi, but was more a dense froth than a set custard. Hidden through it were masago, for little flavour and texture pops. A lemony emulsion gave it hints of citrus. A layer of soft set egg white sat at the bottom.
Pie. The top of the pie was glossy and burnished. We were advised to cut the pie into wedges and eat it with our fingers (to avoid the risk of us eating it the wrong way). The contents were pork and fermented shiitake, with finely chopped pieces of carrot. It was served with a chicken emulsion. The mix was savoury and peppery, with a sticky richness from the chicken emulsion. The pastry was buttery, with light, flaky layers.
Crab and macadamia. A covered bowl with patterns that looked like white shell held this chilled dish. Mud crab meat, prawn, lemon myrtle dashi, macadamia oil, and finger lime pearls sat atop a layer of smooth, firm custard, this time like a chawanmushi.
Brioche. Is there anything better than freshly baked bread? It was still warm, and exuded a sweet aroma. It had a slightly sweet crust outside, and pulled apart softly inside. It was served with truffle butter, softened, and with visible truffle pieces through it. The remnants of the chicken emulsion were a tastier accompaniment to it though.
Ceviche. This was also strikingly presented in a bowl with dramatic swirls of forest green. They matched the curls of sea lettuce and herbs surrounding the Western Australian scallop. A herb oil emulsion was poured over it at the table, matching the verdant shades. The scallop was thinly sliced, and then put back together so that it appeared like a whole scallop again. Despite the citrus, mint, and pickle flavours from the other components, the scallop was not drowned out. The sea lettuce provided a contrasting crunch to the scallop's softness.
Agnolotti. It looked mysterious, shrouded in foam. This yuzu foam hid two pieces of ocean trout agnolotti. We were advised to eat these whole. We discovered why upon biting into the agnolotti. They held a creamy sauce of smoked trout, smoky and salty, and packing plenty of flavour despite not holding an actual piece of fish. The pasta sheets were supple and cooked al dente. They were perhaps a little thicker than typical, but that would have been done to prevent the liquid from leaking. The yuzu foam was ethereal, disappearing once in the mouth, leaving just the citrus flavour behind.
Hapuka. This too had an appearance that belied its nature. It was white on white. A splice of pickled kohlrabi encircling the hapuka, and a cloudy emulsion hiding the fish from view. The hapuka was just cooked, the flesh almost translucent. The outside had an aburi sear, giving it smoky notes. There was a paste of fermented barley, smooth, savoury, and very similar to miso in flavour.
Pork. Simply presented, an almost cake-like rectangular slice of pork was placed on the dish with roasted shishito peppers, a pool of sticky jus, and a small mound of a lime and chilli mix. We were told that the pork had been marinated for 3 days before being cooked. The meat was tender, and the skin so crisp that it was wafer-like. The shishito peppers were still juicy, and a mix of sweet and tangy flavours rather than fiery heat. The lime and chilli mix, however, packed a punch, which was probably why only that small amount was placed on the plate.
Strawberry. A heap of aptly strawberry red granita blanketed a ricotta mousse, which was layered over strawberry mousse. Finely diced black olive was scattered over it, an unexpected ingredient in a dessert, and green fennel seeds. The granita was loose, and had a definite strawberry tang. Interestingly, when mixed with the ricotta, it became like a strawberry ice cream when eaten together. The saltiness from the olive, and the vegetal notes from the green fennel seeds added atypical complexity.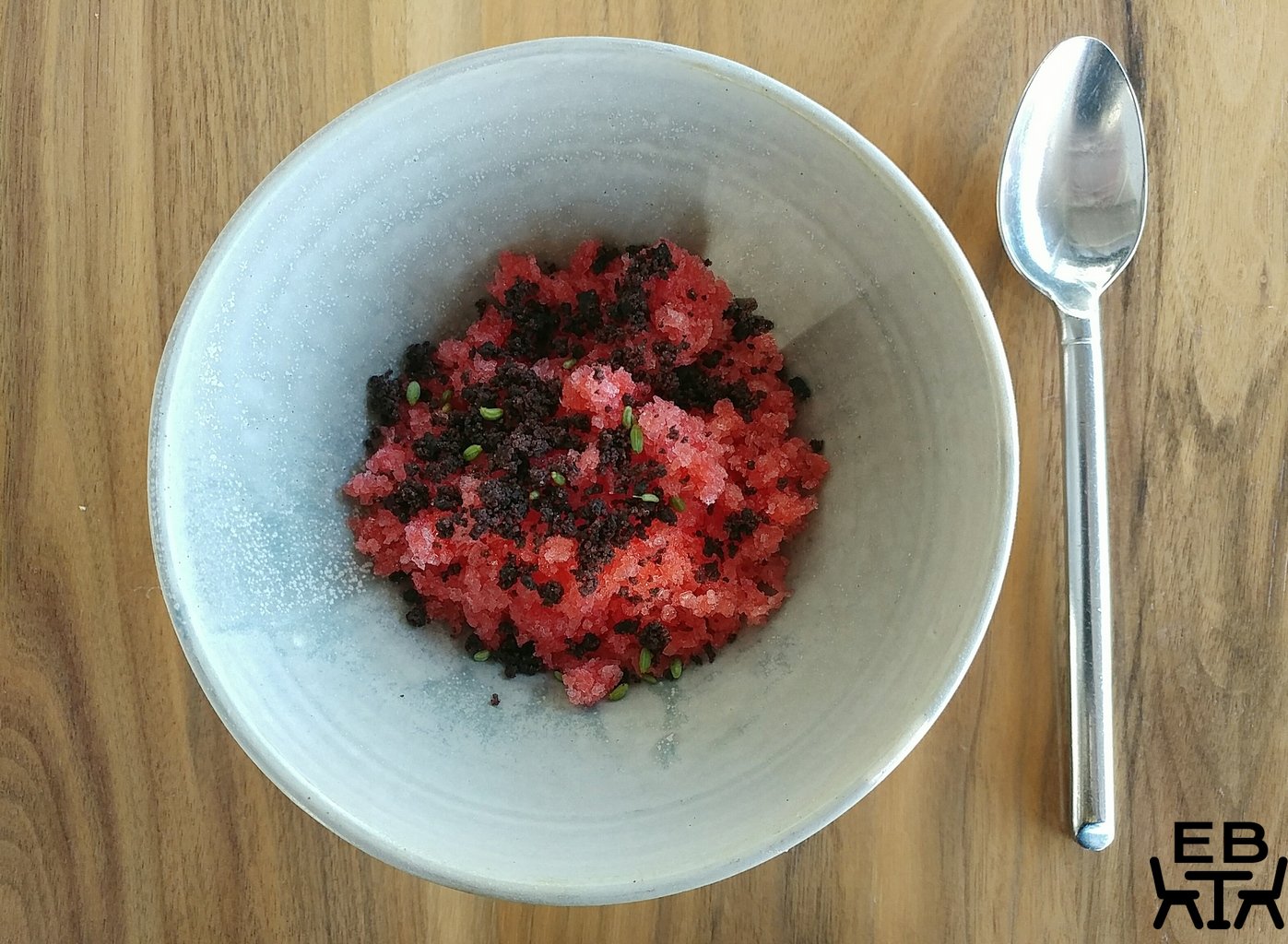 White chocolate and Sudachi. It was served in another beautiful bowl, this one with swirls that looked like flumes of white mist, so the item looked like it might be emerging or sinking into a steaming pool. This was sudachi ice cream on frozen yoghurt, with a dusting of kaffir lime, and a sliver of caramelised white chocolate as the base. The sudachi ice cream had a texture like Dippin' Dots, rather than a typical creamy ice cream. The creamy texture came from the frozen yoghurt instead. There were citrus flavours and tartness from both the sudachi and the kaffir lime. The tempered white chocolate provided an opposing sweetness. This was probably the most challenging dish of them though, because there was a huge difference between the extent of sweetness and sourness in the components, so the sourness was accentuated rather than being balanced out.
Frangipane. This was a dainty dish, the flower petals that garnished the piped tea-flavoured cream had the appearance of butterflies visiting a field of flowers. The pastry shell was buttery, crisp, and crumbly. The almond frangipane had a lovely subtle sweetness, and the right crumb texture.
Our meal at LuMi Dining was one of the standout dining experiences we have had. The other degustations we have had that were on par were O.My in Melbourne, and the Michelin-starred Le Sputnik in Tokyo. The presentations and flavours in the dishes were creative, and there was finesse and attention to detail. Service was polished, and it was a subtly stylish setting that did not come off as stuffily swanky. The menu items will likely have changed by the time you visit, but we would definitely recommend this if you are looking for something special while in Sydney.
Scores:
Food: 4/4 (despite the second last dessert dish, as everything else was excellent)
Setting: 1.5/2
Service: 2/2
Total: 7.5/8
Price point: $185 per person for the Chef's menu, without additions.
Value: Good, for what we received. Better than Aria..
Details:
Address: 56 Pirrama Rd, Pyrmont
Phone: 02 9571 1999
Website: LuMi Dining