More ramen options are appearing in Brisbane. The latest, Hai Hai Ramen, is in a refurbished house in Paddington, along Latrobe Terrace. It is painted black, and sits next to what was a rather crowded drinking establishment on a Friday evening. You can peer through the lighted windows when it gets dark, and do a Little Match Girl impression, gazing longingly at people eating their food.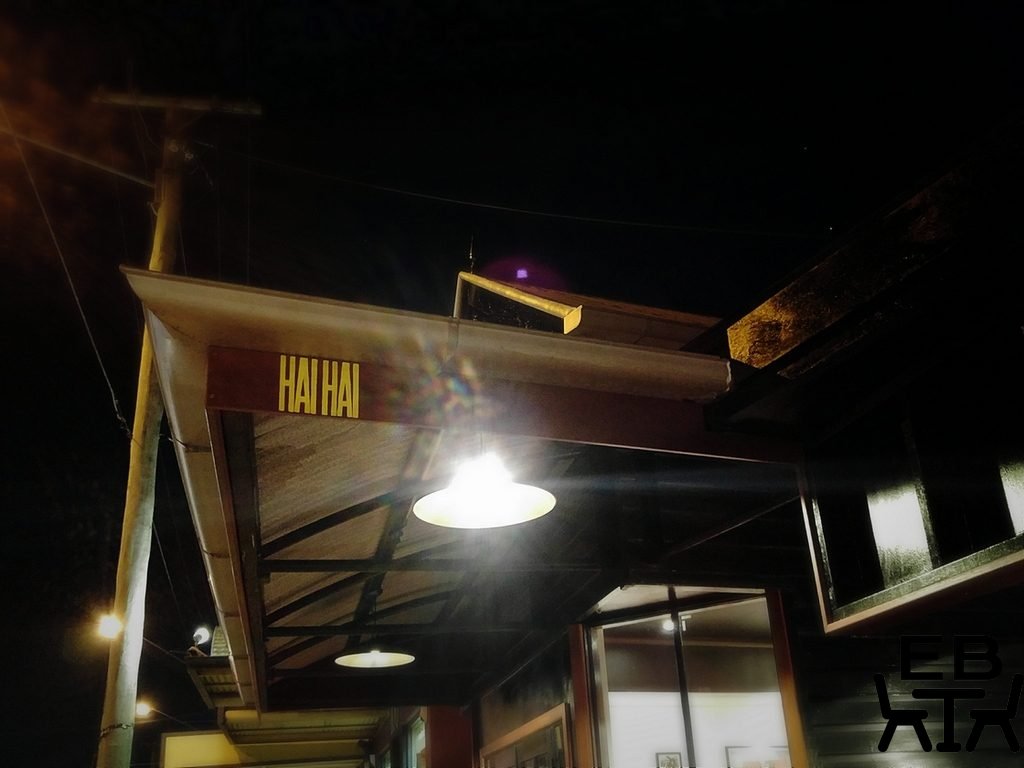 It uses a black and white colour palette. There are white walls inside the building, with posters of old Japanese films on the wall. There is the main section, with the ordering counter, and another room as you do a bit of a dog leg around, both airconditioned. The outside of the house, which also forms part of the covered non-airconditioned section, has black walls. It is fairly simple, minimalist. Seating is a mix of counter seats and communal tables.
There wasn't a clear process of how the ordering and being seated went. There were no signs near the entrance, and no staff directing crowd flow, just a line of people queuing up to order food. It is counter service, so orders and payment happened at the counter, where you were given a number. The problem then arose when it was crowded and there were no free seats, and your ramen might be brought out with nowhere for you to sit and eat it. Some people had taken seats first (which requires you to wander through the different sections of the restaurant after entering), and then gone up to order, compounding the confusion. The wait staff were, fortunately, perceptive of this, and when we got to the front of the queue and placed our order, asked if we had already found seats. When we said that we hadn't, one of them kindly went around the corner to check that there would be a spot for us sit at, rather than send us to the back of the line.
A point to add about the seating setup: as previously mentioned, there were counter seats and other arrangements. What should have been taken into account when designing the layout was that a communal table where half the patrons are seated at a bench with the back against the wall isn't a great idea. Unlike cinema seats, there isn't space for people to scoot back so you can shuffle in. To get in if not seated on the outside, one has to climb over other people. An even worse idea when you have to clamber over other people to get out and you're full of food. It was also poorly ventilated in the non-airconditioned area, and even on a relatively cool end-of-summer night, it was warm there, exacerbated by the consumption of hot food.
Near the counter where you order is a little trolley with pitchers of water and glasses. The water is self-serve. There is also a container with tsukemono (pickles) and takana (spicy pickled mustard greens), again, self-serve for you to bring back to your table in little plastic sauce containers.
We didn't have to wait too long for food to be delivered to the table. We had ordered a starter of karage chicken, and bowls of tonkotsu ramen, one with a shio base and one with a shoyu base.
The karage chicken came served with a wedge of lemon and a blob of mayonnaise. It was supposedly yuzu mayonnaise, but it tasted like normal kewpie mayonnaise. The chicken was juicy, and had a thin layer of seasoned batter. There was not much actual crunch, but it was tasty. The seasoning was salty with a hint of spiciness. It is described as a koji marinade, so it comes from rice fermented with an Aspergillus mold (koji), a similar base to soy sauce and miso. That accounts for the moreish flavour.
The bowls of ramen followed soon after. There was a smoky flavour to the milky tonkotsu broth. Despite the menu stating that there was black garlic oil in it, we certainly couldn't detect its presence, either in appearance or taste. Black garlic usually provides a rich umami flavour, and that was sadly absent. (For what ramen with black garlic oil should look like, see Genkotsu Ramen.) The shoyu base was better than the shio, which was lighter and had less depth of flavour. The half an egg had the right gel-like texture of yolk. The ramen came with thicker slices of pork than you typically get at other ramen shops. Some of it was quite fatty though, and more than the proper proportion, which made it less pleasant to eat. The noodles had good texture, a little bit chewy but not doughy. There was no complimentary kaedama, unlike what is offered at other shops, and the serving size was comparatively smaller.
Overall, Hai Hai Ramen is up against some serious and already established competition, which is also priced better and has customer flow better sorted out. It is going to have to do a lot better to make a dent in the field. It does, however, have an assortment of alcohol, unlike many of the other ramen eateries, which may be enough of a draw for some.
Scores:
Food: 2/4
Setting 0/2
Service 1/2
Total 3/8
Price point: Ramen $14 to $16 depending on which variety you get. Sides $7.50 to $10.
Value: Each item costs a couple of dollars more than at other places, but isn't clearly better. Likely a location tax.
Details:
Address: 102 Latrobe Terrace, Paddington
Phone: 07 3108 2240
Website: Hai Hai Ramen