Last updated on May 8, 2016
The Rogue Spice Canteen and Bar has opened at a new venue just a stone's throw from its previous location (called, potentially confusingly, Rogue Spice Canteen), which was tucked around the corner from Brunswick Street, most visible as you went up Martin Street on the way to the Story Bridge. The new restaurant is much more prominent, on the ground floor of the Judith Wright Centre, its red neon logo catching the eye as you go up Brunswick Street.
If the previous location was rustic hole-in-the-wall, the new location is urbane industrial city sleek. It is a roomy space with high ceilings, dark walls of stained wood and black paint, with one white-painted brick wall at the end for contrast, polished concrete floors, and large glass windows that let daylight and the urban scenery in. Metal support pillars descend in couple of areas, also painted black. The service area is a long bar of polymerised concrete, with the kitchen visible through a small cutaway window that also serves as the pass near one end.
There are a number of seating options, varying from counter-style seats along the large windows to a large wooden communal table, or tall bar-style tables with matching metal bar seats that seat up to six. This allows for lots of flexibility to cater to groups or solo diners.
The restaurant was air-conditioned to a comfortable temperature, but also had large windows on one side of it open to the road when we were there. The downside of that was that it let in even more traffic noise, of which there was a good amount already coming through the Brunswick Street entrance. Current pop music, the likes of Pink and Adele, played over the speakers, but not too loudly. It was mainly the traffic rumble we had to try to talk over.
The lunch menu was a single page with a number of items on it. Although there was a line on the bottom stating that all meals include a side salad, rice, or roti, when we went to order the dishes we wanted, thinking that we would get to select either a salad, or rice, or roti to go with each item, we were told what each of the dishes we ordered came with. So that line doesn't mean that you get to choose what goes with your meal, it means that you'll get the protein listed, and other things on the side.
We decided on the twice cooked red duck curry, which came with rice and roti, the char grilled coconut beef ribs, which came with rice and a side salad, and the 12 hour pork belly and star anise glaze with salt and pepper soft shell crab, which also came with rice and a side salad.
The dishes came to the table at about the same time, and we were brought separate plates when we told the staff we would be sharing them between us.
The twice cooked red duck curry had a warning redness to it, and was pull no punches hot. It had the kind of delayed burn heat that didn't immediately hit you, but caught up a couple of seconds later, after it had the chance to coat more of your tongue, and induced a faint prickle of sweat. It gave you the chance to taste a hint of coconut flavour to the curry before it got you. Rice helped to temper it out a little. The duck leg had been frenched, so there weren't stringy tendon bits to deal with. One of the two ways the duck had been cooked must have been frying, as it had a crunchy skin. The roti was more supple and flaky than the roti we had previously had at the Rogue Spice Canteen, but they had overdone it on the grill. While the char marks may make it look more striking in appearance, the burned bits gave the roti an unpleasant bitterness that it should not have had.
The char grilled coconut beef rib (while the menu indicated a plural, when served the dish came with one) was tender, and the meat separated easily from the bone. It was flavourful, with a charcoal smokiness, and a nice balance of sweetness and saltiness. The chilli slices on top allowed you to decide how spicy you wanted each bite to be, by either having more chilli with it or none. The little heap of bean sprouts, carrot strips, and herby greens with it added more colour, and a sweet crunch.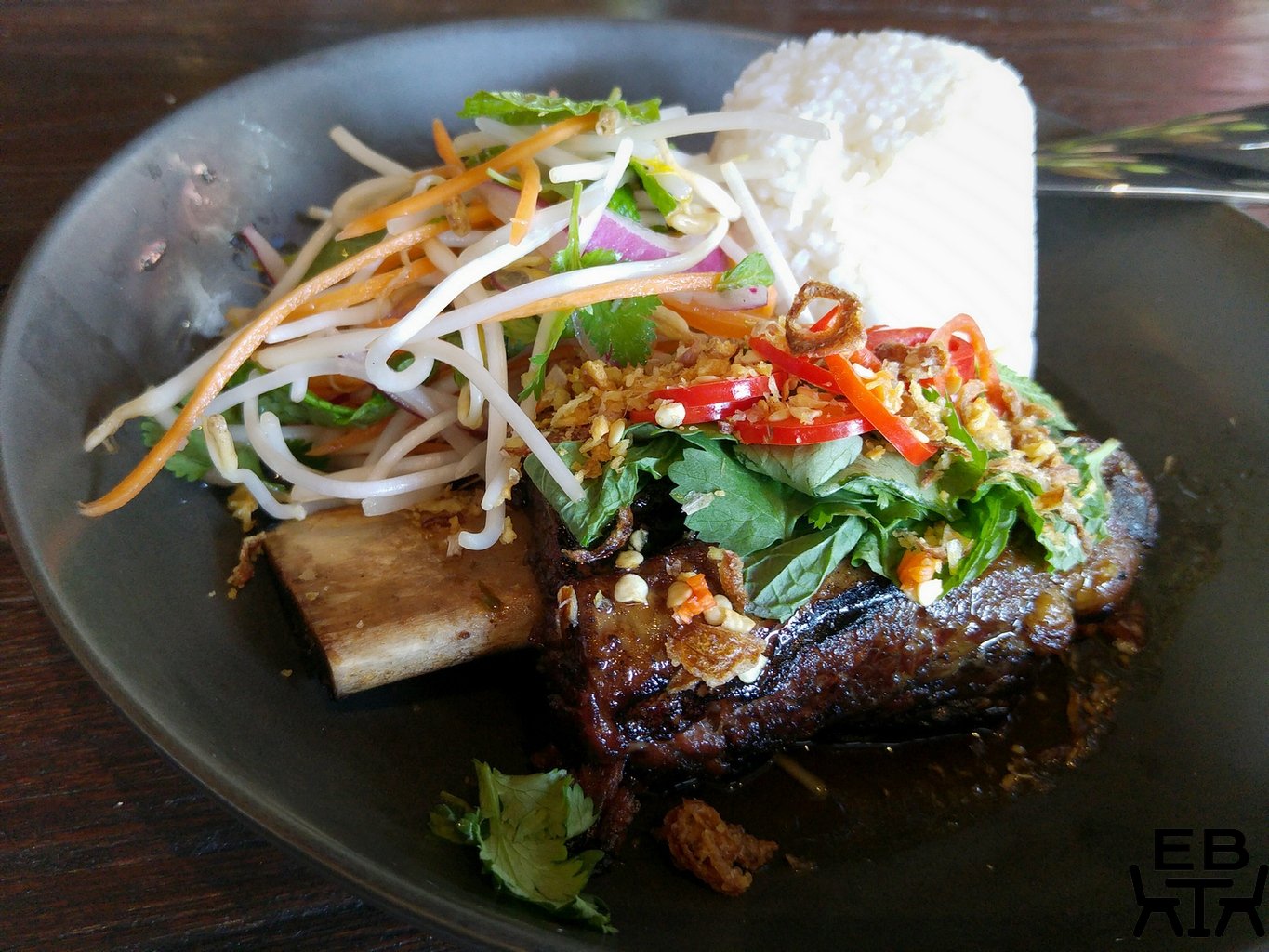 The 12 hour pork belly with star anise glaze and salt and pepper soft shell crab dish was the priciest item on the menu, probably due to its components. The pork belly was braised to a gelatinous consistency, the fat and meat having taken up the salty and sweet spice flavours of the braising liquid (likely a mix of soy, star anise, cinnamon, cloves, and other spices). The batter on the soft shell crab was light and airy, a spidery lace like what the taro dumplings at yum cha are coated with. It wasn't oily. There was also a distinctly salt and pepper seasoning on it, without being overpowering. They could have easily been two separate dishes. Both parts of it were done well though. It had the same side or garnishing salad as the coconut beef rib.
As the setup was such that we ordered and paid at the counter, and were served food following that, there was limited interaction with waitstaff. I can't say it was particularly good or bad, and we were there at a non-busy time of day, so although there seemed to be only one person looking after the floor at the time, it wasn't particularly a stretch.
Overall, the Rogue Spice Canteen and Bar does delicious pan-asian food with bold flavours. It is hard to characterise it as being malaysian, thai, indonesian, or vietnamese, as it borrows a bit from each with different dishes. It calls to mind the much-lauded Chin Chin in Melbourne, but without the prolonged waiting in line. The new venue definitely has a more modern look and feel, although parking for the new location is harder to find, particularly in the daytime. Worth the trip though.
Scores:
Food: 3.5/4
Setting: 1.5/2
Service: 1/2
Total: 6/8
Price point: Lunch items $12 to $17.90 ( that was the 12 hour pork belly with star anise glaze and salt and pepper soft shell crab).
Value: Pretty good.
Details:
Address: 420 Brunswick Street (at the Judith Wright Centre), Fortitude Valley
Phone: 07 3162 3350
Website: Rogue Spice Canteen and Bar