If you're only hearing about this now, I'm afraid Hammer and Tong 412 is a place you'll never get to eat at, as it closed its doors earlier in the year. Still, it felt like it had to be written about, because it was a Fitzroy institution, and before the infamous LG bootloop got my phone, it was one of the few sets of Melbourne food photos I managed to extricate. There is also that Proustian thing of remembered experiences..
It was located on Fitzroy's hipster heart of Brunswick Street, on a corner lot, entrance from the side just under a circular sign with symbols of a crossed hammer and pair of tongs. It did, to its credit, have the words "Hammer & Tong 412" on it. Once through the doors, one would discover that it was surprisingly packed, as is typical of Melbourne, a crowd hidden behind a seemingly unassuming facade. There were a few sections, a first area just after entering the eatery like a small dining room. There was then a corridor-like section with a couple of tables that would fit two, and counter seating along the window. There was another section beyond that like a conservatory, with white walls and ceiling. Plenty of natural light came through the large window, brightening the place.
We hadn't made reservations, and were happy enough to take up their offer of sitting at the counter seats. There was just enough space beside us at the counter to stack our haul of Lune pastries. Also at the counter were small graduated beakers and flasks holding various sugars, so the discerning coffee drinker could have their pick of extra flavour (although that might be considered sacrilege). Hip hip played over the speakers, but not too loudly.
We had had the Breakfast Ramen on a previous visit, quite theatrically presented at the table with waitstaff pouring the aromatic bacon broth over a little heap of the other ingredients in the bowl. Unfortunately, I can't find those photos..
This time, we had Chorizo sweet potato hush puppies, Zucchini garden beignets, and Soft shell crab burger. Because one also can't be at a Melbourne eatery without trying their drinks, we also had a flat white, a matcha latte, and a single origin long black.
The matcha latte was slightly sweet but not too much so, and well-flavoured, and was topped with a cute latte art picture.
The flat white lived up to the local standard, with good colour and flavour, the microfoam textured right. The latte art in this case was a little more conventional. Perhaps we should have requested a cuter picture..
The long black was served in a tall beaker of its own, to be dispensed into an insulated drinking glass in aliquots as suited. It was reported to be nicely faintly fruity. This, at least, you might still be able to get from Duke's Coffee Roasters. Or maybe not..
The Chorizo sweet potato hush puppies were listed on the menu as coming with a fried egg, sour cream, aruga (I think they meant arugula), fennel, and jerusalem artichoke chips. It was plated as a cornucopia tumble of ingredients. The hush puppies were doughy, a little more resistant on the outside, but not actually crunchy. They had some sweetness from the sweet potato, and savoury spiciness from the chorizo. Fortunately, there was some crunch from the chips. The runny yolk from the egg made a bit of a sauce when it was all mixed together, so it wasn't too dry.
The Zucchini garden beignets came with tomato and eggplant kasundi, stuffed zucchini flower, poached egg, haloumi, and baby sorrel and kale. The beignets had a more airy texture than the hush puppies, but still had a bit of springy chewiness. The haloumi pieces were browned but not rubbery. The poached egg had a runny centre, as it should.
The Soft shell crab burger with sesame slaw, coriander, spring onion, and siracha mayonnaise was ordered and consumed by another friend, so I don't have tasting notes, but it certainly looked good.
It was a surprise to us to find out that Hammer and Tong had closed, as it had managed to stick around for a number of years (most new starters close within the first couple of years), and every time we went there it was full of diners. Still, I guess nothing lasts forever. We'll get to say "I remember"..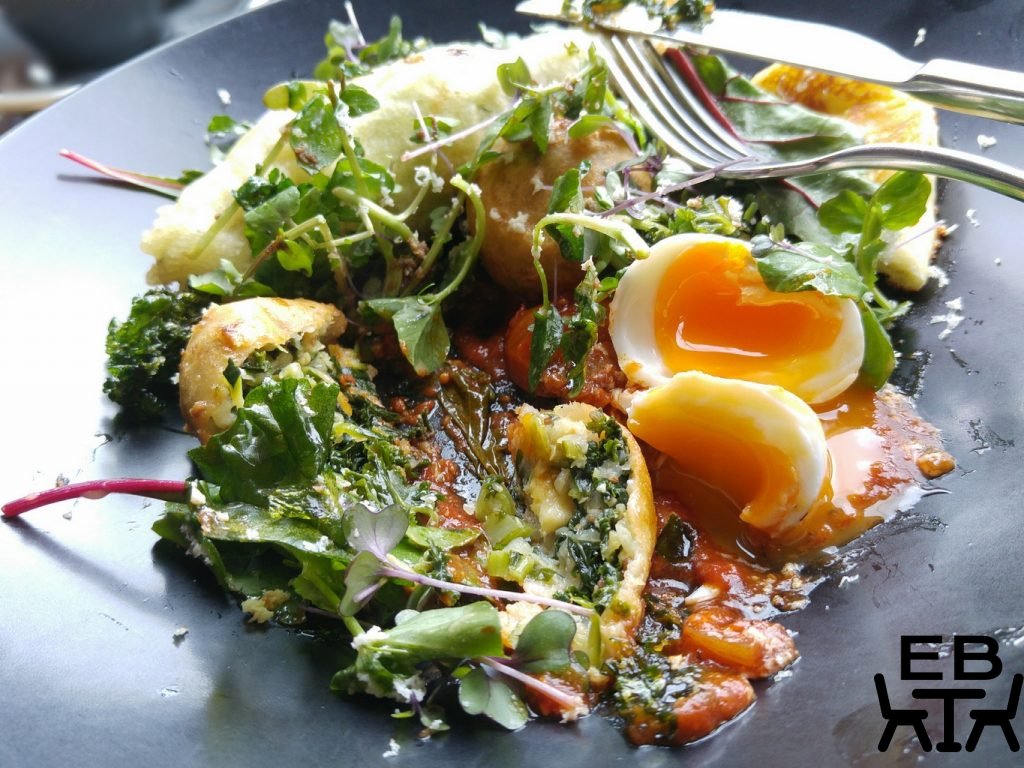 Scores:
Food: 3/4
Setting: 1.5/2
Service: 1/2
Total: 5.5/8
Price point: All day breakfast items $15 to $19.50 for things more substantial than a croissant with bacon, gruyere, bechamel, and cornichon (though doesn't that sound good?).
Details:
Address: 412 Brunswick St, Fitzroy
Phone: Don't call, they won't be home any more..
Website: Hammer and Tong 412