FatCat Ice Cream Bar had been tantalising us with pictures of their midnight-black charcoal waffles, and pourover shots in action. It was an intended destination on our previous trip to Singapore, but the packed scheduling of too many other things meant that it was squeezed off the list. Their popularity clearly sustained them until time for our next trip came around though, and this time a friend fortunately had the same stroke of inspiration to head there when we met up.
Located on the ground floor of one of the HDB residential blocks in Bedok, we probably could have found our way there from an MRT station and a Google Maps-guided walk (as we had to Non Entrée Desserts on our last visit). Our friend was kind enough to pick us up and drive there though, so we had a much simpler trip.
From the outside of the café, you can see their logo in the glass window, as well as their name, and lettering that says "made from scratch". When you open the door to enter, the smell of baking and chocolate hits you. This is definitely a place for dessert. You order at the counter, then are seated, and as we had fortunately arrived at a sort of mid-afternoon non-peak time, we didn't have to wait for too long.
The chalkboards above the service counter explain your food and drink options. You choose your waffles, either brown butter or charcoal, and decide on further additions of ice cream and salted egg yolk sauce (who has just waffles on their own?). They have ice cream flavours that are different from your typical options, and definitely suit more adventurous palates. They were happy to let us sample a number of them before we picked which to get to go with the waffles. Given that many of their flavours are ones that patrons are unlikely to have encountered before, they are probably used to people sampling before they commit to a whole scoop. Hay and Honey, or Mango Chilli Tea may not suit everyone's tastes.. They also have a few non-waffle speciality desserts.
We ordered a Charcoal waffle with a scoop of Thai Green Tea ice cream and the salted egg yolk sauce to pour over it (everyone was doing it), a Brown butter waffle with Barley ice cream and coffee chocolate sauce, Reverse S'mores, and their Lime Mojito Spheres.
The décor is modern industrial, with a polished concrete floor and a similar look to the walls, wood topped tables and benches with metal bases, and cage-frame light shades. The directed warm lighting kept it from looking too cold.
The Lime Mojito Spheres were a sort of mini dessert, a mouthful each, blobs served on spoon-shaped dishes like fancy canapes at a swanky event. They were quite characteristic of the molecular gastronomy movement, presentation of something familiar in a different form. They were intriguing to look at, reminiscent of those clear bouncing balls you play with as a child, filled with glitter and swirling colours, in this case filled with flecks of green instead, that moved as you moved the spheres. We didn't have too long to play with them though, as they had to be eaten before the outer skin dissolved and the magic was lost. In fact, one of them was already slightly leaky as it was delivered to the table. The spheres effectively burst in your mouth, releasing the cool limey, minty liquid. An ephemeral treat.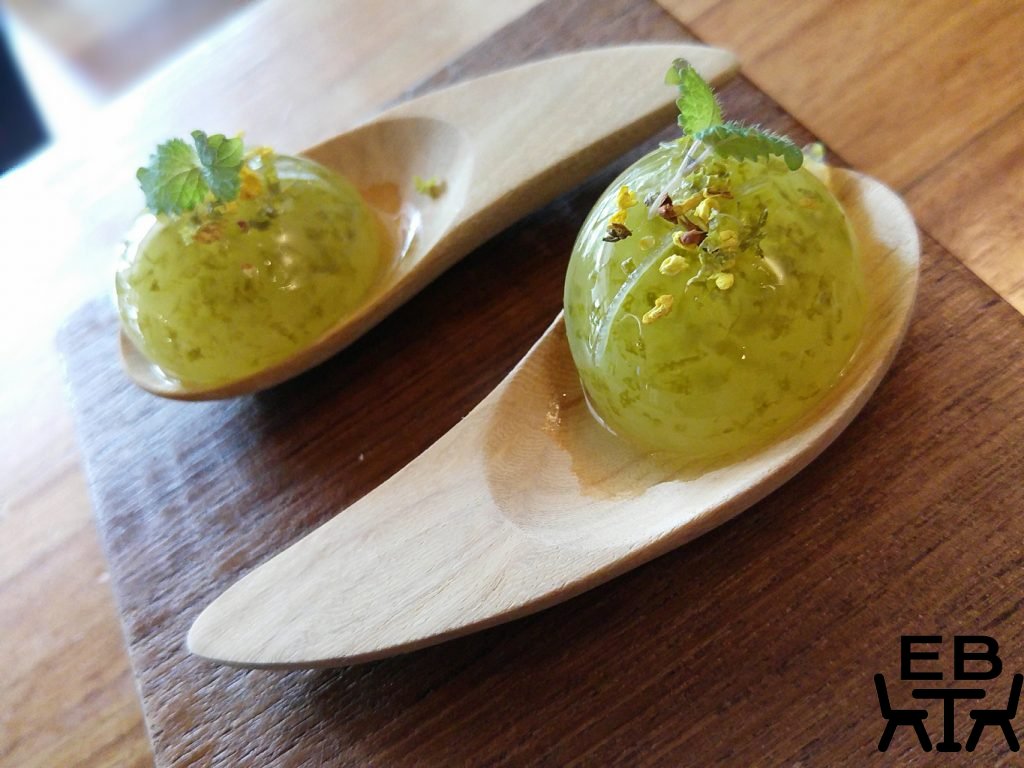 The Reverse S'mores were summarised in the menu as Banana caramel sorbet, a cookie base, and torched marshmallows. It arrived with theatrical presentation, a silhouette barely visible through the smoke captured under a glass cloche. Once the cloche was lifted, the cloud of smoke dissipated, wafting wood smoke smell over us. What was left looked like a giant marshmallow on a slice of tree log, impaled by three half-discs. It was indeed marshmallow on the outside, more evenly caramelised than I am sure any of us have ever managed over a campfire. The marshmallow layer was stretchy and chewy, as a good melted marshmallow should be. In the core of the dessert was the banana sorbet, not the artificially bright yellow colour many banana-flavoured items are, but the sadly and more realistically somewhat brown shade real banana takes on after a while. It had the floral aroma of banana, but was a bit on the sweet side. The crisps were crunchy tuille wafers, and had a smoky flavour, probably baked in rather than just acquired from under the cloche. It was an interesting dish, taking the key elements of making S'Mores at camp and putting them together, except that usually the components are marshmallows, crackers, and chocolate, and in this case the chocolate was missing, and the banana..was a new addition that doesn't substitute for chocolate. It should be noted that the online menu does show chocolate twigs..we just didn't get any.
The waffles and ice cream were, of course, their speciality and the main event. The charcoal waffle had a striking appearance, a robust black-brown, perfectly shaped with a deep waffle grid pattern. When cut into, it was beautifully crunchy on the outside, and softly chewy further in. Salted caramel sauce circled it on the plate. The Thai Green Tea ice cream we had chosen to accompany it had a floral flavour. The salted egg yolk sauce, again a signature thing of theirs, reminded one of the yolk you get in the middle of a mooncake, but not too salty. It was slightly grainy though, which while in keeping with what cooked salted egg yolk tends to be like, may not quite be the texture they meant the sauce to have. It all went together well though, so overall it wasn't too sweet or too salty.
The Brown butter waffles are their more standard waffles. Again, it was perfectly shaped, and perfectly cooked, with no burnt or undercooked bits at all. It was drizzled with coffee chocolate sauce, and again encircled with salted caramel sauce. The Barley ice cream we opted to have with it was again lightly floral and not too sweet.
Service was fine, with waitstaff, as mentioned, patient as we tried to decide which ice creams to have. We had no particular issues there.
FatCat Ice Cream Bar knows their stuff. Their ice creams are smooth, rich, and come in adventurous flavours. Their waffles are possibly the best we have had, the right blend of crisp and chewy, just the right density, and holding their crunch despite the ice cream pooling in the hollows. If you like waffles and ice cream, definitely eat here.
Scores:
Food 3.5/4
Setting: 1.5/2
Service: 1/2
Total: 6/8
Price point: Brown butter waffle $5. Charcoal waffle $6. Ice cream $3.90 to $4.50 per scoop. Lime mojito spheres $4.50 each. Other plated desserts around $15 each.
Value: They're not cheap..but they're pretty good. It is a treat.
Details:
Address: Blk 416, Bedok North Avenue 2, #01-25, Singapore
Phone: 65 6241 0830
Website: FatCat Ice Cream Bar