Last updated on August 14, 2018
News of Gelato Messina's Creative Department bringing their 7 course dessert degustation to Brisbane had a lot of people immediately interested. Usually in Sydney, their two-week only visit meant opportunities to partake of the experience were limited, particularly given that each sitting only accommodates 12 diners. We missed out on the initial round of tickets, but seized the opportunity when we were contacted and told that they had an additional session and available seats. It turns out it is worth putting yourself on the wait list after all..
We arrived at the Gelato Messina store in South Brisbane punctually, having been warned that the degustation might have to commence without us if we were late, as it was a communal dining experience. The dessert store was packed on a weekday night, with music pumping, a line just about out the door, and a throng about the gelato fridges. Much similar to when we were there soon after they opened, so they have clearly managed to sustain diner interest.
The degustation was held in a room just to the side of the service area, behind glass doors and surrounded by walls of concrete and wood. Although the muted lighting set a sophisticated tone, it also made it that much harder to take good food photos.. Some things do take priority though. (As a result, the photos have had to be edited to compensate for dim lighting, hence some colour and tone variation.)
The pale wood tables were simply set, a white napkin folded at each place, with a golden spoon across it, and round glasses that were filled with water when we were seated. The chairs and tables were in the currently popular Scandinavian style, cleanly minimalist. The table centrepieces were..also quite sparse, little pots with lean green succulents in them. While interior greenery is also a current trend, they didn't quite fit in with everything else going on.
The staff introduced the evening and themselves, explaining that they, the chefs putting the dishes together, would also be the ones serving them to us, so that it would be a more personal, intimate experience. Small folders were distributed so that we each received one, and we were told that they contained a summary of the dishes. It was suggested that we not peek ahead, so as to allow for the element of surprise as each dish was brought out. Even though the temptation was strong, we followed their advice, as they clearly wanted to maximise our experience, and so did we.
The room was set up so that there was the chefs' preparation area at one end, dramatically lighted, so everyone was able to watch the dishes being put together. We were invited to come up to the counter to see it more closely at any point. The first was a dramatic entrance, with liquid nitrogen smoke cascading down over the edges of the bench. That set the tone for it being nothing like your usual meal to follow.
First to the table was a sphere made of ice, with its top hollowed out, and a fine granita of apple and nasturtium heaped in the concavity. Staff came to the table and added drops of concentrated green apple on top of it. The mix was light and refreshing, fragrant and faintly tangy, a beginning to wake the palate.
The degustation comes with drinks paired to the dishes, and, happily, they are non-alcoholic. The first of our beverages was a glass of sparkling wild honey with thyme oil. It was an interesting combination, only a little sweet rather than being overwhelming, with savoury notes from the thyme oil, with both floated on the surface and sat in small blobs on the bottom of the glass.
The second dish involved the component of fire. Staff blowtorched cut passionfruits at the preparation table. When brought to us, we found, on lifting the tops off, that the flesh inside had been replaced by more interesting things. Inside were layered passion fruit curd, a white miso and tonka bean gelato, and right at the bottom, a little of the original passionfruit pulp. The gelato was smooth, creamy, and delicately flavoured. They balanced the tartness of passionfruit well, without making it overly sweet. The burnt exterior of the passionfruit brought a smoky aroma to the table, without being acrid, and it enhanced the earthy flavours of the tonka bean.
The next dish was a much prettier one. Bright yellow petals were laid out on a tray. They were, we found out, made out of thin slivers of parsnip, cut into shape and baked to hold other shapes. Beautiful quinelles of snow white vanilla gelato were placed upon a black truffle cream, sprinkled with parsnip crumb. The final plating had the parsnip crisps arranged into flowers, placed alongside the quinelle, which was then topped with what looked like a burnt cinnamon quill, but was really another coloured and rolled parsnip crisp. It was a interesting mix of flavours, slight savouriness in the truffle cream playing against the natural sweetness of the vanilla bean gelato. The parsnip flower petals added a crisp texture, while the rolled parsnip had more of a chew.
Carrying on with the tropical theme alluded to by the appearance of that dessert dish, the accompanying drink was a spiced mango nectar, just slightly tart.
The following dish was sort of flower-like in presentation, if a primative flower. A smooth spherical scoop of goat milk sherbet sat atop an avocado puree, surrounded by piped pistachio and basil mousse, which took on the appearance of petals when seen from above. Underneath all this was a wakame tart base. The sherbet was rich and creamy. That creaminess continued with the avocado puree and the mousse, giving the whole dish a rich mouthfeel. There were actually differences in the flavours of each component though, so it didn't just blend into one lot of mush. It was interesting picking out the different densities of each component. Even though they were soft, there was a difference in their softness. The piped pistachio mousse was light and airy. Small avocado cubes in the puree provided yet another texture, and brought a green, earthy flavour. The wakame tart base had a wafer-like bite, the one almost crunchy element in the dish. As a whole, the dish wasn't really sweet, but almost bordered on savoury, with an undercurrent of umami.
The drink paired with this was white grapefruit juice infused with earl grey, served in a small glass bottle. This was quite bitter, and the earl grey fragrance couldn't quite be discerned.
We were all captivated as the components of the next dish were brought out to the preparation bench. A foam tray with bright white eggs carefully laid on their ends, a hole in one side revealing that they were filled. It brought to mind the making of painted Easter eggs, contents removed to leave the shell to decorate. They were served at the table much more simply than the preceding dishes, just that egg upright on its end in the middle of the plate. We were instructed to crack the shells to get to the contents, just as you would a boiled egg. It was then that we learned that these were not indeed real egg shells, but very realistic replicas made from sugar. They were the thickness of real egg shells, and had the same crisp crack as you broke through them. On the inside, it cleverly looked like a boiled egg as well. There was a yolk of roasted mandarin sorbet, an egg white of koji cream, and sake jelly imitating a bit of uncooked egg white. The mandarin sorbet was aromatic, a perfumed citrus, bordering on bitter, but not quite. We were told that koji is the precursor to sake and soy sauce (read more here). The cream was smooth and faintly sweet. The sake jelly was slippery and supple, a little salty for some flavour variation. This was certainly in the running for favourite dish for creativity and cleverness.
Accompanying this was a licorice root kombucha, looking almost like wine in its rounded glass. It had a herbal, almost medicinal flavour, sweet and slightly tangy.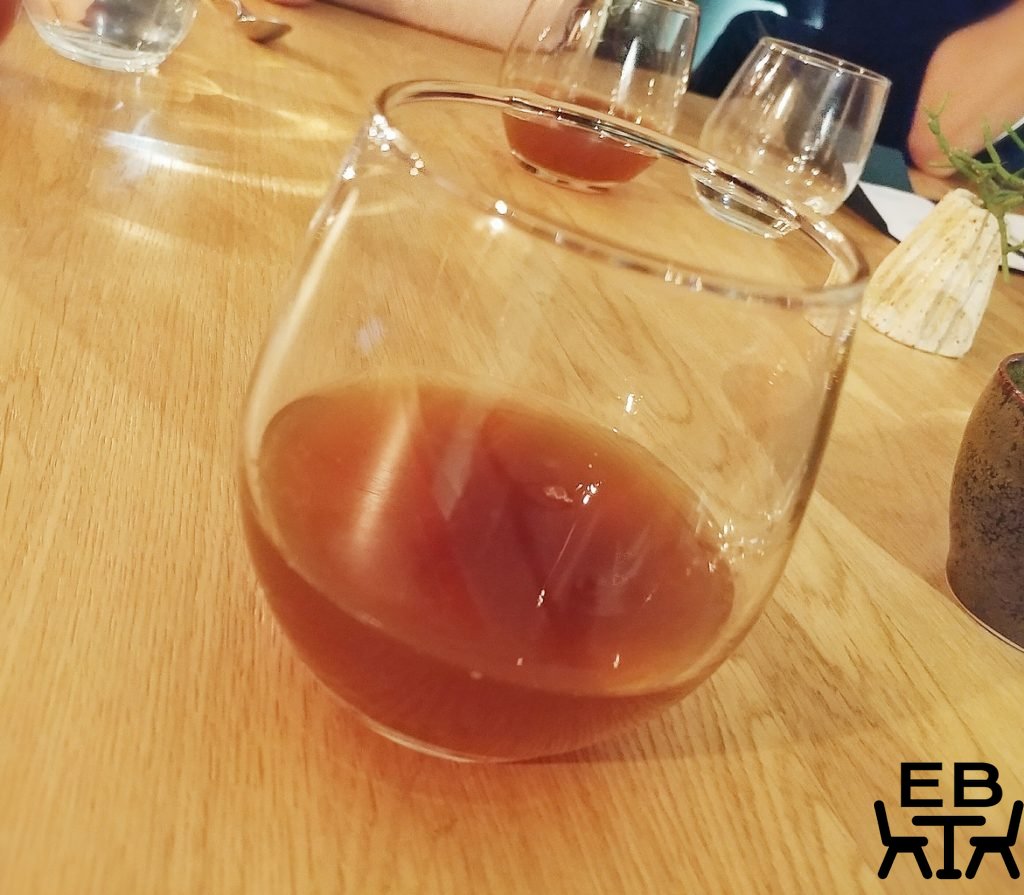 The sixth dish looked more like a brunch dish. A 63 degree egg yolk sat on a disc of hojicha gelato, taking on the appearance of a fried egg. Under this was a small heap of celeriac linguine, and all of it was dusted with wattleseed powder. It ate rather like a savoury pasta dish, with the al dente celeriac noodles, and the gooey yolk and gelato making a creamy sauce. It was a clever crossover, making your mind vacillate between its form of a typically savoury dish, and the coldness from the gelato that reminded you it was something else. The flavours were also only very subtly sweet, rather than being an obvious dessert.
To go with it was a shiitake mushroom consomme. The preparation of this was theatrical, and again had everyone standing around the preparation bench. The setup looked like a chemistry experiment. Water bubbled away in the lower chamber of a siphon coffee maker as it was heated. Steam gradually travelled up to the top chamber and percolated through shiitake mushroom pieces. Eventually all the clear liquid that had been in the bottom chamber became a dark brew in the top chamber, mingled with the mushrooms. The heat was removed, and the liquid evacuated back into the lower chamber again, with the mushroom pieces left behind in the top chamber, so it looked almost, but not quite, as it had in the beginning. We were served the consomme in Japanese-style little teacups. It had a roasted, earthy flavour, almost like an exotic tea variation. The savoury notes in this actually brought out the faint sweetness of the dish it was paired with. It was a good match.
The final dish was plated more typically of the way you would expect of a restaurant dessert dish, calling to mind a winter forest floor. It was certainly one for chocolate lovers, and the chocolate used was made on a machine in-house. A quinelle of 80% Messina chocolate gelato sat amidst snowy-looking candied mint and dill leaves. Under this was a chocolate and coffee soil. A puffed artichoke sliver looked like a fallen brown leaf. These were, compared to the preceding dishes, classical flavours, perhaps a concluding return to the "real world" after a wander on the wild side. The chocolate gelato was smooth and rich. The candied herbs were daintily done, with a delicate crispness to the thin, sugared leaves. The puffed artichoke had a tuille-like crunch.
The matched drink was caramelised apple and szechuan pepper juice. It was thick, like a nectar, and while did have plenty of apple, didn't have the pepperyness we expected. It might otherwise have been like a wintery mulled nectar. (I managed to not take a picture of it, unfortunately.)
They closed with petit fours, fresh blackcurrants from Goulburn Valley that had arrived that morning with a cube of liquorice root jelly, and a tasting spoon of Dutch cream potato foam with truffle shavings (separately). The blackcurrant and liquorice mix was fruity and aniseedy, sweet and a little tart. The potato foam was interesting to finish off with, dense and creamy, an unexpected mix of lightly savoury, faintly sweet, and that earthy truffle.
As a parting bonbonniere, we received a little take home container of spices, a secret blend to be used for our own culinary artistry.
All up, the Gelato Messina Dessert Degustation was definitely one of the best we had been to. Despite Gelato Messina being about gelato desserts, the Creative Department delivered more than scoops of gelati in a bowl or even gelati in pretty shapes. They cleverly combined flavours and textures. They challenged what you expected a dessert to be. While we didn't get all the drink pairings, they too pushed your palate. As previously mentioned, the chefs presenting the dishes also made it a more special experience. They introduced each dish, and were happy to answer any questions about the food. It is definitely one we would recommend going to, and given that they rotate each dish after about 2 weeks (from what they told us) and change what they do depending on what produce is available, it would be worth revisiting with enough time between visits and in different seasons.
Scores:
Food: 4/4
Setting: 1.5/2
Service: 2/2
Total: 7.5/8
Price point: $130 per person.
Value: Great, for what you get, and in comparison to some other degustations around.
Details:
Address: usually 243 Victoria St, Darlinghurst. In this case, however, 109 Melbourne St, South Brisbane.
Phone: 02 9331 0349 (Sydney)
Website: Gelato Messina Creative Department