The name of the eatery, Hashtag Burgers and Waffles, piqued our interest, as it contained two food items we rather like: burgers and waffles. We had been eyeing their OTT creations on social media for some time, and finally decided it was time we tried some for ourselves.
We headed down to their fairly recently opened branch in West End on a weekend evening. Hashtag Burgers and Waffles is located on Boundary Street, in a space that we finally worked out was where Grill'd used to be. Location and layout are where the similarities end. The new occupants have a very different vibe and take on burgers.
Where Grill'd was about wholesome and healthy, Hashtag Burgers and Waffles is more grungy street and rebelliously indulgent. A mural of a dreadlocked woman smoking took up a wall at the front of the eatery (note, we don't approve of smoking. It damages every aspect of your health, and ruins your tastebuds. It should be anathema to anyone who loves food.) Other wall spaces were covered in skate stickers.
The concrete floors from the previous tenant were retained, but matched the rest of the decor. Furnishing was simple, with black metal Tolix chairs and wood-topped tables. Glass doors were open to the outside, which worked fine on a cool night. This merged the indoor and outdoor seating.
Towards the back of the eatery space was a more photo-friendly section, with "Hello Beautiful" in neon lights, and warm pendant lights hanging over a group dining booth.
It wasn't the clearest of systems, but we joined the queue to place our orders at the counter, after picking up a menu that had been left on one of the tables. Their laminated menu has an assortment of burger options in two columns on one side, and drinks, sides, and desserts on the other side. They also offered the option of changing the burger buns to waffle buns, gluten-free waffle buns, or cheesy toast, for extra cost.
Questionable names aside (eg. Your Dirty Uncle, Morning Wood, Crazy Jane Vego), the way the menu was written made it hard to decipher what the differences between the burgers were. For instance, Cheeky Tuesday listed "MoistAF beef patty, yummy as hell cheese, onion rings, jallops, lettuce, then put some pickle mayo on those buns!". Hot Shot listed "Moist AF beef patty, yummy as hell cheese, onion, jallops, lettuce, then put some chilli mayo on those buns." Simple Sally listed "Moist AF beef patty smothered with double yummy as hell cheese, bacon, lettuce, and white onion, then put some pickle mayo and ketchup on those buns." They had 14 burgers listed with an assortment of these convoluted descriptions.
Fortunately, the length of the queue gave us enough time to figure out what to order. We decided on the Double Down burger, the Mack Me Daddy burger with waffle buns, and the Tottie Too Hottie as a side. After placing our order, we made our way to a table in a less busy area towards the back of the eatery space.
It was a bit of a wait for food, as Hashtag Burgers and Waffles was quite popular on a weekend evening. We could catch glimpses of them cooking in the open kitchen behind the service counter. The kitchen needed better extraction fans though, as the whole area ended up smelling like cooking.
Hip hop music played over the speakers, with swear words not bleeped out. It was a bit loud if you were close to the speakers..which was in most areas. Again, it wasn't exactly as family-friendly as the previous burger vendors. It was not even a particularly late, grown-ups only time, as we were there before 7pm.
The Tottie Too Hottie was the first item brought out. It was listed in the menu as potato gems covered in maple bacon, cheese, shallots, and smothered in pickle mayo and tomato sauce. Despite the potential bulk of the burgers, we were too tempted by this to pass it up. It was served in a plastic basket lined with paper, in a similar manner to many other American-style burger eateries (Benz on Miller, Easy Street Diner). It was a good heap of potato gems, striped with the sauces and topped with sliced shallot greens. It looked promising, but we found the potato gems to be lukewarm rather than toasty hot, as potato gems really need to be. The cheese mixed amongst it was mostly (but not entirely) melted. The sauces came out as a sweet and tangy mix. The maple bacon was present in little bits, but not in enough quantity to warrant being listed as the first additional component. It would have made a reasonable comfort food dish if it were hotter..but it didn't quite hit the mark.
The burgers followed not long after, also served in plastic baskets. Taking out the clutter adjectives, the Double Down burger had two beef patties, two slices of cheese, lettuce, tomato, onion, smoky bacon, tomato relish, and blue cheese sauce. Hashtag Burgers and Waffles do their own smashed beef patties (as does Mac From Way Back). They had good, meaty flavour, with the right amount of seasoning. The vegetable components and sauce made the combination moist, but not soggy. The blue cheese note was not particularly pungent. Despite there being two slices of cheese on the burger, we felt like it could have done with even more cheese.
The Mack Me Daddy burger (again taking out the extra adjectives) had a beef patty, cheese, what we worked out was a mac and cheese patty, bacon, pickles, chilli jam, and mayonnaise. Given that the waffle buns were part of the draw to eat there at all, we had to get waffle buns on at least one of the burgers. As the other one was the more "typical" burger, we figured this one should be the swapped up one. It arrives as a more interesting stack. We worked out that eating it with fork and knife would actually be easier, rather than try to squash the burger down to eat it a bite at a time, potentially destroying the integrity of both the mac and cheese patty and the waffles. The waffle bunds had a good crunch on the outside, and were soft on the inside, with a fluffier texture than your typical waffles. We worked out that they were more like fried bread in the shape of waffles than true batter-made waffles. The mac and cheese patty was crumbed on the outside, and pleasingly cheesy on the inside. We appreciated that it was more saucy than many other mac and cheese components we had had elsewhere. The beef patty was juicy, but we would have liked it more seasoned. This was an indulgent burger, and certainly not one for the faint-hearted (or high cholesterol).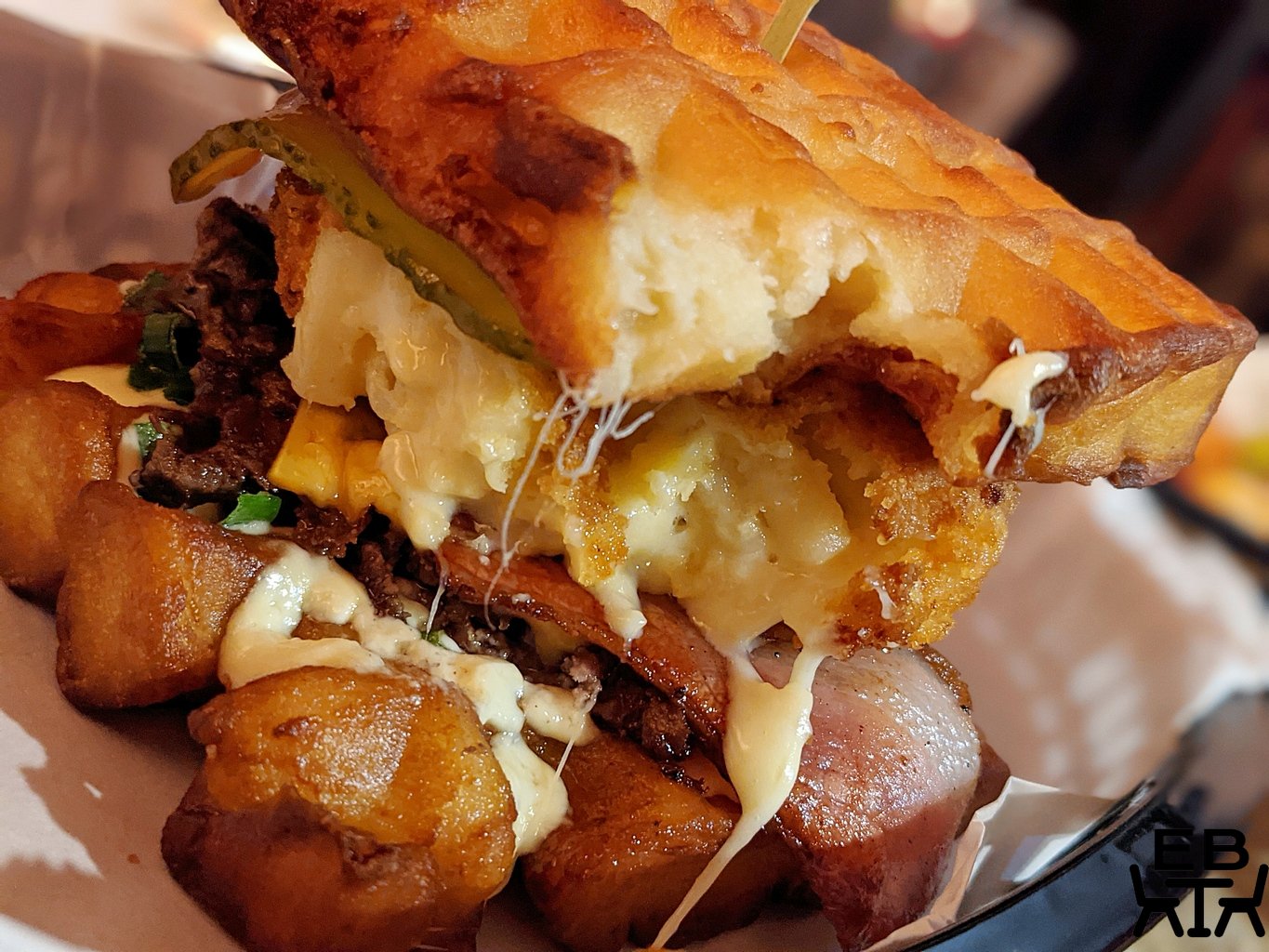 Overall, Hashtag Burgers and Waffles was a little hit and miss. The side item underwhelmed us. The burgers were quite good, despite some minor flaws. Though it's not a destination for those with heart or cholesterol issues, the waffle buns are something you otherwise have to try at least once..
Scores:
Food: 2.5/4
Setting: 1/2
Service: 1/2
Total: 4.5/8
Price point: Tottie Too Hottie $12. Burgers $13.50 to $17, $5 to swap to waffle buns. Our burgers $17 and $21.50 respectively.
Value: Questionable.
Details:
Address: 88 Boundary St, West End
Phone: 07 3255 0217
Website: Hashtag Burgers And Waffles